Hortense Giraud has only lived in Barcelona since September 2015, yet is already deeply entrenched in its creative scene. French, but born in Madrid, Giraud's youth was a much travelled one — and it is the Spanish capital's rough-and-ready sparring partner on the shores of The Med where she has chosen to kickstart a second career; putting a noteworthy time in the world of fashion buying behind her.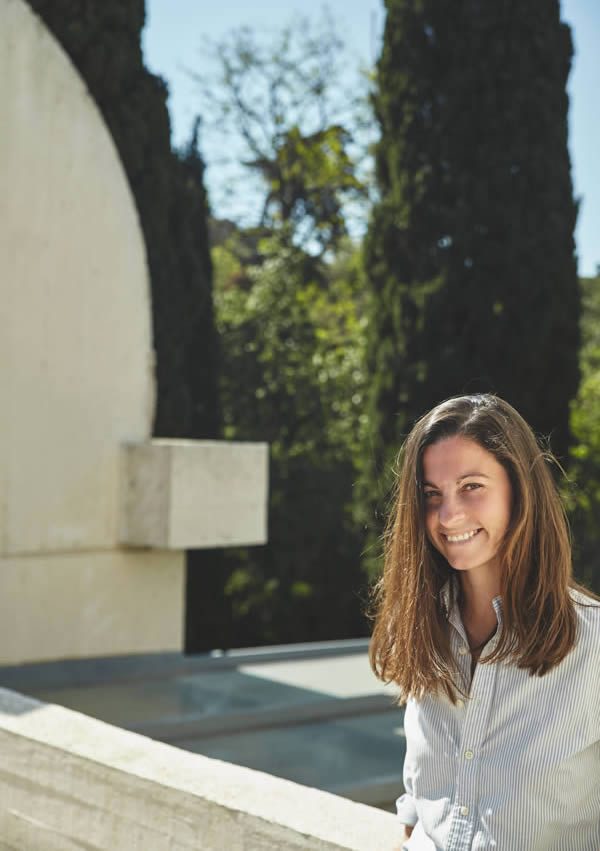 The tools of that trade haven't been completely abandoned, though, Hortense has an intently keen eye, and the desire to continually uncover the very best in design is a compulsion of raw passion; that restless mind using the Catalan capital's revered creativity as a means by which to find her feet in a new home.
MYBARRIO is that conduit, a network of designers, makers and artists whose products are Barcelona-designed and/or -made, and given the Giraud seal-of-approval — a network that exists both on- and off-line: on- in the shape of an editorial-minded website and handsome social media platforms, off- in the form of a series of carefully-considered pop-up retail environments.
Hot on the heels of editions at Soho House Barcelona; Hotel Brummell; Casa Gracia; and Poblenou's Valkiria Hub Space, MYBARRIO's fifth physical edition celebrates Barcelona most agreeable qualities — setting up stall at Red Fish; an evocative beachside venue that basks in the city's famous summer sun. Put together by interior designer Sonia Di Pietro and studio Cirera Espinet, Red Fish is a contemporary take on the much-loved chiringuito, sustainability and minimal environmental impact at its core.
As Hortense prepares for MYBARRIO Chiringuito Vol 5, running 24—25 June at Red Fish Barcelona, she talked We Heart through some of her top picks for the weekend …
Passeu Passeu (Sunday)
'They're lovers of vintage design from the sixties, seventies and eighties,' Giraud tells us of graphic designer and art restorer Oriol and Lucía — who comprise Passeu Passeu, a modern antiques outfit who sell out of their recently established workshop and showroom in Vilanova i la Geltrú. 'We're fans of their Instagram account that mixes the design treasures they hunt out with pictures of interior inspiration,' gushes Hortense of 'one of our favourite antiques and furniture sellers in Barcelona.'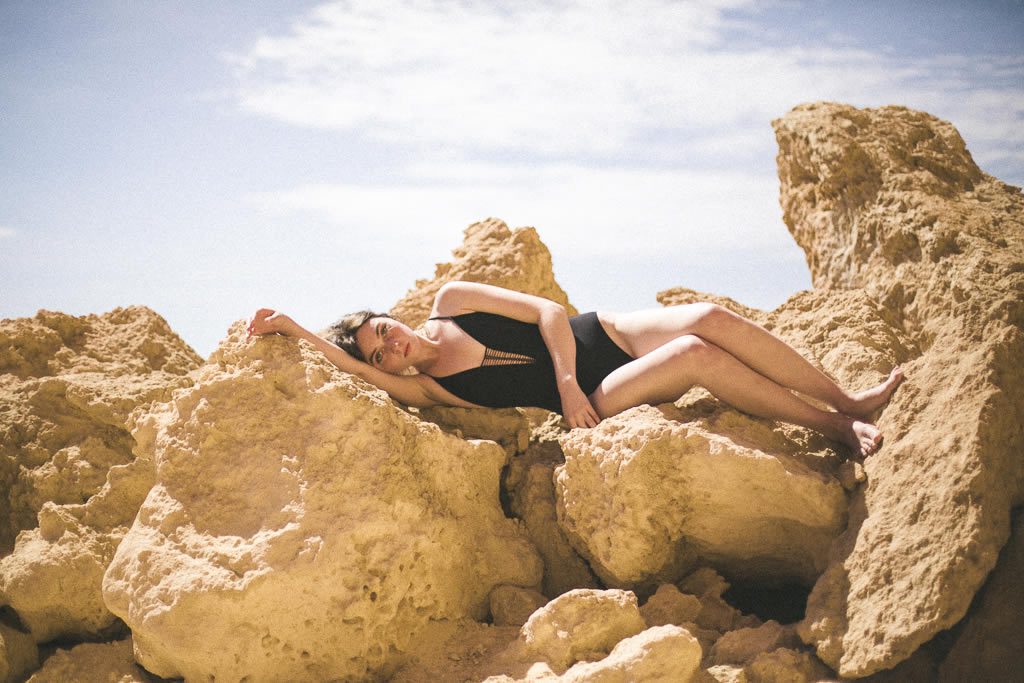 Fig Tree (Sunday)
'The creator of Fig Tree is Alba, a Barcelona-based designer,' explains Hortense of a brand informed by the simplicity and elegance of the Mediterranean. 'She is above all an island girl … travelling between here and Ibiza, where her inspiration comes from. Alba makes all of her crochet bikinis by hand, and her style is very feminine and relaxed. We also totally fell in love with her collection lookbook featuring Sara Guerrero; shot by Barcelona photographer Martina Matencia.
Mari Masot (Saturday and Sunday)
Marissa McInturff is the ceramicist behind the personal design project Mari Masot; her architectural vessels informed by the harmonious hinterland between nature and human creativity. 'What we like about these pieces is that they feel like art, inspired by architecture and geometric shapes,' Hortense tells me, explaining how she's also 'very fond of the colours she uses.' Each piece unique and handmade in her Poblenou studio, McInturff's are bold and beautiful; a startling example of the standard of creative work emanating from this Barcelona barrio.
Über den Wolken (Saturday and Sunday)
Beginning life as an up-cycling project in a small vintage store, Julia Breiter's Über den Wolken are part of MYBARRIO's physical world for a third time. 'We totally share Julia's aesthetics,' Giraud tells me, 'her collections are handmade locally in Barcelona. Her lines are pure, and collections always very elegant, minimal and organic. We feel so inspired by her artistic direction and fresh photography; always so simple and feminine. We recommend trying on her fresh wrapping trousers and reversible sleeveless dresses.'
Alfred Kerbs (Saturday and Sunday)
'Do you know that Alfred Kerbs is an imaginary person?' Asks Hortense. 'We love their story, and above all the style and quality of glasses that are handmade in Italy, and designed in Barcelona. Their artistic direction is so sharp, modern, and very well connected to the most beautiful aesthetics of the moment. It's also an exclusive brand that you can't find everywhere. We are very happy to welcome them for the second time.'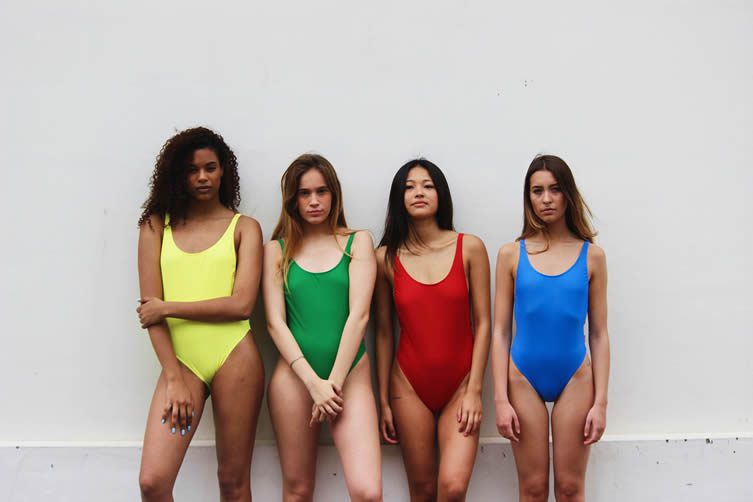 Grain Supply (Sunday)
With a philosophy geared towards low-quantities of limited edition and unique pieces, Grain Supply Co. is a Barcelona brand whose collections are as considered as Hortense's curation. The MYBARRIO founder explains: 'This brand was created by Anna Villarroya, who makes all her bathing suit collections in Barcelona by hand. We selected her because we loved the simple coloured stripe one-piece suit and, above all, the new plain primary colour ones. We also enjoyed her way of styling the four primary colours (red, green, yellow, blue) with four unique, natural models.'
Die Motte (Saturday and Sunday)
'Die Motte jewels are a stunning local piece of art … ' states Giraud of Barcelona-based Astrid Schweitzer and Anel Rinat, whose entirely handmade jewellery comes off the back of a degree in arts and goldsmithing. 'We fell in love with their earrings that use the shape of a face profile; so subtle and elegant. Anel and Astrid are the creators, they have amazing taste in the their creations and branding.'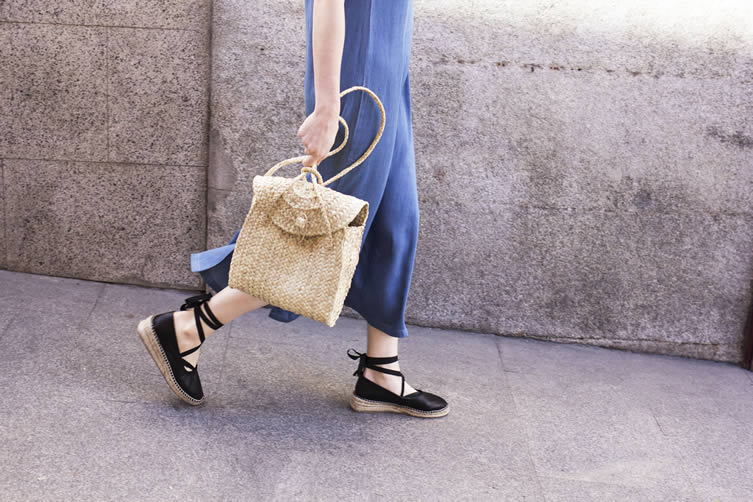 Mimeyco (Saturday)
'At MYBARRIO we fell in love with Mimeyco's handmade capazos (which are summer Mediterranean baskets) … especially the small, cute backpack. They're 100% produced in Spain, and based between Barcelona and Galicia. Their quality is great, and the style will fit perfectly with our Chiringuito pop-up,' explains a Hortense who is clearly enamoured with the brand — whose products are defined by an imperfect beauty that is characteristic of using handmade Mediterranean textiles, and natural fibres.
Mr. Bassal (Saturday)
Minimising quantity and maximising quality, with fabrics imported from Italy and unique designs born in Barcelona, Mr. Bassal's approach is one common with Giraud's vision for her MYBARRIO network. 'Mr. Bassal is a men's swimwear brand produced in Barcelona,' she begins, 'we are crazy about the small motif prints, so geometric. Realising how difficult it is for men to find different and elegant clothes, they solve this problem with a collection of bathing suits defined by classic patterns in many different prints. Super chic!'
The Bodysuit of Barcelona (Sunday)
With a simple aim of enhancing the female body, The Bodysuit of Barcelona is a fresh brand for the city; founded just last year and dedicated to, as Hortense explains, 'minimal and elegant bodysuits in pale and basic colours.' The MYBARRIO founder continues: 'The pieces are essential to a woman's wardrobe, to wear with any kind of pants, skits or shorts. We love the slow-life feeling the brand has. Susana the creator is also very inspired by sustainable and minimal interiors. Her Instagram is very active, with a beautiful identity.'