There's a palpable sense of anticipation as Lance Wyman readies himself to take the stage in front of a packed audience. Different generations of creatives, unified by a deep-seated respect — like The Rolling Stones headlining Glastonbury in 2013, nobody here can deny their right to command that stage; they earned it decades ago.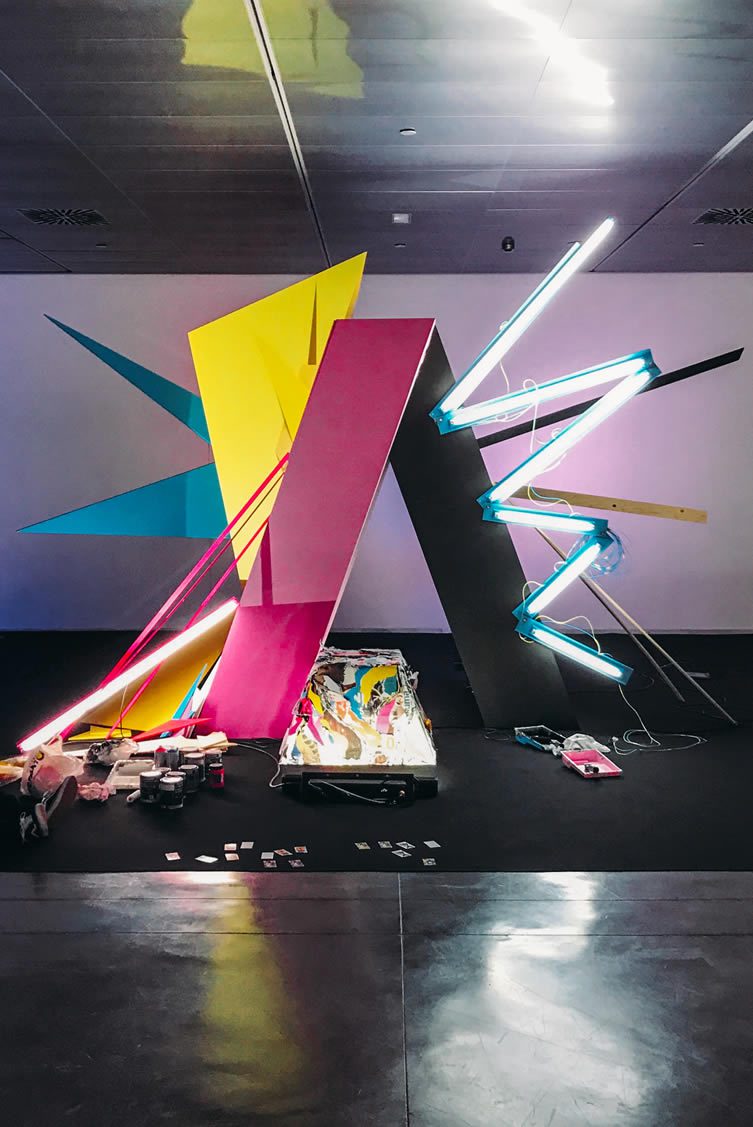 Here in Barcelona, students and fledgling talents have been inspired throughout the weekend by near-peers, established names, and creatives with decades in the game themselves. Nobody, though, has Wyman's pedigree. 29 years-old when he won a pitch to design the 1968 Mexico Olympic Games, pedigree like this leaves everyone in awe — this is the set all cameras are turned on, this is Hyde Park, 1969.
There are more similes than stellar careers and headline sets to illustrate OFFF's ascendency from design symposium to bona fide festival status. The event that Héctor Ayuso founded at the turn of the 21st century is now a fully-fledged entry on many a creative's bucket list. Stretched out in the Barcelona sun, beers in hand and inspiration on the big screen, international design talents unite for three days of insight and vision; a stimulating shot in the arm that reawakens creative pulses in even the most prolific of personalities.
Talking of prolificacy, New York-based artist Adam J. Kurtz is warming up a strong crowd as I make my way into day one of OFFF Barcelona's 2017 edition — scribbling wry observations as they pop into his irony-wired mind, Kurtz is candid and vulnerable, his self-deprecation refreshingly honest. 'Do it yourself and see how it goes', reads the handwritten slide behind the multidisciplinary creative, and that's the message that runs throughout his talk; he paints the dawn of Kickstarter as a kind of punk moment for art and design, and offers endless inspiration for removing your arse from its familiar friend.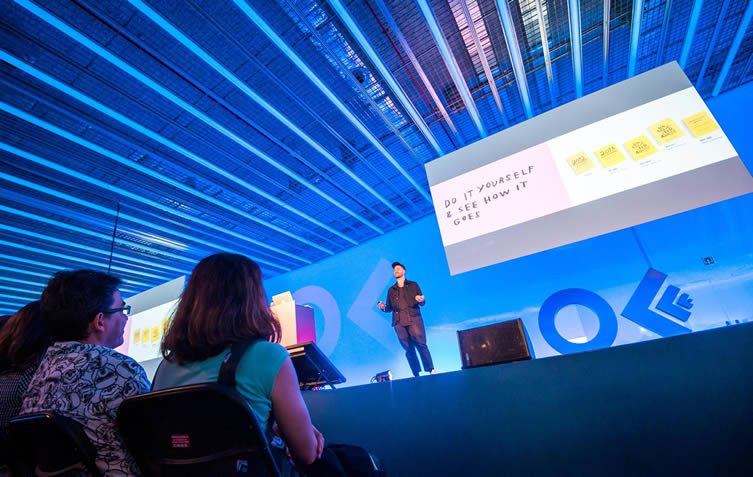 Pairing the iconic Cambridge Encyclopaedia of Astronomy wave image, so famously appropriated by Peter Saville for Joy Division's Unknown Pleasures, with text that reads 'what is this? I've seen it on Tumblr', Kurtz's quick joke about internet reappropriation and online ownership became the literal overnight sensation, and a sell-out t-shirt; leading to the revered Mancunian declaring the artist's work 'profoundly clever'. It's the perfect example of how to not bottle up creativity and how to execute your ideas, no matter how flippant. Kurtz is quite the opener for a punter who is so often weighed down by procrastination. I'm inspired, and it's barely afternoon on day one.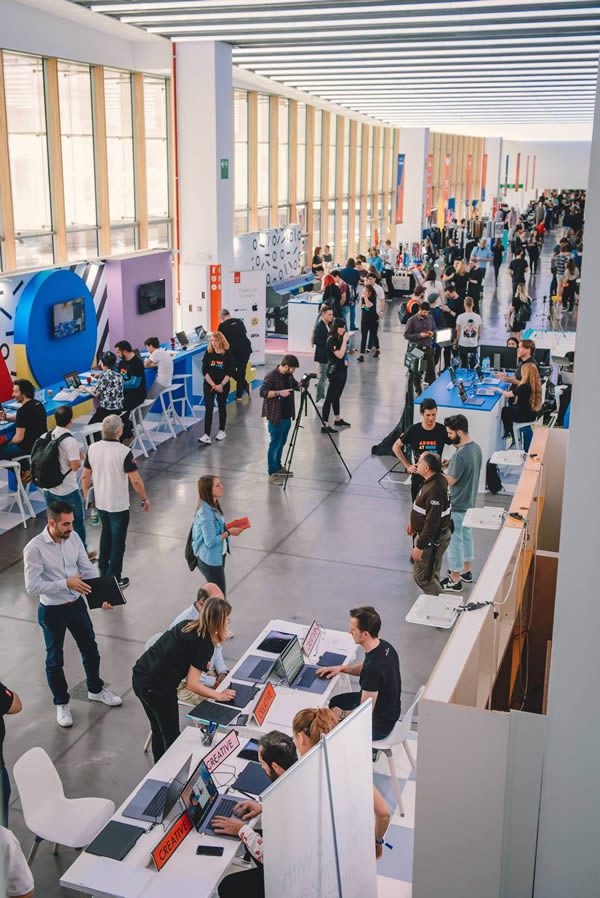 In fact, that notion of acting upon impulse is continued throughout the weekend. Perhaps it is why they and not I are on that stage, but it makes for three days of chest-banging positivity. By lunchtime of day three, the chaps from Good Fucking Design Advice ensure Kurtz's DIY attitude remains a common thread — 'you'll never have enough time, money, or experience,' they assert, amid photography of trips to the post office, as self-publishing again takes centre-stage. Naturally, the duo have plenty of (good fucking) advice for designers — they urge OFFF's attendees to focus on their talents and pull their fucking fingers out; again showing humility and vulnerability along the way, accepting that failure is a key conduit to success.
With the food trucks lined up, the tattoo artist scrawling indelible ink, and crowds forming in front of various stages, it's difficult to conceive that the buoyant mob of creatives turning a deeper shade of lobster are here to learn, to develop … with speakers who continue to inspire throughout the weekend, though, leaving OFFF better of mind and of soul is an inevitable outcome. Like Benjamin Franklin said: 'Tell me and I forget. Teach me and I remember. Involve me and I learn.' Attendees here remain in a state of permanent stimulation. Installations, design stalls, workshops, experiential projects, speakers who blur the audience/talent divide …
Following Franklin's advice and involving his audience, Ivan Cash reminds us of the importance of humanity. Encouraging OFFF's attendees to share the last photo they took on their phone with the person next to them; discussing his No Tech-Zone street intervention project; deriding the condescending nature of the marketing industry's use of the term 'consumer' — Cash, whose first professional job came as a result of getting arrested, is a breath of fresh air; a reminder that we're all spending a disproportionate amount of time with our heads down.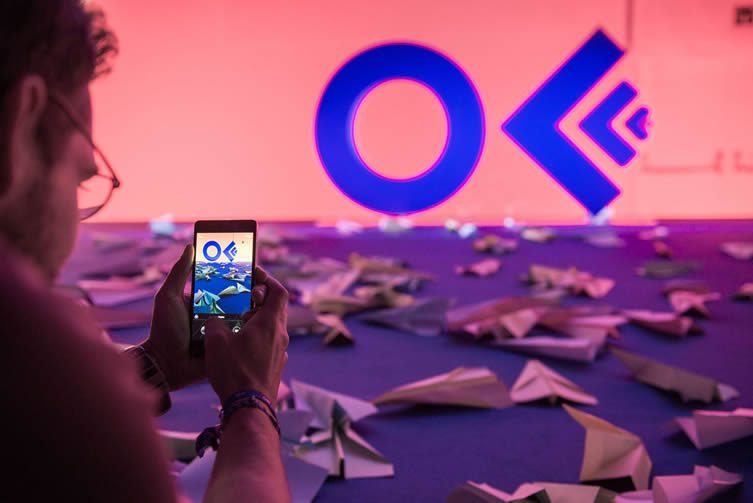 Engagement continues: Hungry Castle ask their audience to draw the person next to them as a poo emoji; Vallée Duhamel climax a presentation of their surrealist, Zbigniew Rybszynski-inspired OFFF Barcelona 2017 Main Titles by inciting a Guinness World Record-bothering paper plane throw; and Gary Baseman, who seeks to break down elitism in the art world, opens up his sketchbooks and passes his imaginary-turned-real friend Toby around the main hall's audience for selfies.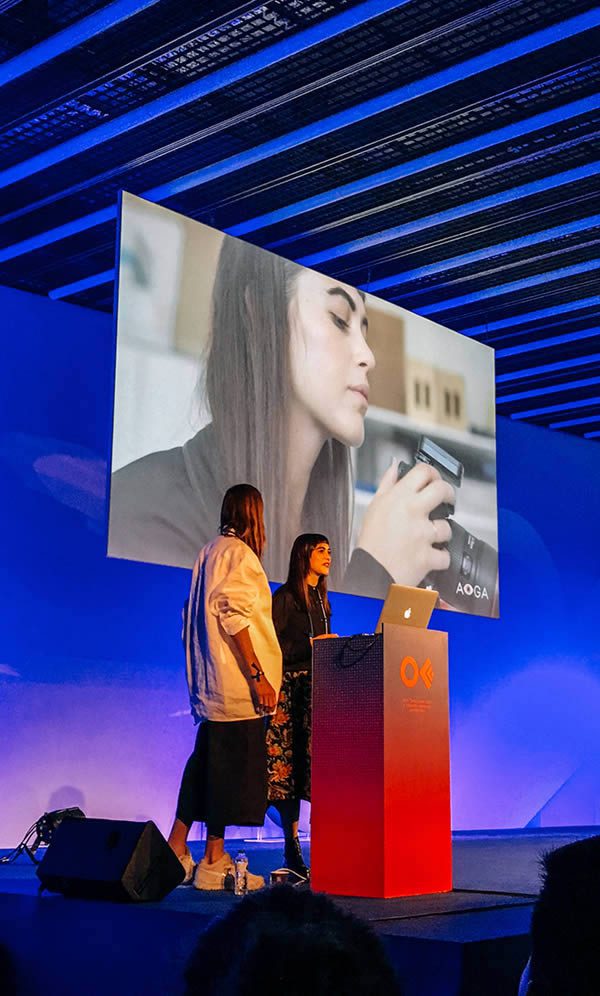 Barcelona studio Folch break convention with Gas. Change of State, a conceptual 'mise en scene' where several of their projects were broken down and reconfigured as one provocative performance. A fellow punter leaned towards me and labelled Folch's intervention as 'pretentious', and it's at that very point I recognise that they've achieved everything they had set out to: provoke a response. After all, that is the essence of creativity.
Indeed, provocation is another theme that won't go away, and husband and wife duo Leta Sobierajski and Wade Jeffree are unapologetic in their desire to provoke an emotional response from their audience. Dissecting their work under titles like 'purposeful eclecticism' and 'design as performance', Sobierajski and Jeffree display great honesty, and reiterate the importance of injecting personality into your output. Unafraid of tapping into the innocence of childhood, their work is infectious, and impossible to ignore.
Later that afternoon, designer and director GMUNK reminds us that is is not solely our audiences who require a little provocation from time to time, adding that we must make ourselves uncomfortable to truly embrace the creativity inside. In a talk that felt more like a therapy session, GMUNK shows us GIFs that can't be unseen and openly admits to being a bit of a deviant. It's a riot, and the crowd can't help but be swept away by what feels like a set from the proverbial troubled musician, bearing his soul through a tortured performance. The festival spirit is alive, and I'm knocking back beer in plastic glasses as tattooed tech-artist Joshua Davis takes the stage to rapturous applause.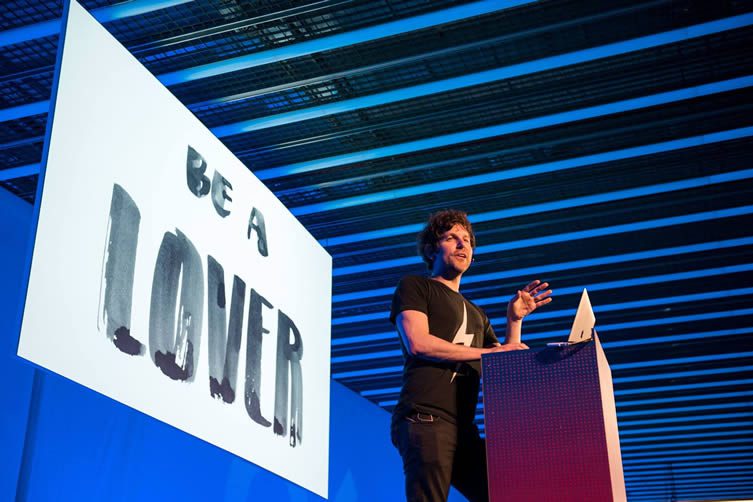 The new media talent is the code-art pioneer behind praystation.com, and a dominant force in experimental art via technology — constantly posting new research, the prolific artist backs up GMUNK's assertion that you shouldn't wait to be hired before creating; if what you're putting out is good enough, clients will see it and want a bit of it for themselves. Like techno pitted against indie, their work might be world's apart from that of Kurtz or Good Fucking Design Advice, their DIY spirit however is not.
Making things happen. Displaying humility. Provoking your audience. Key messages form over the course of the weekend, but there is one nugget of advice that all OFFF's speakers have embraced, whether they talk about it or not: hard fucking work.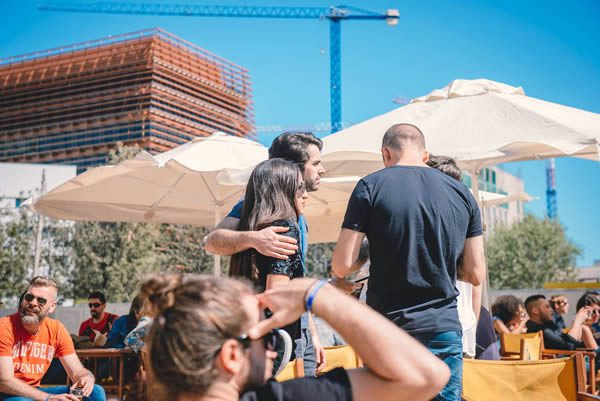 Kelli Anderson's tale of tenacity gave valuable insight into her meticulously-conceived paper works, the tactility of handcraft a reminder of the roots laid in so many design disciplines; whilst Barcelona-based artist Ricardo Cavolo reiterated the need to hone your craft — drawing, drawing, drawing, and drawing some more, the Salamanca-born illustrator putting his singular style down to a Malcolm Gladwell-esque case of deliberate practice.
One creative here is truly synonymous with hard work, though, Work Hard and Be Nice to People the letterpress print that defined his practice. With the calm of an elder statesman, Anthony Burrill commands a packed main hall — born in Littleborough, Lancashire, his accent is soft and wholly soothing. Overheard in a supermarket in 2004, the print is like a musician's breakthrough hit, forcefully demanded as part of every encore. It's a part of Burrill's makeup that he'll never shift, and speaks volumes of the style that he has shaped for himself. Seeing everything he has done as a 'single body of work', words themselves are as intrinsic to his practice as typography — after all, 'I'm not really a typographer', he admits.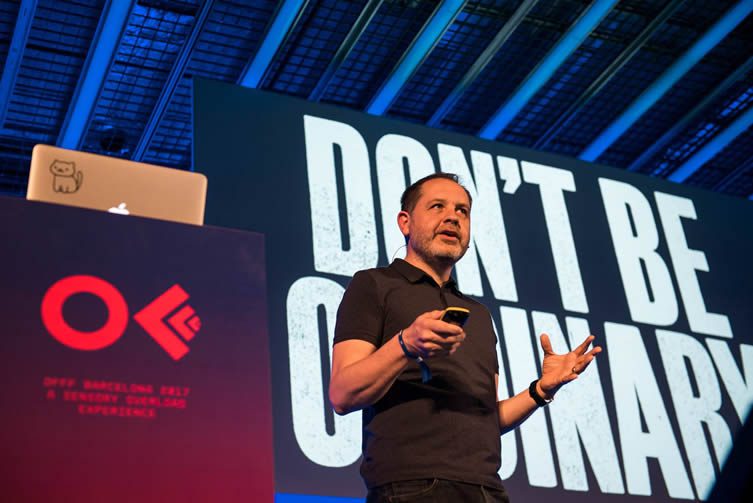 Burrill pulls up a list of influences on his life. Whilst there are some surprises — homemade electronic music, Kraftwerk, and acid house (which he claims 'opened up a whole new world') — that familiar mantra remains a common inspiration: people who don't fit in, friendly people, chance meetings, and vernacular typography just some of the things that make Anthony Burrill get up each morning. The man is impossible not to like and, audience won over, he leaves us with a torch to carry: 'design for good'
From his arresting Innocent Targets collaboration with Banana and Associates and photographer Robbie Augspurger (in which real people are placed on shooting range posters to highlight the United States' disproportionate levels of gun violence), to Oil & Water Do Not Mix, a poster screen-printed with oil collected from the 2010 Gulf of Mexico disaster, Burrill reminds us that 'as designers, we have a responsibility to make a positive contribution too.'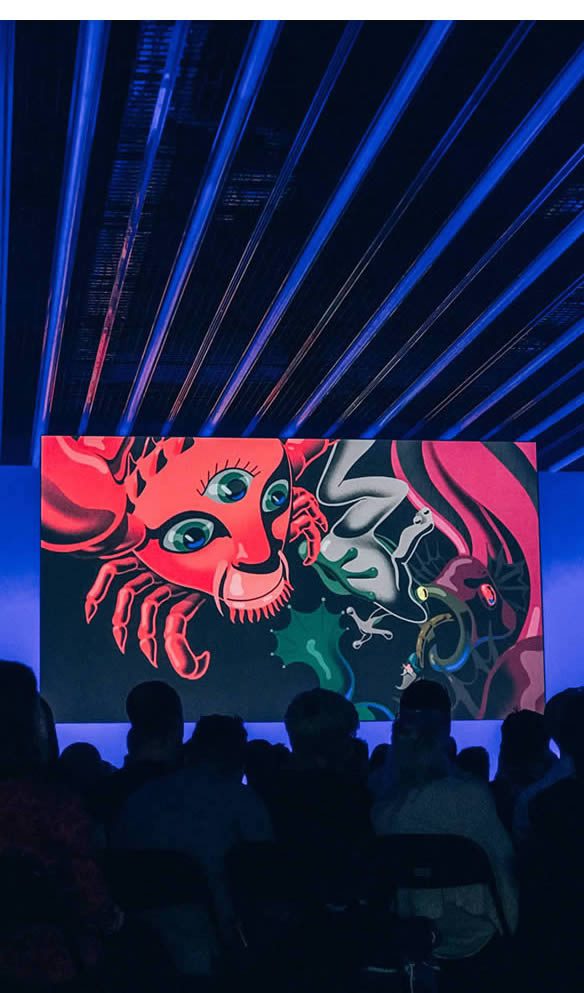 Another of the few talents on hand who truly remember working in the creative industry prior to the dawn of the digital age, Vaughan Oliver — famous for his iconic work during 4AD's golden era — is the design equivalent of many of the bands whose record sleeves he covered; the connoisseurs' choice, the inspiration behind the inspirations. Oliver is forthright and humble, utterly engaging to watch — he eulogises the importance of great photography and creating tension between extremes, but won't subscribe to the view that what he has created is art: 'this is what graphic design can be', he asserts.
Cognitive dissonance is lauded as a vital mechanism by Buck creative director Orion Tait, too. Dissecting his company's psychotropic work for an intro to David Blaine's latest show, Spectacle of the Real, Tait recounts talking mythology and the occult, DMT and Isaac Newton shoving a needle into his own eye with the magician; positing that great work comes from the edge of our understanding.
And that is, by Sunday evening, what OFFF has achieved — it has taken its audience on a wild ride to the edge of our collective consciousness, and deposited us onto a higher plane; hearts and souls refreshed, a jolt of creative inspiration sending us back to our day-to-days with stimulated psyches.
'I didn't know what designers were,' admits Lance Wyman as he gives account of his first dream-job: a cowboy. The crowd now hang on the New Jersey-born design godfather's every word, as he takes us through the story of his life, and the inspiration to motivate oneself continues up until the last. 29 when he won the pitch that would become his most famous work, Wyman and his partner couldn't afford return tickets to Mexico, ending up staying on a few years. Here, he would also create the visual identity for Mexico City's metro system. Right place, right time? No. A resolute belief in his own abilities and hard fucking work. Don't you forget it.