Australia's first animated neon sign, Abbotsford's Skipping Girl has held a place in the hearts of Melburnians since the 1930s (albeit in different guises); a new café-restaurant in its shadow aims to win equal affection.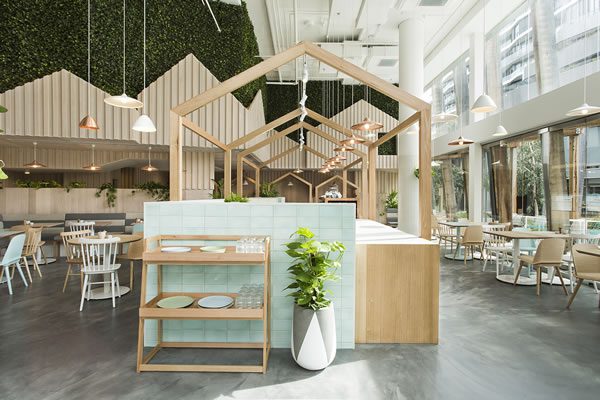 Known locally as Little Audrey, the skipping sign is given an identity crisis by Biasol: Design Studio — who have christened the sign's new neighbour Kitty Burns; a dual personality brand where Kitty's skittishness is counterbalanced by Burns' sober side. Quite.
What this all means is that Kitty's intentions to run riot are continually curbed by Burns' disciplined nature; it makes for a space that is playful, bright and intimate, coupled with a refined alter ego that ensures all stays classy. Very classy. Flooded with natural light, and reaching out into the quietude and natural beauty of Melbourne's Yarra Bend, there's a considered connection with the outdoors; 'it was important to us that the space would never compete with its surroundings' Biasol: Design Studio explain.
The food? Avocado; bircher; extravagant donuts; eggs … all that brunchy, healthy, indulgent and Instagrammable goodness you expect in Melbourne. And coffee. Obvs. Kitty Burns, a confused soul, but a great looking gal!