Grind & Co. have coffee shops dotted around London's hippest 'hoods, so their latest offering is a surprising sidestep for the flourishing caffeine outfit; moving into the heart of the financial district with Royal Exchange Grind.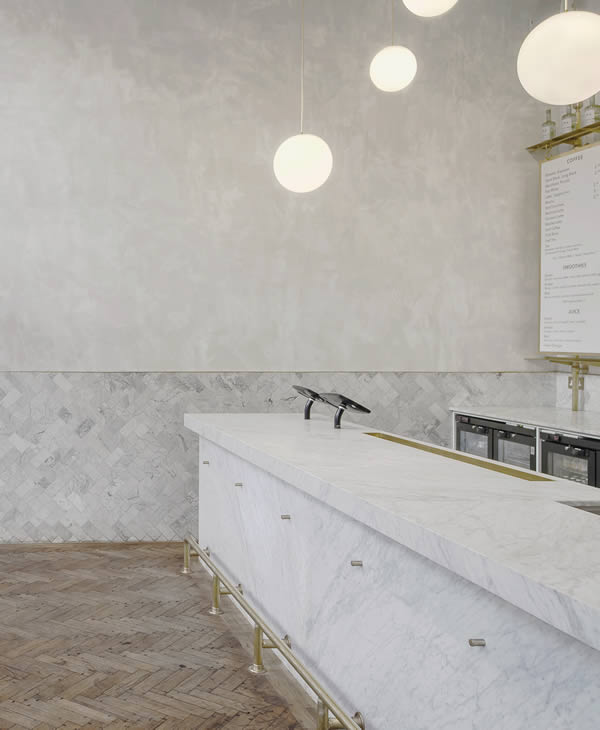 Located within the Grade I-listed Royal Exchange, the Antipodean aesthetic (that has become familiar in the homogenisation of global culture) is overlooked in favour of something altogether more stately — and, unlike other Grinds, Royal Exchange Grind is more bar than café; serving espresso by day and cocktails come night.
Working with Melbourne-based design studio Biasol (the creative force behind their Shoreditch, Soho, Holborn, Covent Garden, and London Bridge coffee shops), there's a simple regality throughout; befitting of the building and locale.
Biasol have put together a space that hones in on clean lines and a timeless material palette — furniture and fittings like the white three-legged stools with peacock-green upholstery and Carrara marble counter add an element of light; original features considered and retained, the designers telling us: 'this project is really built on the details — every element, from the custom brass-rod display shelving behind the bar to the amazing herringbone timber floor that has lasted over a century, has been carefully considered. And the playful irony of the neon artwork money can't buy me love gives it an underlying sense of fun.'