Italian aperitivo brand, Italicus Rosolio di Bergamotto, has teamed up with urban and contemporary art platform Moniker to present Art of ITALICUS 2021: Creative Talent — Cities Reimagined. In what they call a 'GLOCAL' initiative (GLObal virtual arts celebration calling upon artists from around the world to reimagine the landscape and personality of loCAL cities), the competition celebrates digital arts and creativity in a contest that will run from 5 July until 3 August.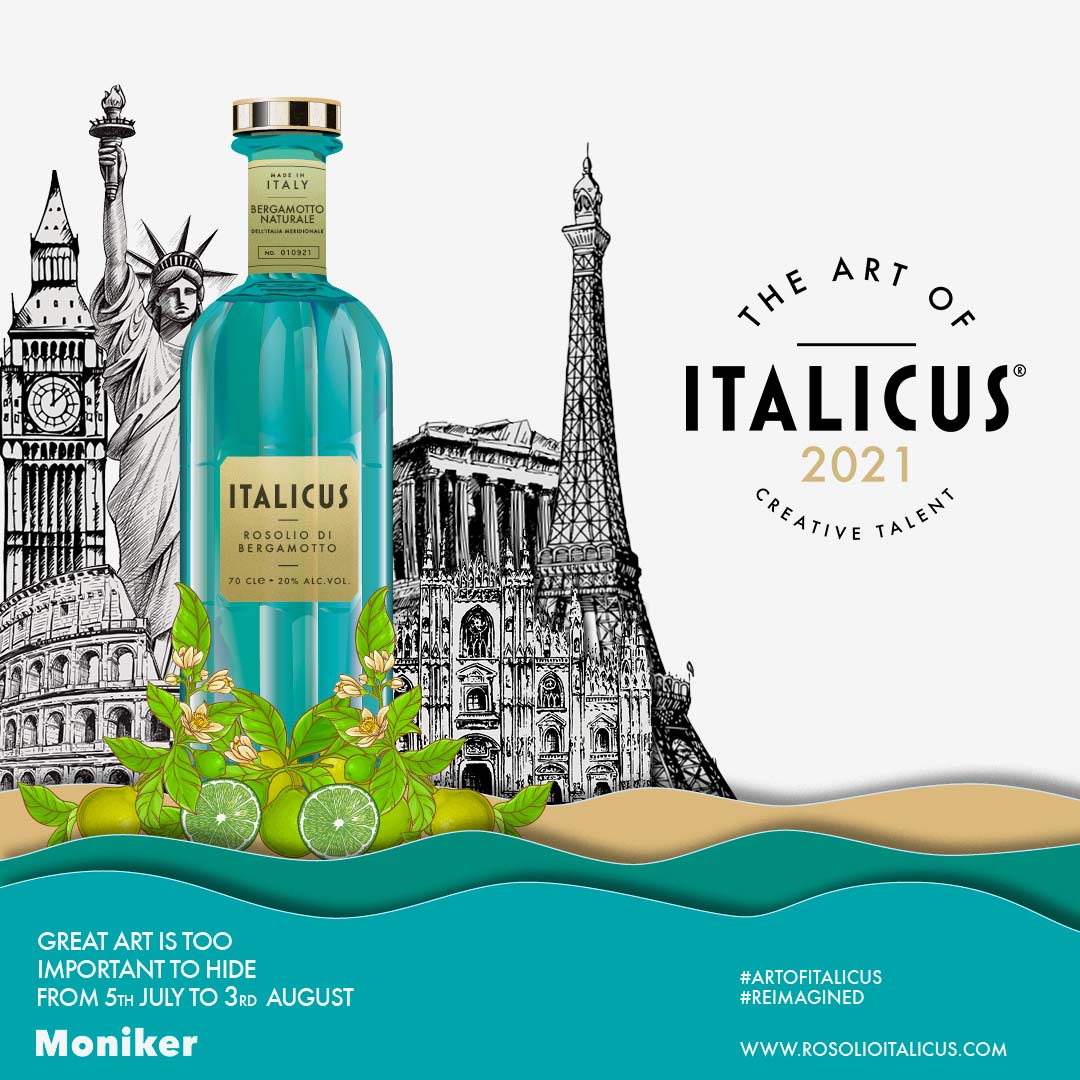 Using a variety of mediums including photography, digital illustration, drawing, painting, collage, animation and stop motion, entrants need to choose one of the 14 cities from the following list and 'reimagine it' through the modern and vibrant lens of ITALICUS. Whether you live in one of these cities or they simply inspire you, the destinations to be depicted are Rome, Milan, Los Angeles, Miami, New York, London, Barcelona, Paris, Sydney, Berlin, Athens, Tokyo, Hong Kong, and Moscow; each one bursting with with rich traditions, culture, heritage and architecture.
The competition runs in conjunction with the fifth anniversary of ITALICUS and will be judged by members of the public who'll vote for their favourite piece of work, before a panel of judges cast their expert eyes over the shortlisted works and select 14 winners. Each receiving a £1,000 cash prize, the winning artists will also be awarded a digital exhibition of their work, social media coverage across ITALICUS and Moniker Art Fair's channels, and a complimentary ITALICUS bottle and gift box in addition.
To further inspire potential participants, ITALICUS and Moniker Culture have partnered with five emerging artists to create their own Cities Reimagined works of art. With pieces from Vix Black (Milan), Mr. Penfold (Miami), Roxanne Dewar (Barcelona), Luke Smile (London), and Thomas Kirk Shannon (New York), the works all nod to the ITALICUS brand in some way.
A brand known for reimagining locations themselves, the shapes and colours of the aquamarine waters of founder Giuseppe Gallo's hometown of the Amalfi coast inform the iconic ITALICUS bottle, which takes its form from a Roman column, and is embellished with Renaissance- and Baroque-inspired details around the cap. Adopt that keen eye for attention to detail, be inspired by creative thinking, and turn out your own ode to a destination critical to your own creative vision.
The Art of ITALICUS: Creative Talent 2021 competition opens today, with entrants able to submit their work via www.rosolioitalicus.com/creative-talent (T&Cs apply). Running until 3 August, the competition is an open call to artists worldwide, with winners being announced on 1 September 2021.
Be rewarded by creative cred, a chance to demonstrate your love for the city that inspires you, and a cash prize; the latest edition of ITALICUS's creative talent competition is the perfect pastime to while away your time under the July sun.