Located in the centre of Münster — a city renowned for its charm, history, and open-minded attitude — Mauritzhof Hotel occupies a space on a lush promenade that circles the old town. With 52 guest-rooms and one suite, the hotel focusses on design and style; warm colours, mood lighting and floor-to-ceiling windows, without compromising on quality. At the Mauritzhof, personal but never intrusive, service comes as standard.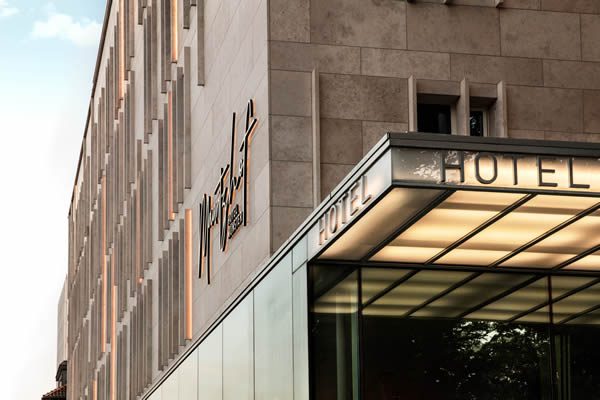 Enjoying a new chapter, following an extensive refurb that saw owner Stefan Reckhenrich work with local architects Kresings and the Berlin-based Lambs and Lions, the updated space not only reflects the cosmopolitan vibe of its surrounds; but places it firmly on the design-minded map of the nomadic creative class.
Now, the former 1950s brick building boasts an additional storey and a façade constructed from local limestone which features their scrawled signature logo. Inside, and before arriving at their rooms, guests will find an inviting fireplace by Gubi and Frederici; and cosy corners with muted colour palettes and earthy tones. Relaxation is the name of the game here — with Mauritzhof's down-to-earth restaurant and bar able to cater to discerning tastebuds, combined with its laid-back location, there's no reason why you shouldn't leave here with you battery pack peaking at a full 100%.