As her native Venezuela lunges from one crisis to the next, Sydney-based artist Nadia Hernández looks to the folklore of her home country for ways to enact positive change. 'It's the binding core of a culture,' Hernández says of these cultural traditions, 'its customs, art forms and beliefs are there to bring people together — my work is about finding oneself through folklore in order to call for reflection, solidarity, and union.'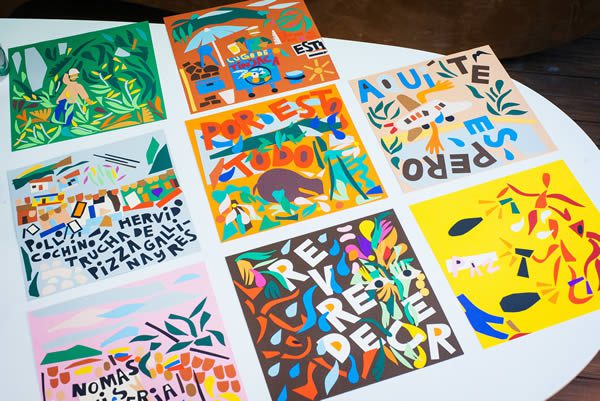 In an extension of the body of work she presented at Sydney's Mild Manners gallery in 2015, 100% Certain, Cosas Antes y Después (Things Before and After) sees Nadia Hernández once again informed by Venezuela's tumultuous political climate and the world's wider issues at large; this time after returning to visit her homeland following an eight year hiatus.
'While in Venezuela I was hyper-aware of what was happening,' she recounts, 'I felt frustrated, angry and sad, sometimes wondering if it was all a nightmare … I wanted to take in the beauty and the decay, the hope of change, and document it in my work; expand on that story, continue to use symbols and continue to build that visual legend which commenced with the work in 100% Certain. To tell a complex story, never normalising the situation, aiming for relatability, reflecting and linking it to current worldwide events, seeking a solution regardless of the length of time required, aiming to inspire a breath of action, an idea, a conversation.'
The frenetic difficulties she encountered are translated to images of hope in Cosas Antes y Después; the filter of folklore and Nadia Hernández's own positivity shaping a body of work that is informed by troubles but buoyantly optimistic. Employing traditional techniques from Venezuelan folk art with her signature use of paper, the works in this series call for political and social change through bold, brilliant colour and potent referencing of her nation's cultural heritage.
Nadia Hernández, Cosas Antes y Después is presented by Mild Manners, and continues at Special Group Studios, Sydney, until 4 April.