Late '80s acid house crossover track Stakker Humanoid, conspiracy theory 'exposé' publication Order Out of Chaos: on the face of it, two entities chiefly unrelated. Nonetheless, they are two entities that speak volumes of artist Jess Johnson and her work – the Melbourne-based creative's drawings err on the side of graphic art, and look every bit the drug-fuelled club flyer for an intergalactic gathering of cults, countercultures and higher consciousness. If Guy Ballard had've held M25 raves, Johnson would've been his go-to gal.
Let's rewind a little: Stakker Humanoid and Order Out of Chaos are just some of the slogans that join the likes of heretic, aposate, incubus and succubus in Jess Johnson's mind-twitchingly detailed graphical explorations. Sloganeering plays a major part in the New Zealander's work, as if each piece a call to action, but it's their repetitive decoration and use of cultish iconography that defines them. Think Escheresque worlds, primitive platform-game layouts, geometric fantasies. Think hallucinatory portals. Think, as one work puts it, "contacting the DMT machine" – now, if you know what that means, feel free to skip the rest and head straight for the pictures.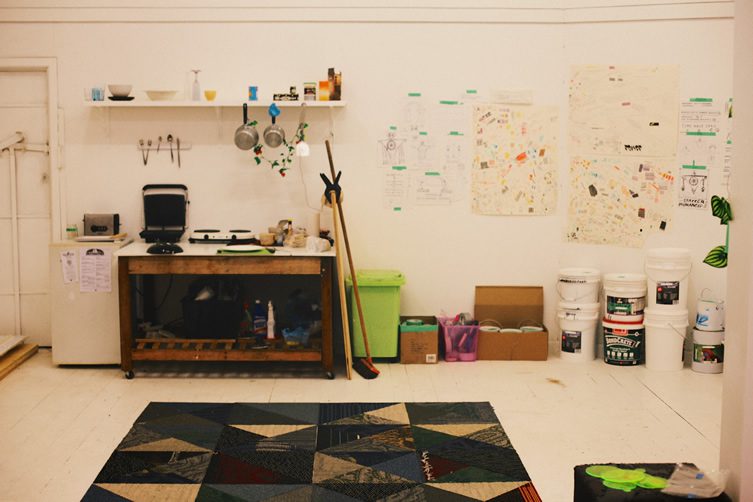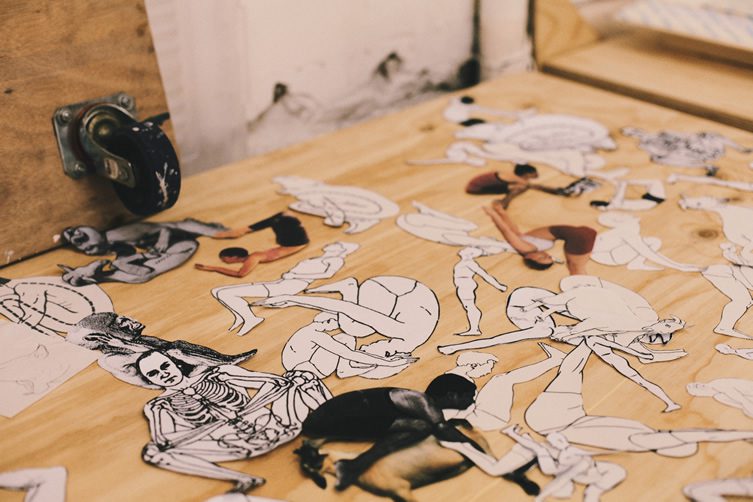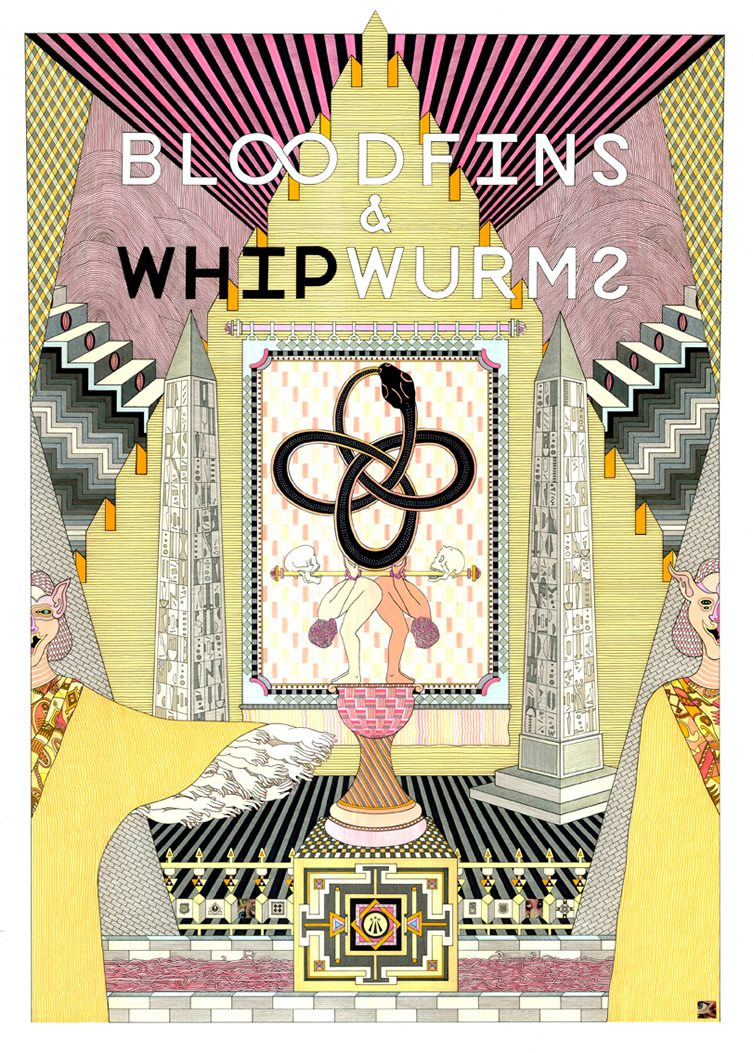 Back to reality. Kind of. Jess is talking us through the laborious process behind her epic standout installation, Outer head of the order (Vestibule incarnate), at the National Gallery of Victoria's Melbourne Now exhibition as we sit down in her expansive Fitzroy studio; tape, paint, peel, repeat… Recent installations at Sydney's Primavera 2013, Christchurch City Art Gallery and Melbourne's Heide Museum of Modern Art have seen the graphically-minded artist place increasing importance in the presentation of her small-scale drawings. Hypnotic otherworlds cropping up amid traditional white-wall spaces.
Occupying one of the studios above Gertrude Contemporary – Jess is in the middle of a two year residency at the Melbourne gallery – the mythology and symbolism that inform her work seem less sinister in the shape of '80s pop culture paraphernalia (Nintendo console, Transformers, Chucky…). It's evident that as fascinated with outré belief systems and UFOs as Johnson may be, humour permeates her practice in equal measures. "I've never looked to the art world for inspiration" – comic books; computer games; science fiction; the obsessions of a young Jess Johnson, alongside her cosmic adult preoccupations, are visible influences on her immersive fantasy worlds. And there is a fine balance between the kitsch and the cult throughout her studio.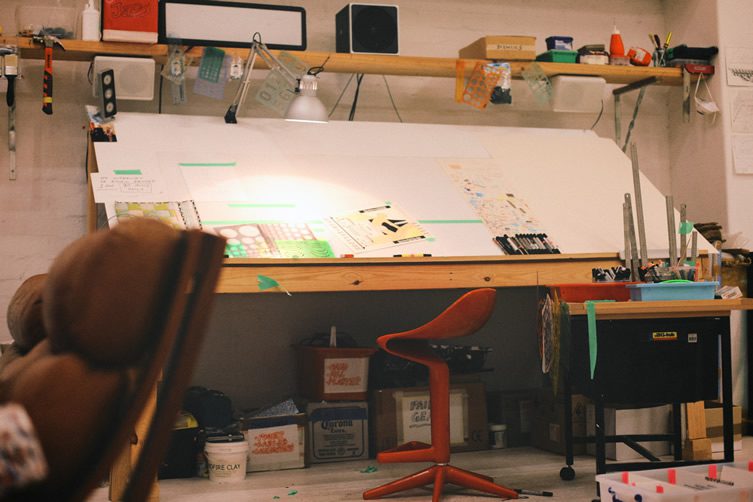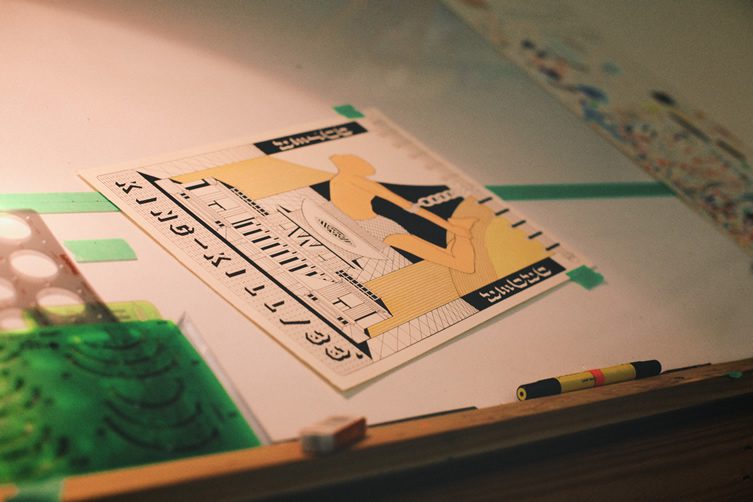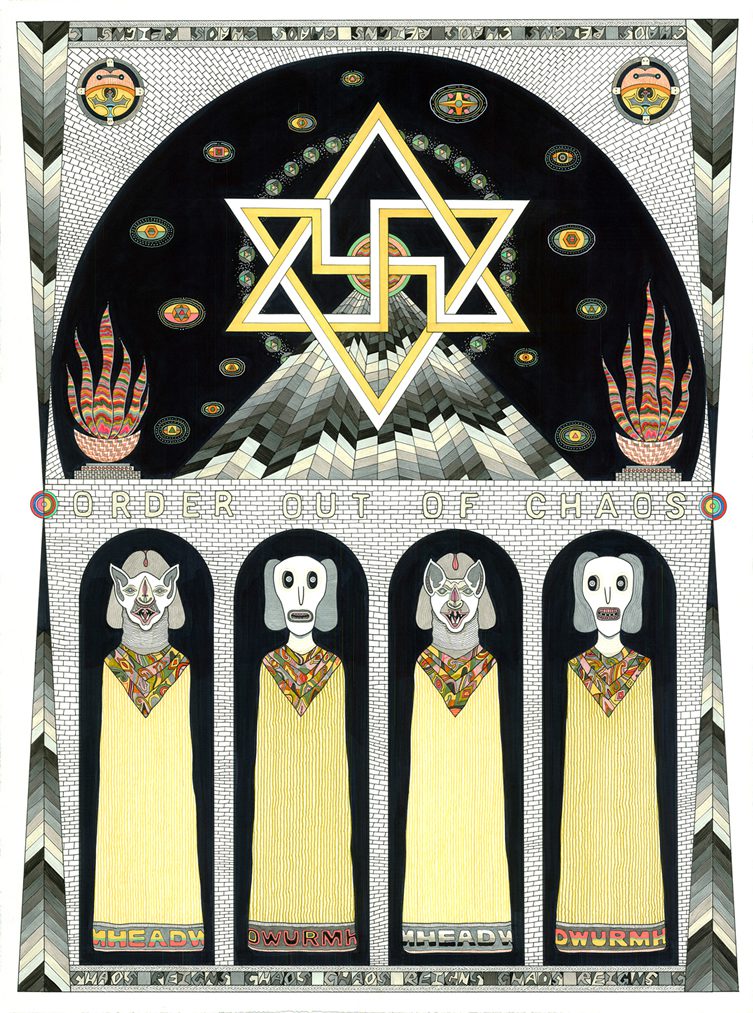 A full-time artist for two years now, Jess crashed onto the Melbourne art scene with self-built gallery Hell – a series of spaces, studios and stages fashioned from waste materials by herself and Jordan Marani at their Richmond home. A frantic cauldron of performances, exhibitions and underground club nights that screamed BERLIN from the rooftops. Things are a little less chaotic nowadays – Jess' studio is spacious, serene, every bit the harp-playing counterpoint. Heaven, Hell? It's the astral planes and shattered fragments of reality that exist between where Johnson is most at home.
Which brings us neatly to the artist's latest work; fellow Kiwi and video artist Simon Ward bringing those astral planes and shattered fragments of reality to life. Set to a soundtrack by Andrew Clarke, Mnemonic Pulse immerses its viewers in JJ's world, pseudo 3D, post-2D. Clarke's hypnotic synth work the mesmerising counterpart to Johnson's symbolic, transcendental realm. Showing now at Gertrude Contemporary's Studio 12 project space, until 17 April, Mnemonic Pulse represents Jess Johnson's escalating desire to take you into her world(s). Kids, you have been warned. The New World Order is upon us.
***