Jim Houser was born in 1973 in Philadelphia, Pennsylvania, the city where he currently resides. A self-taught artist and honorary member of Philly-based artist collective Space 1026, Houser experiments with music alongside his practice, releasing a vinyl record of instrumental music composed to accompany his installations in 2010.
Houser's collages, paintings and installations have been exhibited in institutions like the Laguna Art Museum and the Philadelphia Museum of Art, along with galleries in Los Angeles, New York, Milan, Paris, Sydney and São Paulo. His work is included in the permanent collection of the Philadelphia Museum of Art. In 2005, Gingko Press released a monograph entitled Babel: Jim Houser. Fascinated by Houser's surreal slant on the mundane, we sat down for a chat with the Philly creative…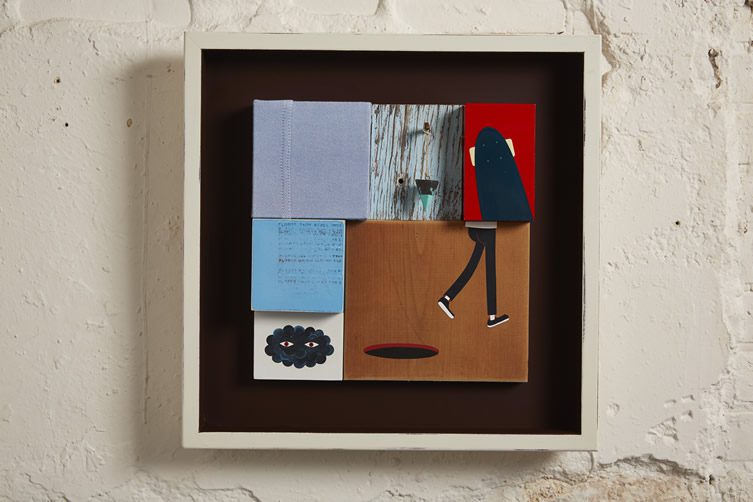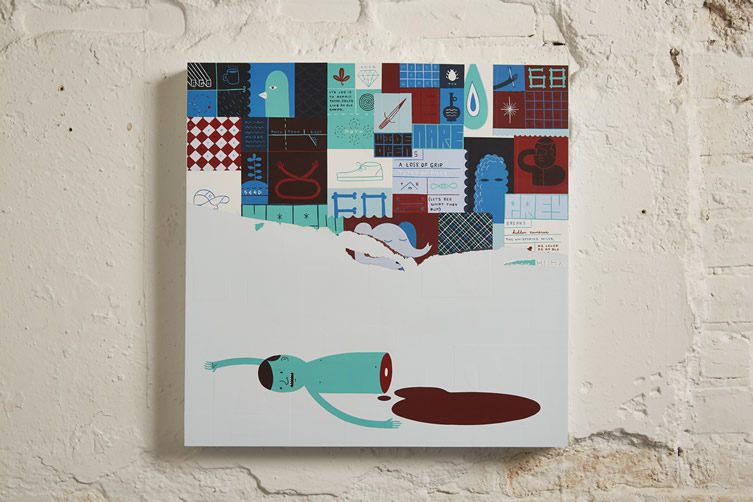 You were born in, and grew up in Philadelphia, where you still live and work to this day. How does the city inspire and influence your work?
I like Philadelphia because it's familiar and comfortable. It is somewhat more affordable than other cities. We own our home, and my studio and office occupy the third floor of the house, so it makes it easy to create work at a moment's notice and allows me to be home to care for our son.
As a painter your work is recognisable in part by the distinctive colour palette, limited to shades of blue and red – how did this develop? What role does colour choice play in creating a 'feeling' or mood within your work?
My palette sort have evolved on its own, through my installation work. I used to paint with a lot more secondary colours – oranges, greens etc. – but when creating work for an installation I would want several dozen pieces created over the span of several months to be in harmony with each other and exist as a whole. Too many colours was too much information, so I reduced it to the simplest palette that was still able to perform the job. Reds and blues; warmth and cold; water and blood.
Tell us a bit about your working process – do you have a routine or specific way of producing art these days?
I take Seamus to school in the morning, and then usually work from 9-3 until its time to go pick him up. My wife comes home at 7pm, we eat dinner together and I'll usually work for another hour or two after dinner. I tend to split days between painting in the studio or working on commercial jobs on the computer in Illustrator.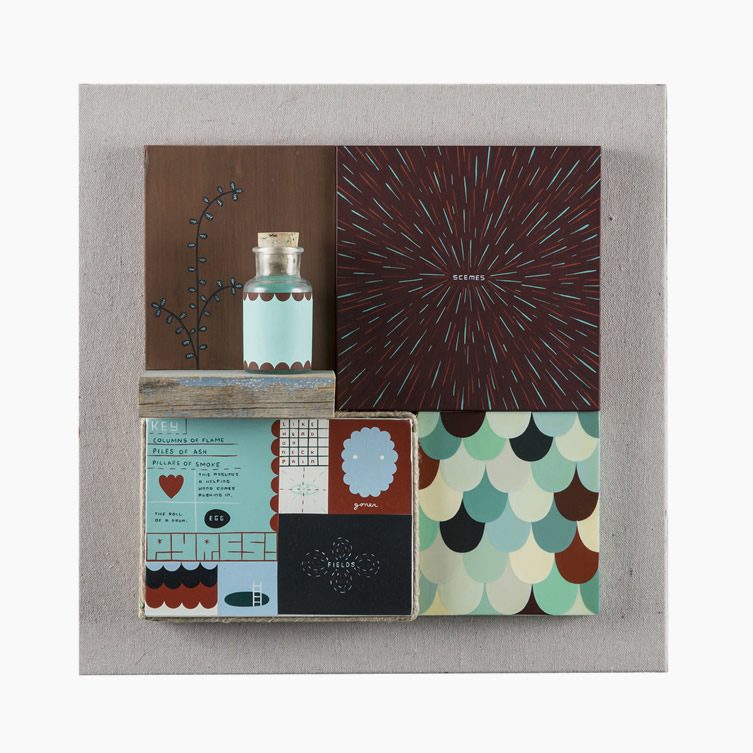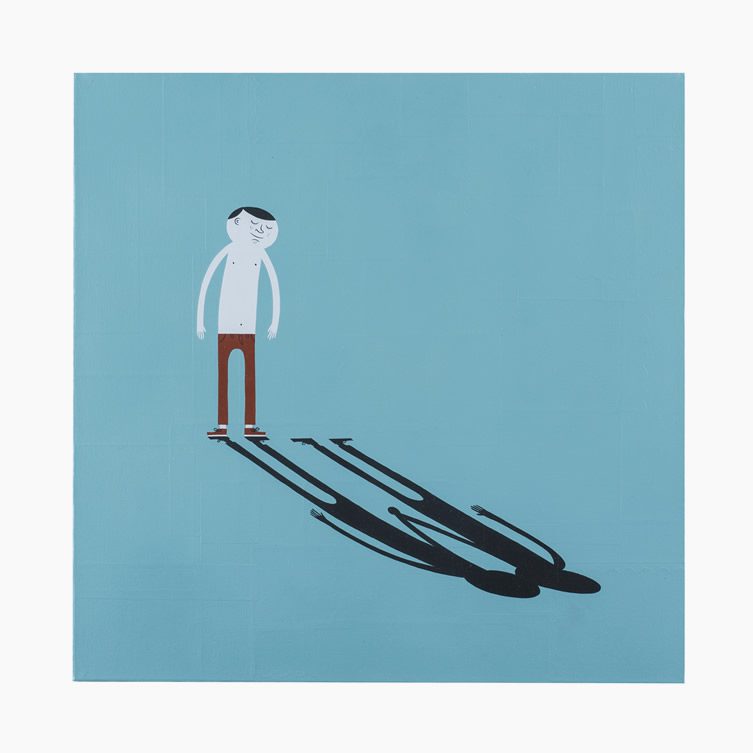 You recently presented A Position On A Map at Galleria Patricia Armodica in Italy, preceded by Night Got Quiet Not Quite Light at Fecal Face Gallery in San Francisco  – can you tell us about the themes and ideas you've been exploring in your newest works? 
The overall theme of self-examination never really changes from show to show. It is kind of an on-going battle. I would say the helplessness of different kinds of love and the desire to protect what we hold dear plays a big part of both shows. From a more technical standpoint all the pieces contain elements of collage. My paintings have been constructed from painted and glued paper for several years, but only recently have I begun to push my understanding of the technique farther, so a lot these pieces are approaching the limit of what I am able to achieve with what I've learned so far.
Do you feel like your going through a transition yourself?
Sure. I'm in my forties now. You reach a point where you begin to assess your place in the art world as well as your place in the actual world. I was joking with a friend that I first saw the movie Basquiat when I was about 23 or 24, and really related to Jeffrey Wright. I watched it not long ago and really related to Willem Dafoe [Dafoe plays The Electrician] he's the best dude in that movie.
What were your early interests when you were growing up?
I always liked reading, drawing and skateboarding as a kid. In my teens, I became interested in writing short fiction and poetry. It all kind of blended together as I got older and became the backbone of how I make my art.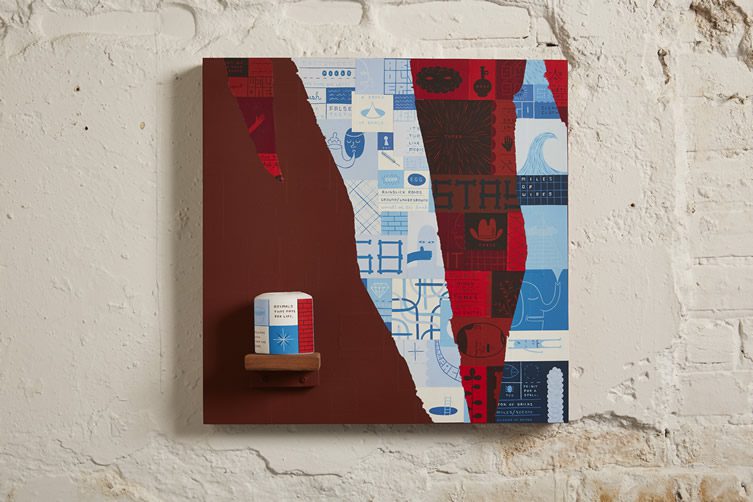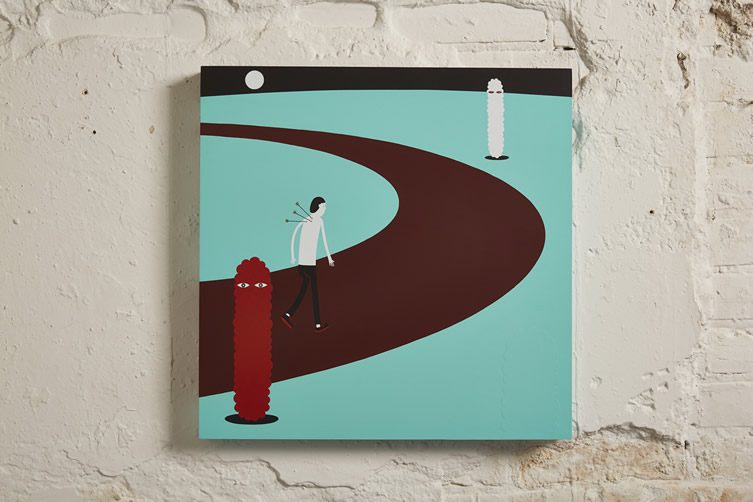 You're part of creative group Space 1026 which is described as a '13 year experiment' can you tell us how the idea came about and what your aspirations are collectively? Are you involved with any group projects right now?
Space 1026 started originally as a group of people who were originally from Philly but were graduating from the Rhode Island School of Design and didn't want to move to NYC or stay in providence. I'd say the inspiration was 50% Fort Thunder and 50% Shepard Fairey's studio Alternative Graphics – it was mainly just a group of artists and designers that were looking to pool their resources for an affordable living and working space. It later expanded to fill a second floor in the same location, with gallery space, screen printing facilities etc. It's an interesting place for sure. I'd recommend anyone unfamiliar to Google it as there's tons of images and info available. Some real heavy hitters have done some great work there. It's part of the art history of Philadelphia now.
Do you find it challenging to balance making artwork with client projects and family life? How do you manage it? Are you less or more prolific as a result of becoming a father? 
Early in our son's life I struggled with it, but as he's gotten older it's become easier to work with and around him. I used to not even try to make art on the days that my wife was at work. I wanted to avoid ever starting a project and then feeling resentment when he would wake up from a nap or whatever. Eventually we settled into a pattern that works in a healthy way for all three of us. It's all about balance.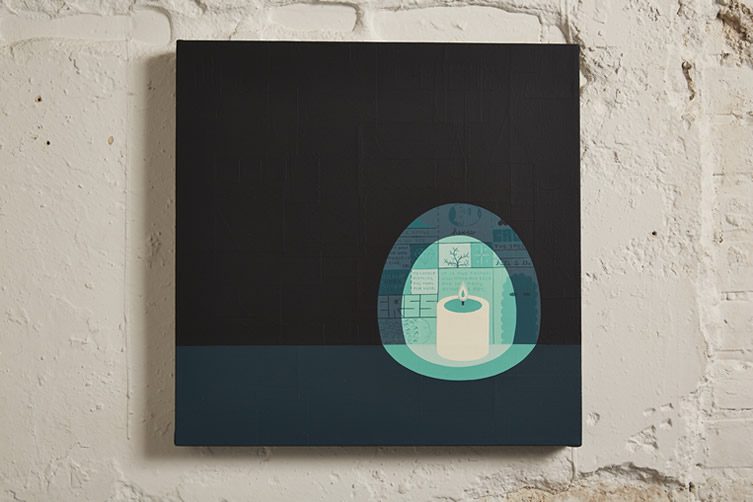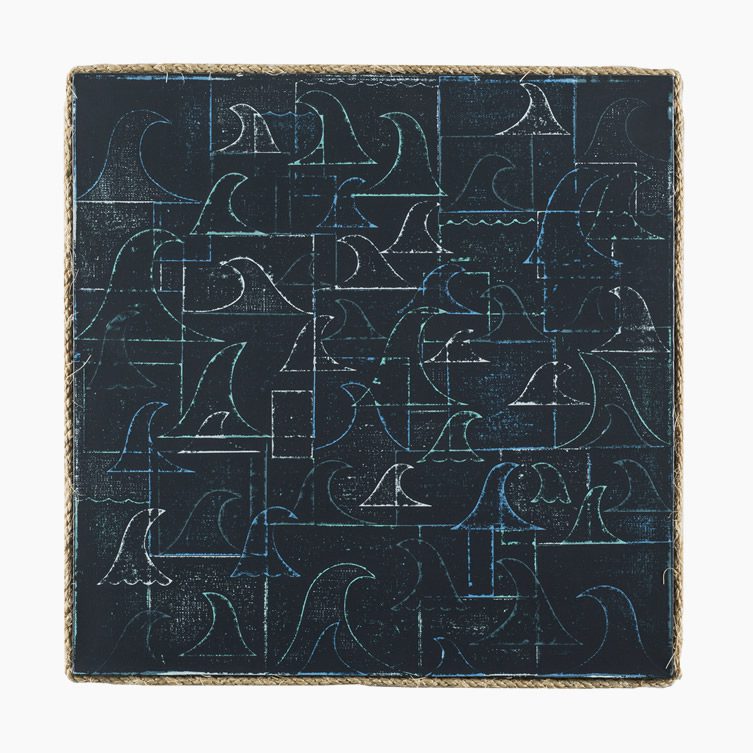 I've read that you make your own music – can you tell us how this works as a creative outlet? Does your painting inspire your music and vice versa?
I go through periods of music making and then go back to visual art again. It's a whole different way of working for me, and I don't do well trying to do both at the same time, but they have similarities. I am not a great collaborator and all the music I make is made by me. It's really repetitive and layered, just like my paintings are. I've had no formal training in either; just bits and pieces picked up from friends. In both areas I have a very limited toolset that I use to try and communicate as simply as possible.
How do you like to relax when you're not preparing for a show or taking care of your son? I heard you're a bit of a skater?
Making music is a big one, during time off. Working around the house fixing things can be very satisfying. I skateboard a lot yes, usually a few times a week, just to move around outside and use my muscles.
Where do you see your work taking you in future?  What kind of experiences do you hope to cultivate for yourself over the next few years?
I'm not really sure. I never plan too far ahead. I take on projects as they come and try to keep challenging myself to make things I think are interesting. It would be good to feel happy with who I am as a person, and my art making has always played a big role in that. I guess in the next 10 years I would like to work on being a better father and a better husband and a better friend and to feel more comfortable in my own skin.
***