London's Shoreditch is a noisy place. Astir with bars; offices; studios; hotels; and restaurants, the neighbourhood is a self-contained ecosystem. Long gentrified beyond its emerging artists and creative waifs and strays, the 'hood that Nathan Barley defined is now all about technology, design, finance … about serious business. And serious business needs feeding. The choices are plentiful — from small independents to award-winning heavies such as Tramshed, The Clove Club and Dishoom. How then, does a chef — who for the past four years has been running an 18-cover café in north London's Muswell Hill — raise his head above the crowd?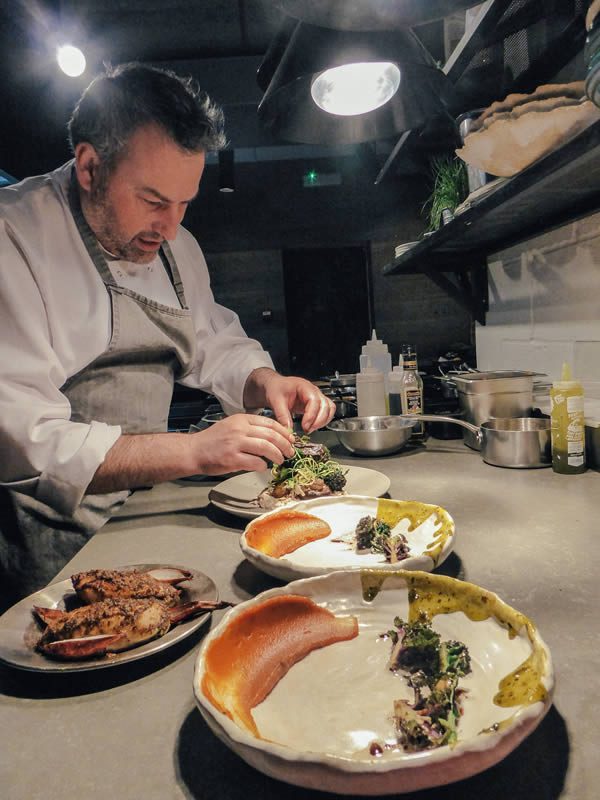 On a peaceful pedestrian square called Hoxton Market, just seconds from all sorts of bustle, is Chriskitch Hoxton; a family-run restaurant owned by chef Christian Honor. Having spent his entire career working internationally — Australia; Europe; the Middle East; Africa; and South East Asia — it's safe to say Chris has been around the block. His illustrious career has seen him work with culinary greats; including Gordon Ramsey, David Nicolas, Chris Janson, and Henry Brosi — as well as overseeing 180 chefs at the Oberoi Hotels chain. Immersing himself in different culinary cultures has evolved his knowledge, repertoire, and style.
Accolades aside, Honor is humble and the restaurant is very much the family run operation. His wife Bibi was hands-on in the design of the space; she runs it day-to-day, too. There's plenty to stimulate the eye, an abundance of untreated wood; an amber back-lit wall; poured concrete floor; potato starch composite tables; racing car interior style sofas; handmade clay and ceramic crockery, and potted succulents and herbs everywhere. Chriskitch looks good. It is considered, and has a substance that sees it transcend trends.
Each dining experience starts with complimentary pre-starters delivered on natural wood, stone and quartz. Presentation is highly sensory, with herbs wrapped in seaweed, cheddar crisp lollipops, leaf 'pizza' and seaweed tempura. Abundant in textures, flavours and aromas, Chris insists he is not simply showing off his skills: 'I'm trying to give diners a great experience, value for money, give them something unique so they want to return.'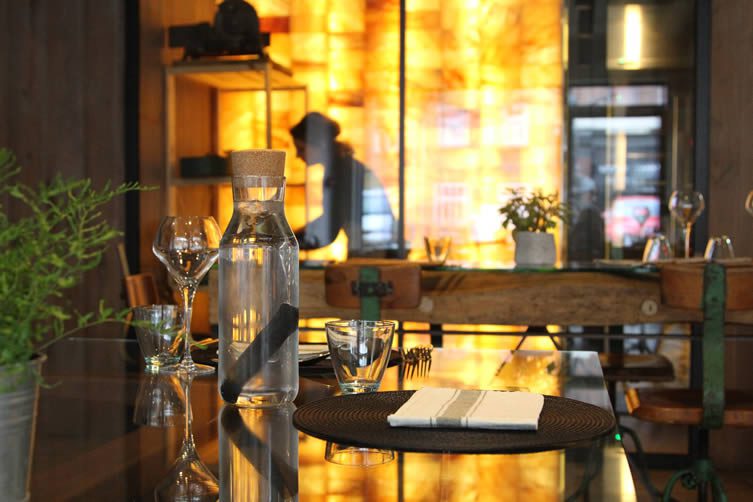 Champagne-poached oysters with truffle and chive scrambled eggs follow, sumptuous feelings appear and we're impressed with the nods to Japanese and European cuisine. The four of us dive into a variety of dishes, including BBQ venison that is smokey-black on the outside and vivid pink on the inside, served with roasted endive, pomegranate, blue cheese and sumac dressing. The broccoli and green pea mousse with goat's cheese, soft poached egg and durum crisp bread is delicate yet substantial, with green and creamy flavours that are perfectly balanced.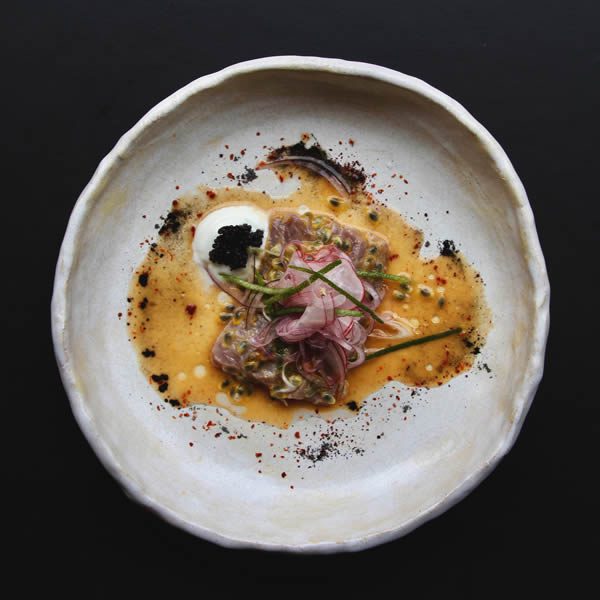 A Cedar plank-roasted mackerel with pickled onions, balsamic baby beetroot, creamed horseradish and honey is a must; as is the blackened miso salmon with white balsamic and honey dressing — sweet and buoyant and utterly moreish. Each dish here is big on flavour, from fiery to sweet to spicy then sour; each ingredient still identifiable, never overshadowed. So how does he strike a balance between the culinary and cultural influences? 'It comes from years of developing my palate, understanding different cultures and having the belief to say these foods do go together; and it's done with a true responsibility. It's a discipline of what not to put on the plate as well.'
Other aspects are worth a mention: water is naturally-filtered using charcoal, which aids purification and adds to the visual experience, and the wine list offers great organic and biodynamic wines for under £30, which we found most agreeable. When asked why the low mark-up, Honor responds, 'it just seems a nice fit, don't get me wrong, our wines aren't anything over the top. I have a very good relationship with Jim Barry [Australian wine producer], I know Olivia, Jim's daughter. Coming from Australia, I've been to the wineries, so I know them. As for the mark up; we don't believe in daylight robbery.'
Humble, enthusiastic and extremely talented, Honor and his team have got a lot right at Chriskitch. It's a 'big flavours, small kitchen' concept with Chris at the forefront. Overall it is a highly creative sensory experience — from the décor to the food on our plate, discovering each dish in a sociable and laid-back atmosphere is a real treat.