Captivating yet abhorrent. Two sides of the same coin in today's money. There has always been a darker side to the gloss of popular culture — rarely has it been so visible. The fading veneer of the American dream acts as Jordan Wolfson's muse; the New York born artist's technology-heavy works exposing the digitalisation of society, challenging the loss of innocence.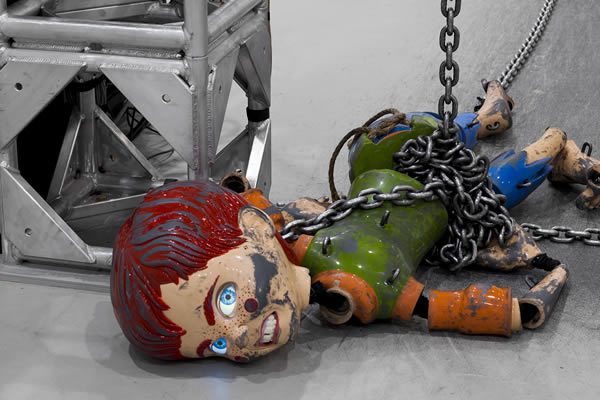 Currently underway at Amsterdam's Stedelijk Museum is a two part exhibition, each dominated by a mammoth animatronic installation. First up — and showing until 29 January under the title Manic / Love — is Colored sculpture (2016); exposed in all its challenging, violent creepiness at David Zwirner New York last summer. The artist's first animatronic work forms the show's second coming — Truth / Love — Female figure (2014) a frenetic hyper-sexualised take on the pop world's repugnant divas; 'an endless ballet of watching and being watched', as the grotesque masked creation gyrates uncomfortably in front of a mirror.
A new video installation — Riverboat Song (2016) — accompanies part two, which opens 18 February, whilst a selection of video works and digital paintings run alongside Wolfson's troubling chained boy in Manic / Love.
Jordan Wolfson Manic / Love continues until 29 January, Truth / Love runs 18 February — 23 April at Stedelijk Museum, Amsterdam.