Poured-concrete floors have a tendency to dazzle in certain lights. Don't believe me? Take a step inside Grupo Habita's New York offering; the Hôtel Americano. Bringing their industrial glamour to Manhattan, the Mexico City-based hotel group have created a homage to the Chelsea neighbourhood they call home; with a design that at once recalls the warehouses of its docks, and the open-plan art galleries that surround the quietly decadent 56-room design hotel.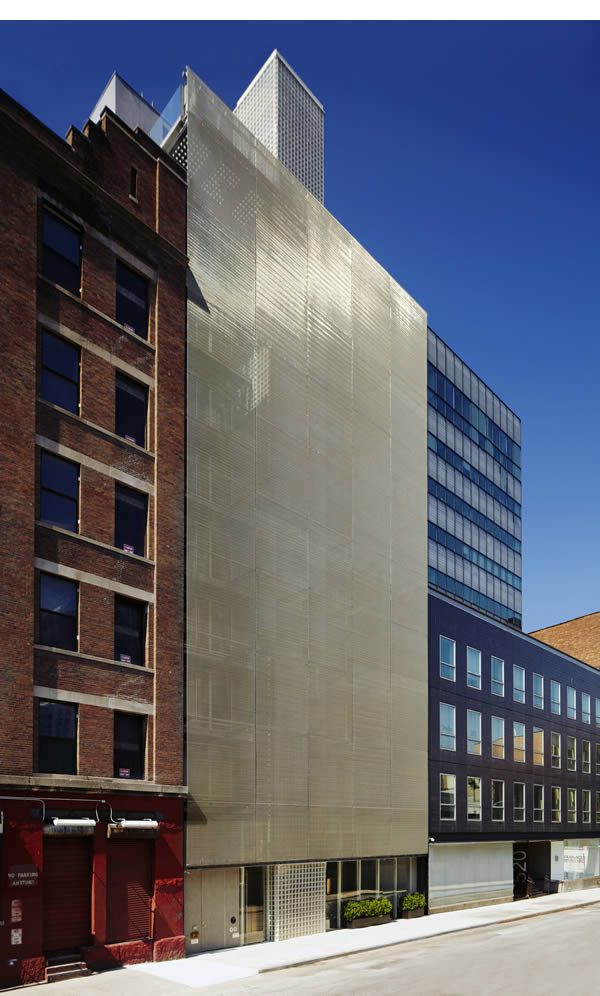 Behind a shimmering, mesh façade lies a sleek interior offering the juxtaposition of a contemporary urban space and a sense of escapism. Raw materials are king at the Americano, with concrete walls and pillars contrasted by bespoke wooden pieces and marble bars. Cotton and leather furniture soften the look, and the lack of artwork acts as a blank canvas for a hotel in the heart of the city's art gallery district.
Waking up in the Hôtel Americano's minimalist, Japanese-inspired rooms instills in you a sense of zen in the heart of the city that never sleeps. Bespoke wooden bed frames creating dramatic cubes — a twist on the traditional ryokan, accented colours breathe effervescence into largely monochrome interiors; contemporary furniture adds a skittish edge. Le Labo toiletries and denim robes bring with them a modern, yet local touch; something we know Grupo Habita's owners are passionate about.
The Mexican fusion design doesn't begin and end with the rooms. The Americano's restaurant boasts French-inspired cuisine with a Latin twist — its dining room extending out into a courtyard. Bar Americano offers a sleek, almost 1960s vibe; with low-slung tartan armchairs and heady cocktails. When the sun beats down on New York City, the only place to be is up on the roof. Here, you'll find a grill, bar and — most importantly — a swimming pool. There, the Americano gains new heights and riffs on an almost tropical feel; primary coloured-furniture, latin rhythms and impressive views over the High Line.