This post has been produced in collaboration with North Sails, all opinions remain those of We Heart.
Founded by Lowell North 1, an American sailor who took gold at Mexico City's 1968 Olympic Games 2, North Sails was founded just over a decade earlier in San Diego; an engineer by training, North's passions and winning mentality would make it easy for him to blow the competition out of the water. So to speak.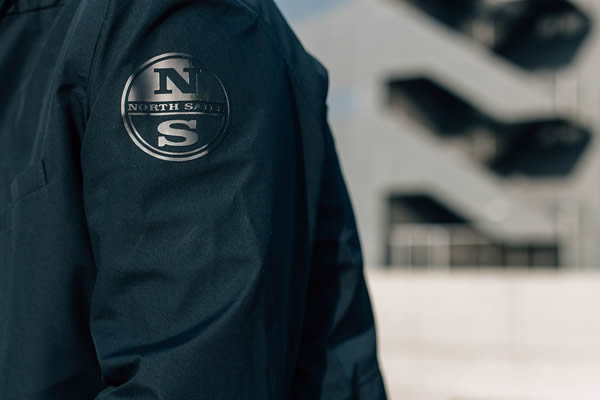 Pioneering computer modelling and cloth-cutting machines in his industry, Lowell North's sails braved wind and water, and won big at races; applying these innovative methods to sailing apparel was a natural sidestep. Of course 60 years later, sails are still a major part of the brand's makeup, but making waves in the fashion industry is increasingly as important.
Which brings us to El Poblenou, Barcelona; dubbed the 'Catalonian Manchester' due to its significance in the 19th century's Industrial Revolution, the neighbourhood is one of the Catalan capital's most urban districts, and miles away from where Lowell North's inspirations lay in the 1950s. Indeed, urban is not something I'd ever associated with North Sails — but then I hadn't paid their collections much attention before. Not being a sailor, and all. Turns out I'm the fool 3. 45 minutes of having my perceptions changed in their Barcelona store and I'm let loose with their Helm jacket — a tailored piece that crosses the divide between sophisticated and urban — and the rest is (visual) history.
Integrated headphones (with collar magnets for when the need for spacial awareness arises); detachable thermoregulated padding lining (that can be worn separately 4); technical crafting for 100% waterproof protection; the Helm epitomises the surprise that a technical sailing brand can exist in an urban surround. Perceptions pleasantly shifted, We Heart takes North Sails for a test drive around the streets of Barcelona, retrace our footsteps in the photographs that follow. Sail away.
1 I like to think of his brand's name literally, like Lewis Hamilton calling his brand 'Hamilton Drives'.
2 Still the best Olympics logo to date.
3 Disclaimer: this happens regularly.
4 Who doesn't love a good BOGOF?