Concept shopping mall Bikini Berlin and local artists Stills & Strokes have collaborated on an audaciously designed project that immerses the retail space's customers in an amalgam of Christmas cheer and designery goodness this December.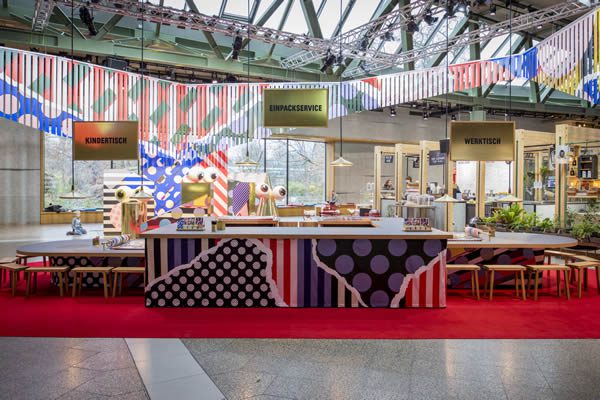 Celebrating silly season, Stills & Strokes — aka art director and illustrator Melanie Homann, and photographer Stefan Vorbeck — have gone all out in creating an interactive installation that runs throughout the main atrium of the mall; featuring over 40 metres of custom-designed wrapping paper to make up a ribbon-like intervention, ditching staid decorative styles in favour of a tongue-in-cheek environment.
Upon entering the west and east store entrances, shoppers will find stalls serving burnt almonds, Christmas biscuits, and mulled wine; enveloped by bright red carpet and with a bold backdrop created using the duo's newly-designed paper. Further inside the shopping space, Stills & Strokes have put together several large-scale 3D objects, various decorative props, and greeting cards; as well as communal wrapping stations where customers can put a free-of-charge creative slant on all of their festive purchases.
Stills & Strokes's gift-wrapping station is open daily 10am — 9pm except for Christmas Eve, when it will close at 2pm.