A glass of good red wine has the ability to enhance almost every experience. Sometimes, though, experiences are so rich they are difficult to enhance; so it helps to find a better wine. Award-winning 2009 Sustinet, a 100% Syrah produced from the vineyards we're overlooking, cuts the mustard; its smooth complexity complimenting an experience every bit as exquisite as the organic wine named best in the world by Decanter.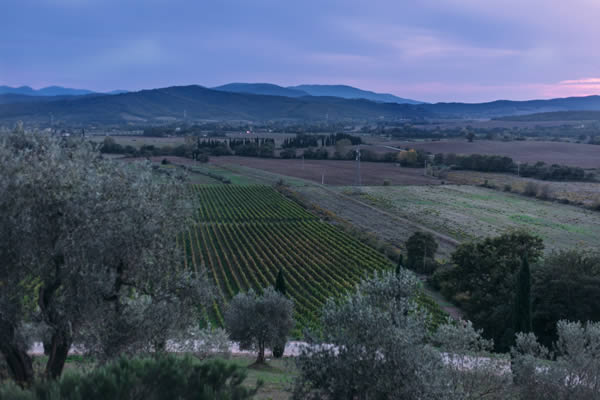 The fields of the Maremma — where this wine began life — fold out in front of us, and you begin to realise that some combinations were just meant to be. Spending time at Conti di San Bonifacio (deep in the Tuscan countryside, yet deceptively close to the coast) is one of those experiences that are difficult to enhance; it is a chance to reconnect with nature, disconnect with the digital age, but stay close to cosmopolitan comforts.
Perched on the sort of hilltop that has defined this part of the world, we arrive at Conti di San Bonifacio after a long drive from Rome; its 360° views fading into darkness as a smiling member of staff greets us at the end of a driveway that seems like it could go on forever; we're in close proximity to major roads, but mentally in the middle of nowhere, especially after the chaos of Italy's sprawling capital. We announce our arrival by intercom, imposing gates open, vines and olive trees are left behind, and our bags our taken; time to check in to our Olive Grove Suite and start on that bottle of 2009 Sustinet. Some things are just meant to be.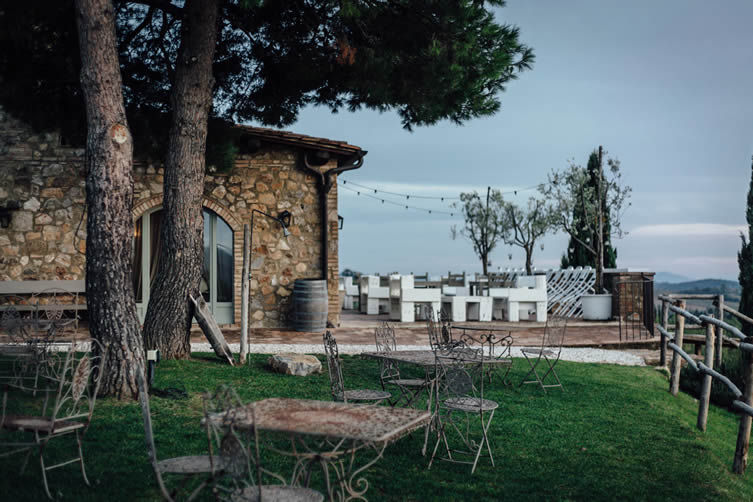 Originally procured by Count Manfredo and his wife as a summer home for their family, Conti di San Bonifacio retains that feel of exclusivity; with just seven rooms — accommodating a total of 20 people — the retreat gives off a feeling of seclusion, the feeling that this is your personal stomping ground. It is every bit the Tuscan country home yet, thanks to the Countess's eye for design, those craving metropolitan design sensibilities will not be left wanting; chestnut beams and terracotta flooring are elegantly paired with white cow-skin rugs, art prints, and heavenly Egyptian cotton bedding.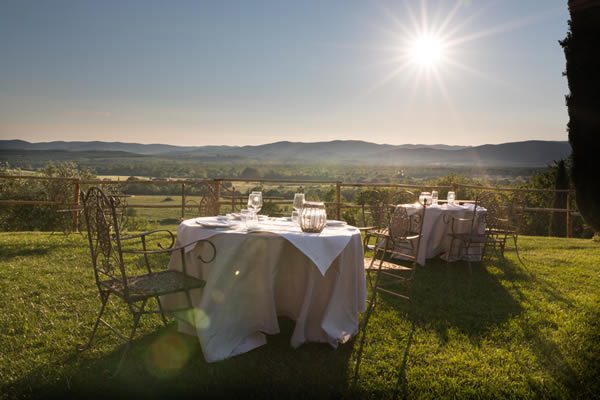 An imposing four poster bed reminds us of Tuscan grandeur, but a sumptuous bathroom with huge rain shower and heavy bathrobes cater to our contemporary whims; delectable amenities made on the estate complete the welcome juxtaposition. The suite is sizeable and sun loungers on our personal terrace overlook the olive groves, but we are deep into autumn and that Syrah is calling.
Over dinner we will discover that the estate's two other reds, Prosecco, and organic olive oil meet with the expectations that bottle has laid out for us; and they will join the farmhouse aesthetic of the restaurant in leaving a lasting impression on us. Jacopo Camozza, an Italian with experience working in Australia as well as here in his own country, heads up proceedings — cooking up Tuscan cuisine at its finest from locally-sourced (zero km where possible) ingredients that support the practices of sustainable farming and agriculture.
Chunks of bread soaked in the estate's outstanding olive oil lead us on to prawn risotto and on to fresh fish dishes and a wild boar pappardelle; Camozza's cooking deeply rooted in tradition, never lacking in flair. Great food, cosmopolitan aesthetic, the air of nobility, exquisite produce from its own terroir, time spent in this corner of Tuscany is time entwined in rich, peerless experience. We charge our glasses with Conti di San Bonifacio wines paired to the dishes and dive in; some things are just meant to be.