From Ralf Schüler and Ursulina Schüler-Witte's frankly bizarre Bierpinsel (beer brush) tower, built during the early 1970s in the 'Sci-Fi Brutalist' to the iconic Fernsehturm television tower, utilitarian apartment blocks to gems like Walter Gropius's 1964-designed Bauhaus-Archiv; Berlin is a mixed bag of diverse architectural influences, a city as gleefully divergent as its thriving creative scene.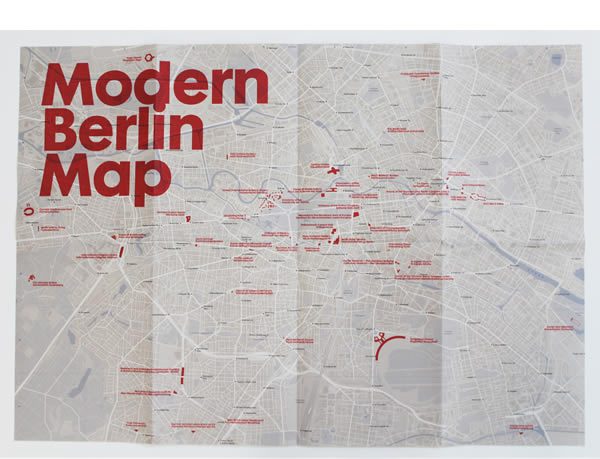 'No twentieth century city has more ghosts than Berlin,' explains Matthew Tempest, 'and they live on in its buildings. From the Kafkaesque Brick-Gothic Expressionism of its Weimar-era factories and churches to the chilling pomposity of its gargantuan Third Reich monsters, from the post-war coalface of Communism and Capitalism facing each other down over its most famous edifice — the Berlin Wall — to little-known Brutalist and sci-fi socialist structures.'
'Its rebirth as the continent's capital of cool,' the EurActiv journalist summarises, 'comes with a blood-soaked and fractured past.' Tempest has collaborated with Blue Crow Media (and photographer Simon Phipps) on Modern Berlin Map; the latest in the London-based publisher's excellent series of architectural guides.
As is par for the course with their series, Modern Berlin Map has been thoroughly researched and attentively designed, striking imagery and building details coupled with a simply stylised map that serves as a walk-through for the city's most brilliantly unconventional architectural gems; from iconic to little-known, Berlin's confounding miscellany of modern styles are laid bare for enthusiasts and casual observers alike.