Donostia-based architectural and design studio, Arquimaña, were commissioned by Bistró Gugghemheim Bilbao to create a food stall from which local artisanal products (sausages from La Moderna butchers, bread from a local bakery, and Basque craft beer La Salve) would be sold.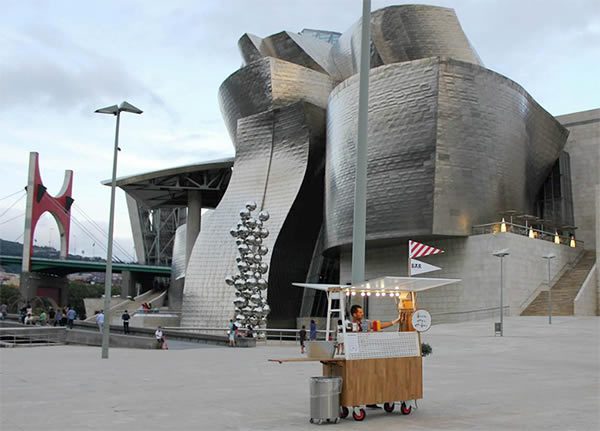 A hotdog stand of sorts, the brief was clear: 'avoid the archetype of a typical hot dog cart' whilst 'evoking the essence of the crafted products, balancing tradition and modernity'. Simple.
And so, Arquimaña set about designing and constructing the Salchibotxo. A mix of two words, salchicha (sausage) and botxo (a basque nickname for the city of Bilbao), Salchibotxo is a foldable cart made with a steel structure, oak panelling, laser-cut aluminium doors (that provide shade to the server when open), extendable desk, and nice little add-ons like a planter; that echoes nearby Puppy, Jeff Koons's famous floral dog.
With the capacity to hold 150 bottles of beer, and 500 sausages (as well as the finely-honed sauces created by the bistró), the cart — which can be plugged into the surrounding streetlights and has a removable stereo sound system — offers a designer upgrade on that most traditional of food trucks, and can also be used for events inside the restaurant. Top dog.