There's a trend among leading design talent to shun technology. Perhaps it's the staid repetitive nature of mass-produced tech, perhaps it's its machismo, or perhaps the need to break away from the surrounding digital oppression we live amidst.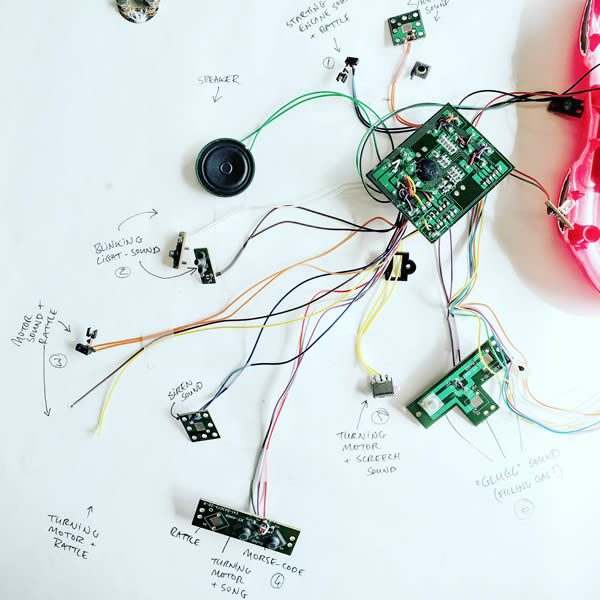 Indeed, London-based industrial designer Tord Boontje agrees that the field can 'sometimes seems overwhelmed by bland corporate products with very little aesthetic or artistic value', yet a wave of cutting-edge designers are not put off, rather inspired by the limitless nature of technology and its capabilities.
'It seems a relevant moment to me to highlight some of the wonderful work that is also happening in the area of electronics,' Boontje continues. 'London is a hub of creativity and digital progress and this exhibition tries to give a flavour of some of this original thinking.'
The exhibition in question? That'll be Electro Craft, a first independent group show of designers enthused by electronics; showing between 16 September and 15 October at 23 Charlotte Road, Shoreditch, as part of this year's London Design Festival. Initiated by Studio Tord Boontje, with exhibition and graphic design by Lina Patsiou and Design & Practice respectively, the show includes lighting, audio gear, wearables, and boundary-pushing conceptual work — and consists of 27 pioneering creatives who are toying with the notion of what can be achieved in the craft of electronics.
The full list of designers exhibiting: Ariane Prin; Bethan Laura Wood; Bilge Nur Saltik; Daniel Weil; El Ultimo Grito; Front; Future Facility; HEKA; Jeongwon Ji; Lina Patsiou; Map; Marjan van Aubel; Paul Cocksedge; Poetic Lab; Raw Edges; Rive Roshan; ROLI; Silo Studio; Studio Drift; Studio Furthermore; Studio Tord Boontje; The Tail Company; Thorunn Arnadottir; Wonseok Jung; Yamaha; Yoav Reches + Nan Zhao; Yuri Suzuki.
@electrocraft16
@tordboontje
@L_D_F