More than just a new hotel launch, Radisson RED marks the birth of a philosophy and lifestyle brand inspired by the spirit and mindset of the mythical Millennials, and is hoping to shake-up the industry; breaking and creating rules on its way.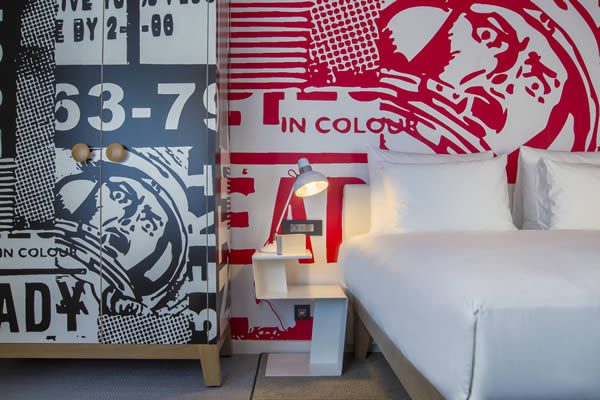 Boasting a dedication to art, music, and fashion, the hotel — located in Brussels's city centre — features works created by emergent artists in its communal areas, guest rooms, and bar and kitchen. All 149 spacious studios are graced with plenty of natural light, multifunctional furniture, 55" tellies, a 'sound bar', and personal fridge. Entry is via the RED App, so there's no fumbling around for your keycard here, instead your smartphone (you have one of these because you're a Millennial) becomes your key and virtual concierge; allowing you to charge items to your room, and keeping you in the loop of all things cultural occurring in Brussels.
With no front desk, the RED Creatives (fka staff) can be found mingling with the guests — encouraging socialising and general revelry. Be it around the pool table, pingpong table, or in the OUIBar + KTCHN, it's easy to feel a part of the social scene at Radisson RED.
And, because you're a Millennial, you'll have some freelancing to catch up on — no fear, the hotel provides free and fast WiFi throughout. The OUIBar + KTCHN is a great spot to grab a coffee while catching up on emails, chow down on some Belgian cuisine, and get your creative juices flowing; before rewarding yourself with a local craft beer or well-considered cocktail accompanied by a bucketload of moules, or perhaps a hearty steak-frites. Owners of a Nokia 5110 need not apply.