With founders Pablo Fernández-Valdés and Yago Giner hailing from Catalunya, Miami Beach eatery KLIMA Restaurant and Bar offers a Mediterranean-inspired menu combining local Florida ingredients with a strong influence from Barcelona.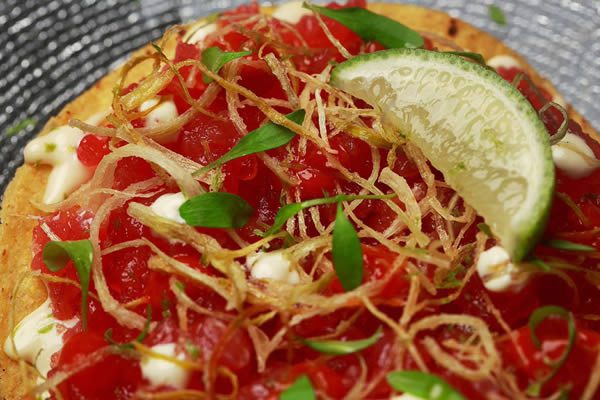 A new concept on the Miami culinary scene, KLIMA 'reflects the perfect marriage between Spanish heritage and the rich cultural diversity that South Florida attracts'; so says Fernández-Valdés, allowing both local and international guests to enjoy the flavours of his homeland in contemporary surrounds.
The interior design is based around 'soft woods', with thin slates of beige wood lining the ceiling, natural oak floors throughout, and dining tables combined with tropical red wood Caoba. The inviting space is further enhanced by rustic cast-iron, candle-lit coffee tables and modern artwork; including Tel Aviv Man XVI, a sculpture carved by metal letters and resembling the silhouette of a human-like figure.
Executive chef, David 'Rusti' Rustarazo, delivers an eclectic menu of seasonal seafood, meats and pasta dishes like tuna toast with chipotle, leek and lime, Cinco Jotas Iberian ham with Pata Negra, bread and fresh tomatoes, and veal-stuffed Paccheri, Porto and parmesan. The Josper Oven (grill and oven combo) grills meat to perfection, resulting in barbecue tastes; ideal for enjoying in the Miami climate and on KLIMA's outdoor sub-tropical pérgola, surrounded by foliage, potted plants, and views of the star-lit sky above.