Serving two years as a photographer and filmmaker during the Algerian War, Jean-Daniel Lorieux decided to turn negativity on its head; using real life tragedy to fuel a sun-soaked career that would see the French photographer shooting the likes of Stephanie Seymour, Claudia Schiffer, Milla Jovovich, and Linda Evangelista. That is some turnaround.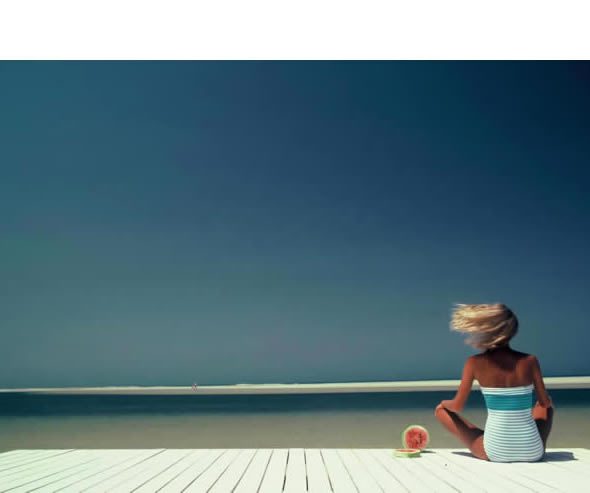 'I decided to express dreams and happiness in pictures,' Lorieux once recounted — and, as anyone who has dreamed of spending decades on postcard perfect beaches with supermodels will contest, the esteemed fashion photographer did good on his decision. Whilst war is steeped in terror and drained of colour, Jean-Daniel Lorieux's work for names like Vogue, Dior, Harper's Bazaar, Lanvin, and Céline, couldn't have been more different; radiant colours and paradisiacal settings, uncompromising beauty and whimsical compositions.
Currently showing at PRODUCTION BERLIN, in collaboration with GALERIE FÜR MODERNE FOTOGRAFIE, True Blue is Lorieux's debut solo show in the German capital, and brings together his work from the 1970s through the '90s; the period where the French photographer honed his singular style. Tunisia to Mauritius, and countless other clear waters and white sands between, Lorieux was among the first fashion photographers to travel extensively for his work, and it is those travels — along with Pop Art — that inform his unique aesthetic, defined by graphical layouts and dreamlike narrative.
Jean-Daniel Lorieux, True Blue, continues at PRODUCTION BERLIN until 11 June.