You know that feeling when you realise you've been hearing something for ages, but haven't really been listening? The hum of traffic; a neighbour's late-night party; the dog snoring; kids playing football in the street — sound is with us all, at all times, our subconscious just decides when to switch it on, and to switch it off.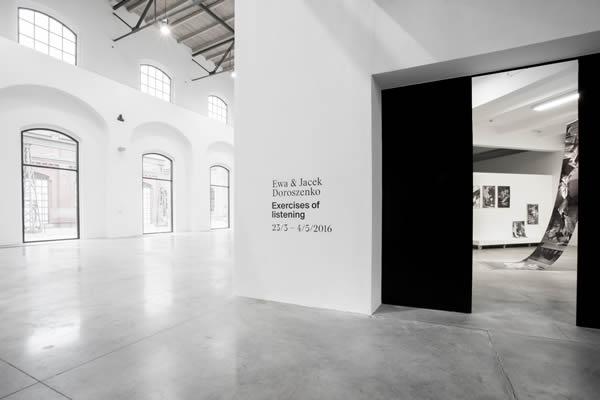 In their exhibition Exercises of listening — currently showing at Fait Gallery in Brno, the Czech Republic's second largest city — Polish art duo Ewa Doroszenko and Jacek Doroszenko get to grips with this relationship with sound. The duo, who also run multidisciplinary creative studio pineum.com from Warsaw, investigate our propensity to favour the tangible over the audible in an immersive installation and body of work.
Jacek Doroszenko creates the sounds, Ewa Doroszenko responds to them through visual language; graphic prints that crackle with intensity and discord illustrating audio, visualising an audible flow that may or may not be ignored by visitors to the exhibition. Whereby folk oft attribute a sound to the physical object that has created it, the duo turn that inclination on its head; the sounds are indeterminable, the visuals lead the narrative. Confusing, contradictory, Doroszenko and Doroszenko's work plays on our uncomfortable relationship with the unknown.
Ewa Doroszenko and Jacek Doroszenko's Exercises of listening continues at Fait Gallery, Brno, until 4 May.