Last year's Milan Design Week saw life- and work-partners Alberto Biagetti and Laura Baldassari indulging in a bout of 'anti-gym' activity with BODY BUILDING; this year's edition saw the duo focus on a deeper side of the human psyche.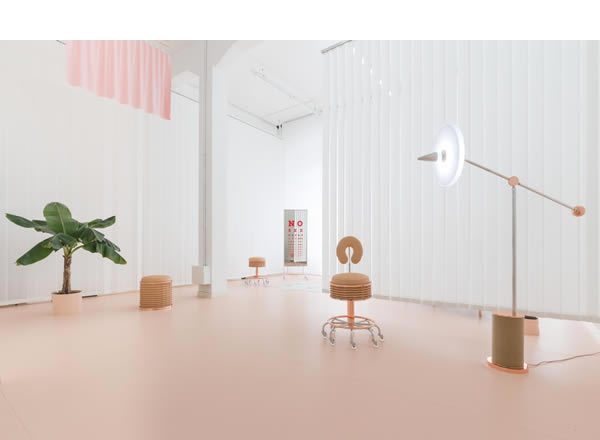 Biagetti and Baldassari refer to BODY BUILDING as their 'volume one', this year's NO SEX (once again curated by Maria Cristina Didero) as their 'volume two' — upping the ante by presenting a small collection of new works in an ethereal sex clinic; the Milan-based designers touch on taboo, and continue their preoccupation with human behaviour.
As sex transcends the physical, and the lines between our digital and real lives become blurred, the NO SEX clinic offers a sanctum for re-establishing your inner equilibrium: to 'detox or retox from the overdose or abstinence'. And does so in playful, provocative surroundings. But Milan Design Week has passed, the doors of the clinic closed; what remains? A series of pieces that belie their collective title. These works are, frankly, quite saucy.
Rubber, latex, leather; from a daybed 'designed for one, wide enough for two' to a side table named Toy, with a pink silicone base, nude leather seats and stools in between — Atelier Biagetti's NO SEX pieces (all unique, some one-of-a-kind, others numbered limited editions, or available in open edition) are risqué, beautifully crafted and designed to titillate; I don't know who Alberto Biagetti and Laura Baldassari think they're fooling, these are design objects directed straight at our libido. Enjoy.