Provocative with a wry smile, Milan-based artist/designer Andrea Maestri has created a debut collection with an intention to rock the boat. This is not the sort of design you'll be pairing with Laura Ashley curtains – MAESTRILAND is not for the faint of heart, more for those who view art and interiors on an even keel. Poking fun at stereotypes, religion, sex and iconography; we were fascinated with the work that Andrea submitted, so decided to speak to him to find out more…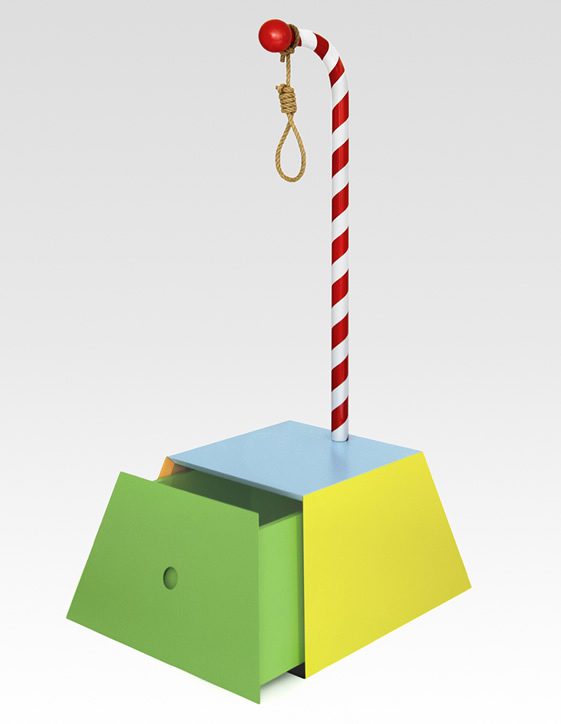 So, you got in touch with us – and introduced your collection – but, who is Andrea Maestri as a person?
I'm a naughty child who got lost in the wood.
Did you ever set out to make art, or design – or was it always integral to your work that those boundaries are blurred?
MAESTRILAND is a strong combination of design, art and craftsmanship, all mixed together. I like the idea to make limited editions of these furniture with high manufacturing qualities. But I don't really feel as an artist who is completely free to do whatever he likes, I prefer to consider myself as a designer who creates useful objects in a very special way, exploring bizarre and unconventional paths. I want to give flesh and blood to my products, recovering an aspect of "kitsch" and figuration that normally frightens industrial designers.
Who inspires you?
I'm really obsessed by images and icons. Luckily I don't have a TV so I spend a lot of time walking in the street, looking around and trying to find something that excites me. I have no boundaries and I'm deeply curious, so the inspiration usually comes in a very anarchic way from almost everything: shoes with high heels, a butcher's shop, riots in suburbs, a movie by Federico Fellini, an organ dramatically played in a church…
Probably the place I like the most to get inspired is the subway. I think it's an interesting situation because nobody knows each other and you can sit there for hours looking at people, their faces, the way they dress, the way they move and talk, you can get a lot of good ideas there! I'm also very fascinated by the fact that it's always dark and you can't understand if it's day or night, it's a kind of timeless zone…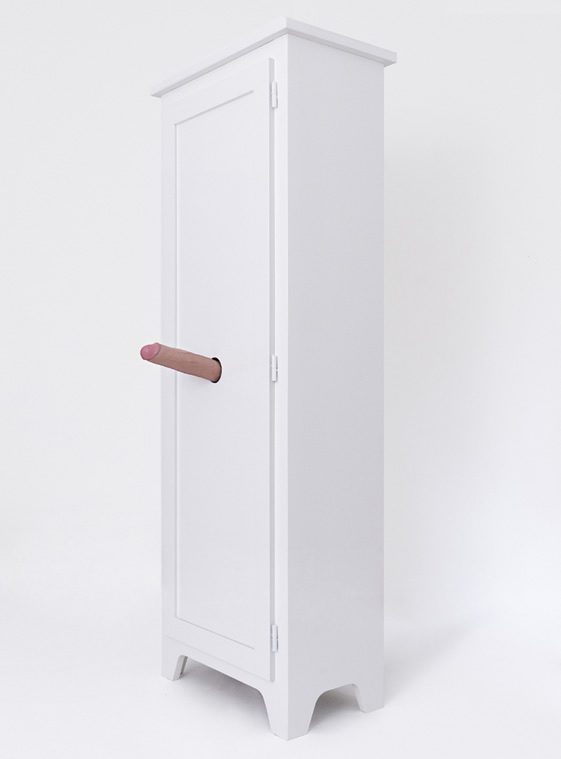 Your collection is certainly provocative. Some may say you're trying too hard to shock… what would you say to that accusation?
We live in a provocative and shocking world, I'm just trying to investigate and celebrate the irrational part of human nature and its perversions: each piece of the collection is a weird character, a domestic hallucination that communicates in an immediate and excessive way the violence and madness of our contemporary society.
At the same time MAESTRILAND, with its direct language, also represents an experiment to destroy all our certainties; it's a kind of blender for the brain that, investigating classic themes such as religion, eroticism and urban culture, turns upside down the traditional values and creates unpredictable scenarios.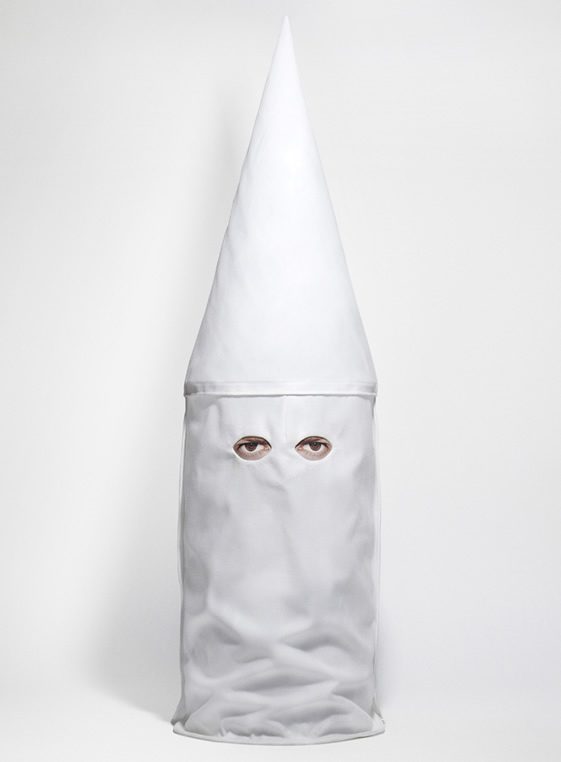 Let's talk about Kuriosity Killed the Kat, is it a step too far? Who's going to want this in there home – and what are you trying to say with it?
Kuriosity Killed the Kat is such a playful and harmless object!
I've always been fascinated by masks, above all by those fully decorated used during Carnival in Venice, for me they represent a metaphoric way to hide not only our physical identity but mostly our deep soul.
I wanted to make a strong piece about the lack of sincere communication between people, about the fact that in everyday life we normally avoid to show our real nature and thoughts. To go straight to the point, I've decided to use this kind of iconic mask which is very simple and has a minimalist all-white look; it's a mix between political extremism and ancient religious processions that still take place in some southern regions of Italy. Certainly this is the most explicit piece of the collection, the most dramatic, but it also makes a good light and I like the fact that who buys this lamp will always be in pleasant company at home…
What are your plans as an artist, will this collection remain as it is and you'll move onto something else, or are you not finished with some of these ideas yet?
The show has just begun, stay tuned!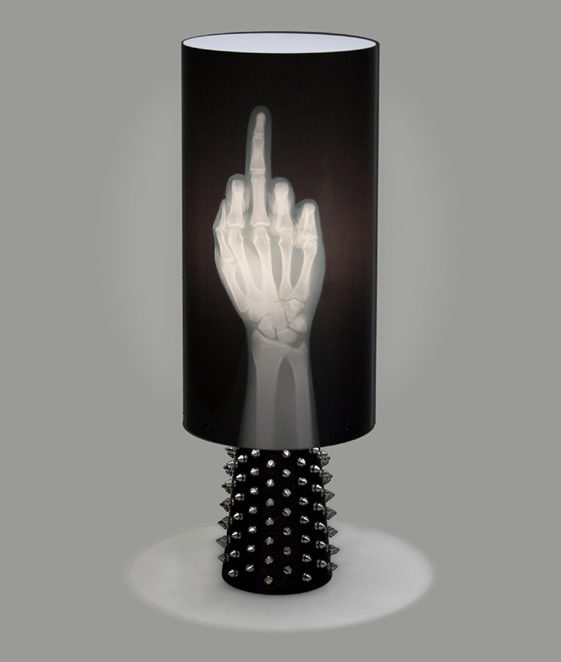 Salone del Mobile: inspiration or distraction?
I'm a great fan of Salone, it's a big binge, a chaotic circus full of sounds and colours: each April there's an earthquake in Milan, a sudden explosion of adrenalin and the city becomes the capital of the world for a week.
Unfortunately, during the last editions, I've noticed that the interest of Salone is more concentrated on business and on media rather than on products. I mean that is always more difficult to find astonishing and outstanding objects because the experimental and radical wave is almost completely disappeared; furniture design is getting closer to fashion design in the sense that now decoration and "make-up" have more importance than finding alternative visions to common ones. Self-production is still a privileged field of action because without an initial customer you are completely free to try and realize the most unmentionable ideas without marketing constraints.
However Salone is also a good opportunity to meet old friends and go with them every night until dawn to all super-crowded parties in town, a kind of party-marathon!
If we came to Milan to visit, where would you take us?
Milan is an amazing place because it's a small community with international ambitions. There's an area near my studio, in the north-west part of the city, that has an electric atmosphere and is strongly characterized by the two symbols of ancient and contemporary Milan: the Cimitero Monumentale (Monumental Cemetery) and the chinese district.
The first one is an absolute masterpiece of italian architecture of 19th century, it's a mysterious place, quite crumbling, a sort of small town hidden behind high walls. You'll find thousands of chapels inspired to the most bizarre styles in architecture all mixed up: from ancient Greece to Art Deco and Futurism. It's funny to walk there amid an orgy of crosses and holy symbols.
Nearby is the chinese district, an uncontrolled eruption of energy, it's full of people working in every corner; there you can purchase whatever you want: jewels, wigs, fake nails, underpants, mobile phones…all these items are put together in tiny shops with incredible crazy-coloured windows. This area is interesting also as nightlife with some good restaurants but, if you prefer to have a relaxing moment, I can suggest some places where cute asian girls will make you happy with "special" massages…
What object do you cherish the most?
They are all my children: I like all of them, in the same way, with no distinctions.