The music industry and grocery stores are not really two paintings you'd hang on the same wall, but when industry exec Ben O'Brien and festival owner Dan O'Neill grew disillusioned with the grub available at big events, the two disparate entities were united.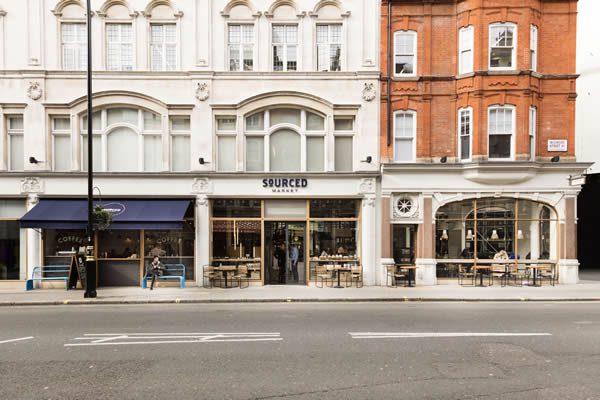 The former was living on Borough Market and, naturally, accustomed to the finer things; his frustrations gave him the idea to take artisan grub on the road, a series of pop-ups at major music ensued, and the rest is history. Almost. The duo's Sourced Market laid its hat down at St Pancras train station in 2009, and the fancy foodie market has been doing a roaring trade since. Which leads us to affluent Marylebone, and Sourced Market's second permanent location.
The two O's have pulled out all the stops on the London neighbourhood's Wigmore Street, dishing up a splendid space that brings together those upscale groceries; craft beer (with eight on tap to top up your growlers); a kitchen rolling out things like Scotch eggs and hot stews; a cheese and charcuterie deli; a bakery pulling in products from top producers around the capital; juice bar; coffee bar; and plenty more. And what a space; clean, industrial, sucking you in with its charm and leaving your wallet empty and your gut full. Sourcey!