The outlandish, alien and downright weird sights one sees striding down the catwalk at fashion shows may be primarily the work of an eccentric couture designer, but it takes the flair of a good stylist to really bring all the elements together and create a memorable look. German stylist Armin Morbach has worked with many of the fashion industry's most important designers and photographers (Demarchelier, Lagerfeld, Testino) on shows and editorials, and in 2008 he picked up the camera and decided to document his work in his own photographic language.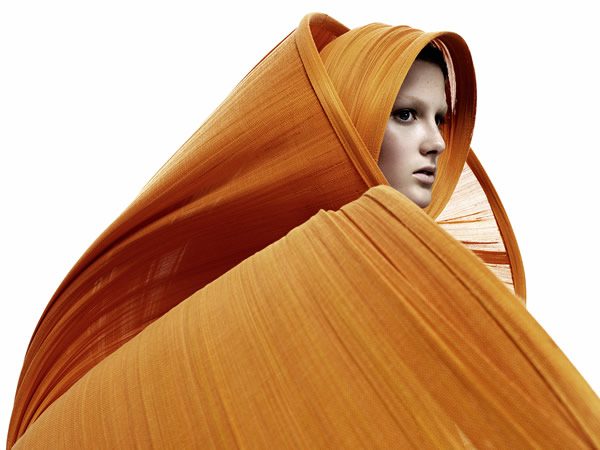 Fashion photography, like fashion in a wider sense, has developed beyond "beautiful woman in a beautiful dress" scenarios, exploring and questioning the very notion of beauty through avant garde design and presentation. An exhibition of Morbach's work, Position before Pose, looks at the shifting dynamic of fashion photography, approaching it as a legitimate art form and demonstrating that Morbach's decision to move behind the camera was an inspired one.
One model is completely mummified in swathes of bandages, another is wearing a canvas hood resembling something out of an intergalactic bar in Star Wars — Morbach's faces are often obscured, to the point where his subjects are depicted as an integral and inseparable part of the sculptural garments, rather than merely their wearer. Armin Morbach: Position before Pose is showing at Galerie 206 within the Quartier 206 department store in Berlin from 11 September to 7 November.