Underground travel can be a real burden, a painful slog that heightens stress levels and dirties the fingernails. In short: it sucks. How to make the experience a more pleasurable one? Fifteen years and €843m. Neither a quick nor cheap fix, then.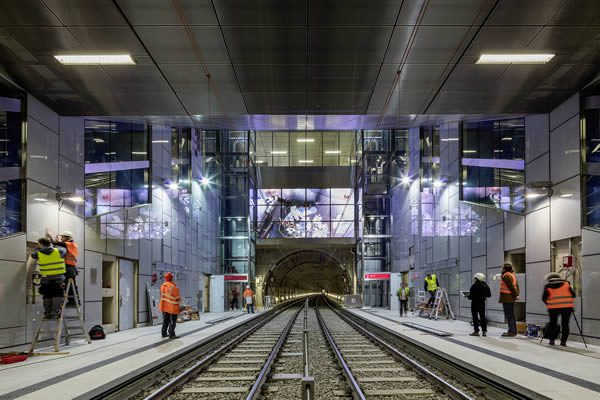 If I was to say to you they've removed the advertising and replaced it with art, you'd think that this was a pretty expensive way to go about putting pretty things into the countless casings and miles of wall space typically used to brainwash commuters. But Düsseldorf's new Wehrhahn line — spanning over 3.4km from east to west of the city — is an undertaking much more extravagant than introducing a bit of art into the conventional underground set up. Here, the very stations themselves have become the art.
Darmstadt architectural practice netzwerkarchitekten and artist Heike Klussmann won an international competition in 2001 to work on six new U-Bahn stations, commissioned the year later to put together concepts and designs in collaboration with a different artist on each station. Over a decade later and the Wehrhahn line has just opened, seeing the visions of Klussmann himself, Ralf Brög, Ursula Damm, Manuel Franke, Enne Haehnle and Thomas Stricker come to fruition under Düsseldorf's streets.
Street entrances are discreet, stations expansive and with large amounts of natural light; the tunnels themselves take the form of a Klussmann-designed geometric 'continuum'. A major endeavour that has seen architects and artists working side-by-side with civil engineers and city authorities, Düsseldorf's new Wehrhahn line is a fascinating example of thinking differently; a rare meeting of very different minds, coming together to rewrite convention.