I'm going to be honest, I struggle with the discipline needed to take a one-a-day vitamin tablet. Morning coffee comes easy, the need for caffeine a deeply-rooted addiction, ditto a first-thing social media catchup; but habitualness and dedication are wildly different. Those mentalists who dedicate each and every morning to a jog — come wind, rain or shine — are surely a different breed.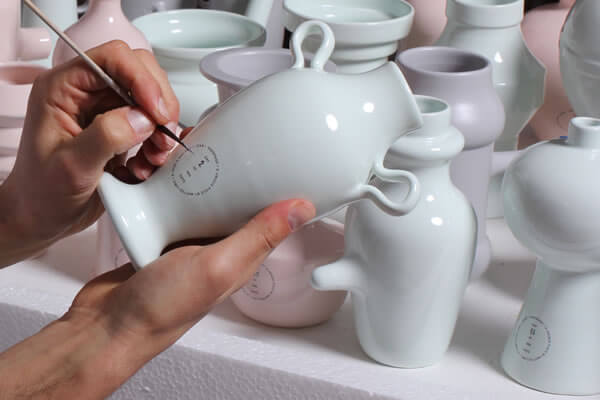 Which brings me to Italian designer Matteo Cibic: different breed, or addict? Undertaking a one-year research project (in which he hopes to understand Italian artist Giorgio Morandi's compulsive painting of still life bottles and potteries throughout his life) Cibic is hand-making 365 beautiful ceramic vases. One-a-day for 2016; published on matteocibicstudio.com at 12am GMT daily — each sold on a first-come, first-served basis. Characterising objects early in his life, Cibic's vases are each born with a nasal appendage (big, small, curly, droopy … ), keen students of Latin languages will easily decipher the project's title: VasoNaso.
Having been described as 'the future of Italian design', it's likely his desire to undertake such a project is done so by way of being a habitual maker — this is not a masochistic morning run, Cibic's work is clearly driven by passion … and it is a passion project with handsome consequences.
I leave you with a fabulous quote from Matteo Cibic, run through the ever-lyrical wheels of Google Translate's poetic machine: 'every jar hides a nose, which makes it unique, gives it a defined personality, and it becomes the instrument of relationship with the other vessels. Their meeting are born funny meetings, caricatured pairs, or very elegant, which bring out the personality of each of them, some flirting, others joke, others copulate in shame.'
Copulate in shame this weekend friends, copulate in shame.