The Streets of Barangaroo sounds like a song by Bruce Springsteen and Men at Work. It isn't. It is a lifestyle precinct that is part of the wider redevelopment of Barangaroo, Sydney; a redevelopment of considerable scale. Design big-hitters like Wilkinson Eyre Architects and Renzo Piano are involved in what is one of the world's most mammoth waterfront sea changes, but underneath the gargantuan presence of concrete and cranes, and of glass and steel, it is a pop-up vision of things to come that has turned our heads.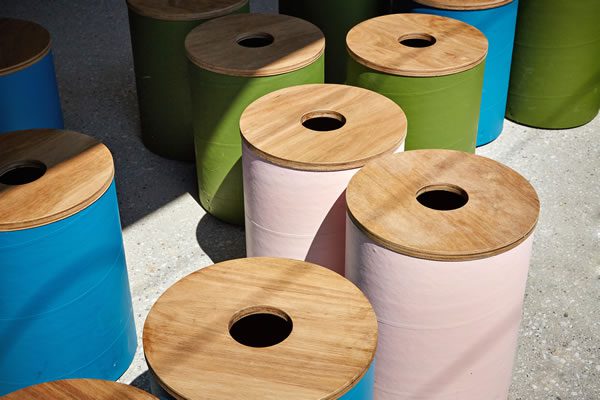 Wulugul Pop-Up serves as a sampler for what will be Sydney's most significant new place to be; some 80 food and beverage outlets due by the end of 2016. No strangers to pop-ups, Foolscap Studio bring their flair for upcycling to the Sydney harbour development — with a fit-out that answers questions posed by pop-up sustainability … materials that are locally-made, recyclable or reusable; plants left in pots for later relocation; low energy LED lighting; prefabricated components. Simple, natural, everyday products find themselves cast in leading roles, recycled cardboard tubes starring in a mesmeric façade.
What's happening here is just as captivating as it looks; "our work is focused on how people interact with places. At Barangaroo, we wanted to create an experience where people can meet, interact, learn or just hang out and explore a new side of Sydney", explains Foolscap's Adele Winteridge. Experience they can — we've got co-working; a space for screenings, speaker series and digital exhibitions; a lending library by design-led indie bookstore TITLE; gardens; coffee; food and drink. A separate Noma (yes, that Noma) pop-up is set to open in January.
Wulugul Pop-Up will be sticking around for a minimum of nine months.