We've had a Hello Kitty hotel suite, Hello Kitty art exhibitions, even a Hello Kitty airline; where could the kawaii superstar take us next? For dinner. That is where.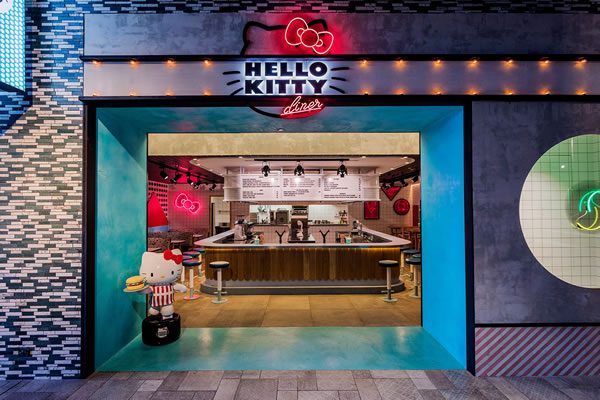 Sydney designers Luchetti Krelle were called in to inject Kitty's carefree levity into the space at Hello Kitty Diner; Warren Turnbull of gourmet patty chain Chur Burger on hand in the kitchen. Indeed, burgers are the pop culture icon's partner in crime here in Chatswood, Sydney — the quintessential American diner given a heavy helping of cute.
Luchetti Krelle collaborated with HK creators Sanrio on a number of the visual aspects; a burger re-working of the character's unmistakable outline for the logo, a diner-welcoming statue, and iconography for custom wallpaper, fabrics and tableware.
Elsewhere, the designers have let rip — with the aim of introducing Kitty (who recently turned 40) to, what they call, the Instagram generation. The brief is surely met; high-spirited colours zing around the diner … clashing materials, conflicting textures, neon. Frivolity rampages throughout — pink is minimal, cutesy avoided. Hello Kitty Diner welcomes the Japanese icon to 2015, and she looks half her age.
@hellokittydiner
@LuchettiKrelle