He put his all into that performance, didn't he? For his all, read: Kurt Cobain spiralling head-first into a drum kit, Iggy Pop cutting himself on stage, artists bound by the internal conflict between performance and psychological angst — the simmering line between greatness and madness, rock and roll incarnate. What is his all read as literal, is he was the instrument. And I don't mean Bobby McFerrin. As we continue Future Month on We Heart, meet the artist who has become a synth.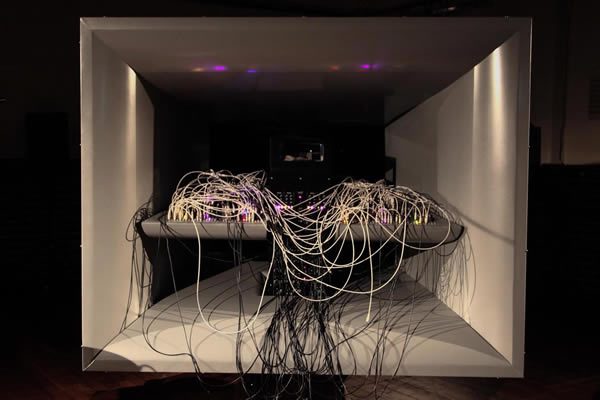 Los Angeles-born, Perth-based artist and researcher Guy Ben-Ary won a Creative Australia Fellowship to undertake the research and development of a 'biological self-portrait'; spurred on by a childhood yearning to the tread the same ground as the rock stars who have it their all, Ben-Ary decided that he would become musician, music, and instrument.
Created in collaboration with a whole host of big-brains (inc. Dr. Andrew Fitch; Darren Moore; Douglas Bakkum; Dr. Michael Edel; Nathan Thompson; and Stuart Hodgetts) Guy Ben-Ary calls his portrait cellF, 'the world's first neural synthesizer'. In essence, cellF is a stem cell synthesiser — Guy's stem cells, controlling an elaborate array of analogue modular synths. And you thought The Terminator was far-fetched. Housed in a horn of plenty sculptural body, Ben-Ary's 'external brain' is 'fed' by live human musicians, his detached neurons reacting to this stimuli and, in turn, controlling the analogue synths.
Beginning as a biopsy on his arm, Guy's flesh was used to grow skin cells, a third of the 30 million grown cryogenically frozen and shipped off to the University of Barcelona to be reprogrammed into stem cells. Still with me? What happened next is way more complicated than anything Aphex Twin has ever done with a keyboard and, if you want to learn more, I suggest it's better from the horse's mouth — all that remains to be said is, this works … and that in itself is an astounding testament to where science is in 2015, and the part it plays in not just medicine, but culture at large.