Ever the progressive music and arts festival, Sónar have announced the programme for this year's edition of their immersive Sonar360º by MEDIAPRO experience. Offering an unparalleled A/V extravaganza, the Sonar360º dome spans 19 metres in diameter, and will this year boast a Sónar+D-curated programme that consists of the premieres of seven arresting audiovisual works.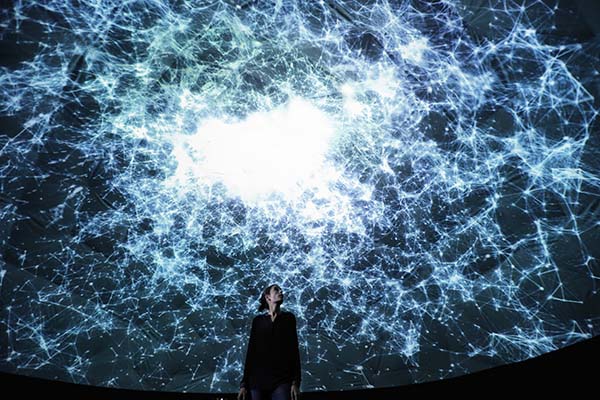 The 'fulldome' experience will immerse curious festival goers into the outré worlds of a series of avant garde musicians, filmmakers and animators; with six absorbing pieces accompanied by the Spanish premiere of End(O), a live audiovisual work by visual artist Alba G. Corral and musician Alex Augier in which the performers control the outer boundaries of sound, image, space and time.
This year's considered programme includes three world premieres: María S. Leiva and Miguel Arrieta's Perception; Studio Joanie Lemercier's cosmic escapade, Nebulae; and Factors, an abstract algorithm-based work from the talented and studious Daito Manabe and Satoshi Horii. The irrepressible Holly Herndon—who will also be debuting her new stage show, PROTO, at Sónar by Day on 19 July—also contributes to the Sonar360º experience, the Spanish premiere of Chain Opera, created in collaboration with long-time collaborator Mat Dryhurst, delving deep into the near-future world of artificial intelligence.
Finally, there will be two more Spanish premieres in the shape of German composer Robot Koch and visual artist Mickael Le Goff's Sphere, music composed specifically for a 3D audio environment soundtracking a journey through space and time; and Créatures, an 'ode to the diversity of terrestrial life forms' where Vincent Houzé's graphics and spatial sound drive each other through semi-abstract ecosystems and algorithmic landscapes.
Sonar360º by MEDIAPRO will run 18—20 July (between 13:00 and 21:00) at this year's Sónar by Day, Barcelona, as part of a three-year collaboration agreed last year by Sónar and the MEDIAPRO Group for the promotion of immersive audiovisual and 3D audio.