'I don't want young and creative Londoners abandoning our city to head to Amsterdam, to Berlin, to Prague where clubs are supported and allowed to flourish. I want them to be able to celebrate what they love in the city that they love, rather than punish them or force their activities underground or abroad. That is why, if elected London Mayor, I will address these problems head on.' Bold words from Sadiq Khan, in an interview with Dazed prior to his election this month — interesting times ahead for London's live music and clubbing scene?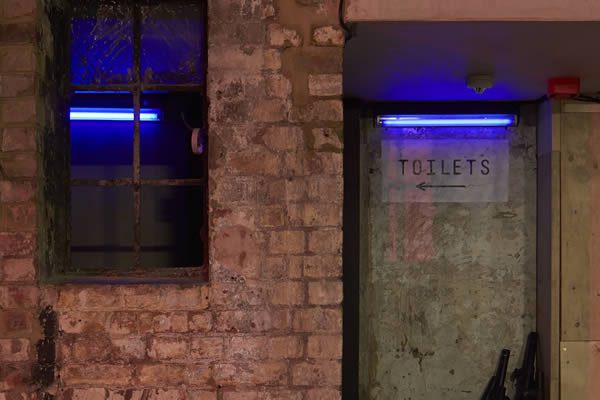 With institutions like Madame Jojo's, The End, Plastic People, The Joiners Arms, and Turnmills all falling foul of stringent laws and regulations (read: deep-pocketed developers) in the capital, London's nightlife scene has taken a battering of late. But, as Dan Beaumont (the owner of another venue set for closure, Dalston's Dance Tunnel) put it in the same article: 'the thing about London is that the creative potential of this city is phenomenal. There's still this incredible pot of talent. The talent is there, the intention is there – the raw materials are there. Things may seem bad, but there is something we can do about it. I still believe in London.' Rousing stuff.
Indeed, London's nightlife and live music scene is so intrinsic to the capital that is can never die, and as much as we may lament those lost, new spaces are never far around the corner. The sharing economy boom, spearheaded by Airbnb, has led a more immersive experience for travellers — who can now embed themselves in local communities with short-, medium-, or long-stay rentals. Walking in the shoes of a local has never been easier, and what more local a thing to do than hit up a gig, or dirty those shoes at a rowdy club night? Exactly. Celebrating the still beating heart of London's nightlife — its music venues, clubs, and performance spaces — we've pulled together some of our favourite spots, and coupled them with a We Heart-ready nearby rental (warning: expect juxtapositions) for a much needed rest. Without further ado …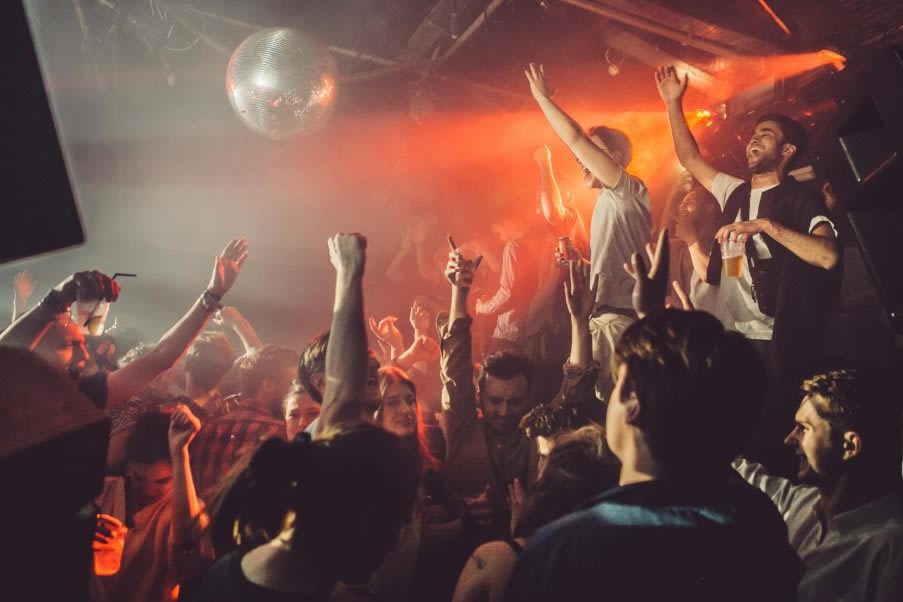 Corsica Studios
'It's the only venue where, when you're DJing between sets at gigs, the sound man tells you you're playing too quietly and turns it up so your drink vibrates like the cup does when the t-rex is coming in Jurassic Park,' co-founder of The Quietus, Luke Turner, tells Pitchfork in an extensive profile on Elephant and Castle venue Corsica Studios.
The arts and culture initiative have welcomed the likes of James Murphy, Jeff Mills, Thom Yorke, and Jamie xx into the current venue; a small space with a BIG sound system. The big names are counteracted by some of the country's most innovative new talents and, following the closure of Plastic People, Corsica is often hailed as one of London's last bastions of truly alternative clubbing.
Stay: Split over three levels, this open plan apartment has been refurbished in a fun and spirited manner. With Corsica and the flourishing neighbourhoods of Bankside and Bermondsey all nearby, the central property has one bedroom, one bathroom, a communal roof terrace and is located on the 10th floor; making for some pretty impressive views of the London skyline. Reclaimed '60s furniture and a glorious rough-and-ready feel make this the perfect companion for the independent spirit of Corsica Studios.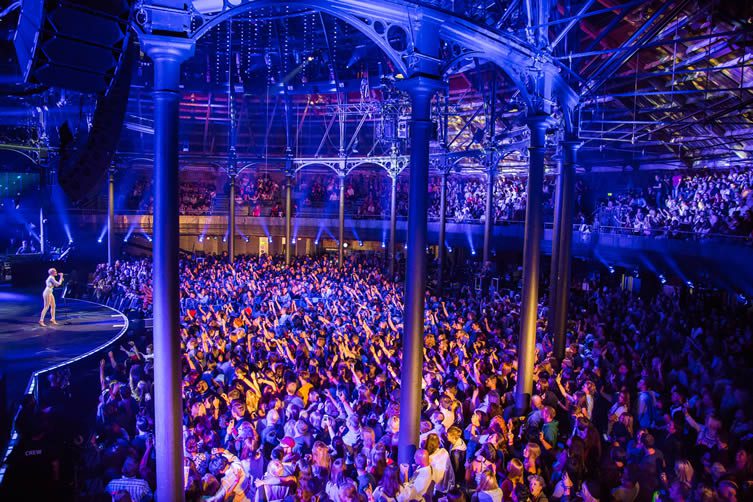 Roundhouse
Located in a 1846 Grade II* listed former railway engine shed in Chalk Farm, Roundhouse is one of the capital's most revered music venues — not least for being the place of The Doors' only UK performance. Regularly favoured by huge acts like Radiohead and Bob Dylan to the bigger venues, its inimitable environ makes Roundhouse one of the world's most singular spaces.
Stay: This Primrose Hill Airbnb is just a short walk from Chalk Farm and is surrounded by cafés, restaurants, and bars; vintage design pieces and crisp white walls lend an ice-cool Scandi aesthetic to this style-conscious neighbourhood.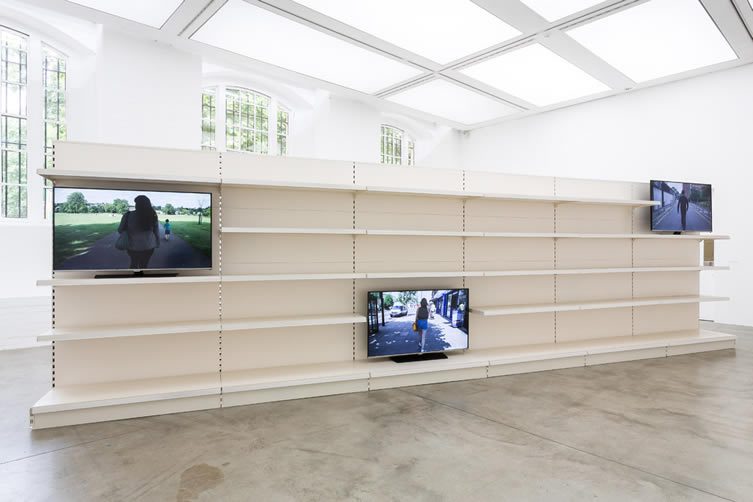 ICA
The Institute of Contemporary Arts has occupied a privileged position on The Mall since the 1960s — yet, for all its inherent poshness, the ICA (founded by a collective of poets, artists, and critics in 1947) regularly welcomes the underground music world's most uncompromising acts; sonic battler Evian Christ hosting his The Trance War: Elegy for The Trance War event, in collaboration with artist/designer David Rudnick, last summer. Expect everything from performance art to cutting-edge arthouse cinema, club nights to post rock gigs
Stay: A former members' club, it's fair to suggest that a thing or two has taken place in this property on Cockspur Street that echoes the regal setting of the ICA. These days, it retains all the elegance, but less of the debauchery — it's steps from Trafalgar Square (Nelson's Column can be seen from the living room), and decorated with imposing beams and modern upholstery; there's an esteemed sense of history throughout.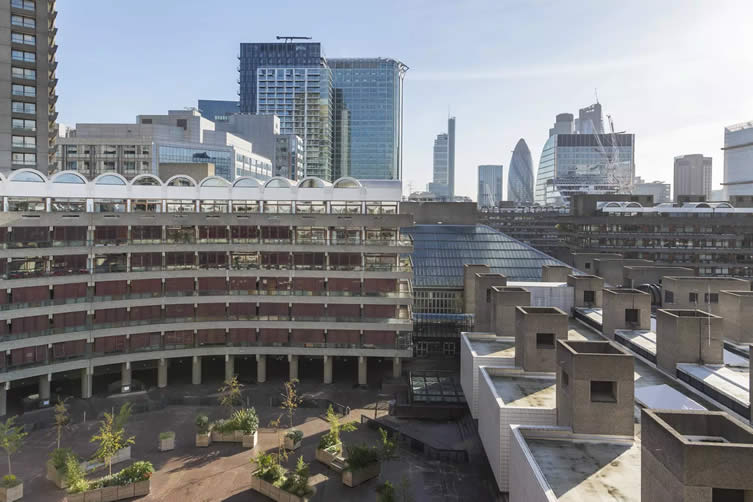 Barbican
What can be said about The Barbican Centre that hasn't already been said? Housed within the Brutalist beauty that is the Barbican Estate — one of London's most famous architectural wonders — theatre performances, film screenings, and art exhibitions, accompany major classical concerts (it is home to the London Symphony Orchestra and BBC Symphony Orchestra) and all manner of other musical events from rock to electronica.
Stay: Located on the top floor of THE Barbican, Frobisher Crescent — all tapestries, trinkets, African sculpture and Caribbean fish — is a true delight, and an even truer rarity. With views of The Shard and the Gherkin, depending which room you're gazing from, the one-bed flat has been furnished white apart from the living area, and the balcony, and represents one of the few opportunities architecture buffs will get to bed down in a global icon.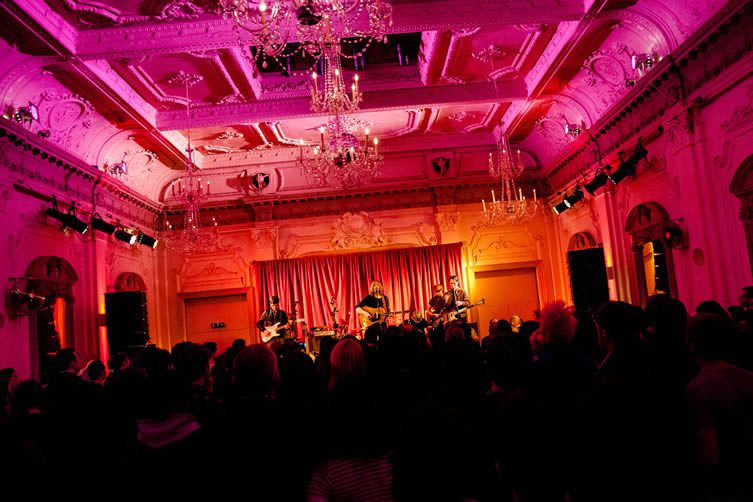 Bush Hall
Shepherd's Bush Empire might be this 'hoods most famous son, but nearby Bush Hall trumps it for charm. The Edwardian venue's past is storied: built in 1904, a dance hall during the roaring twenties, a soup kitchen in WWII, then a bingo hall and rehearsal space for The Who in the 1950s and '60s — falling upon hard times as a snooker hall and social club into the 1990s, current owners Charlie Raworth and Emma Hutchinson restored it to its former glory in 2001.
Naturally, a venue of this magnetism is a draw for many, and everyone from R.E.M to Adele, Nick Cave to … erm … Matt Goss, have trodden the boards; film shoots, events, and cabaret shows have too made use of its unique aesthetic.
Stay: Ideal for large families and groups of friends, this five-bed apartment is a dream for lovers of design, having been featured in ELLE DECORATION (among other esteemed publications). The reasons why are apparent throughout: the kitchen area with its long breakfast bar, each of the bedrooms and bathrooms, the large open-plan lounge/dining room, and in the pièce de résistance, its backyard and close proximity to bars and venues like Bush Hall.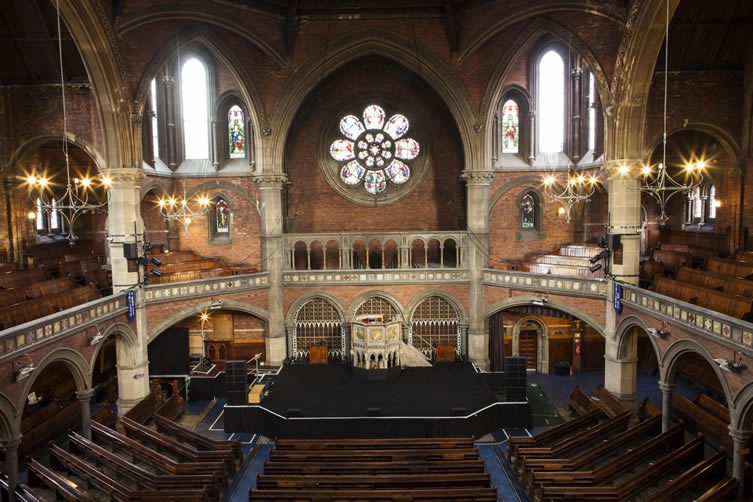 Union Chapel
Like Bush Hall, Islington's Union Chapel is a venue drenched in character, a Grade II* listed church — built in 1877 — as well as a not-for-profit independent venue that has starred folk like Amy Winehouse and Coldplay, it is a working church, and a community-led project aimed at supporting those who are homeless and in crisis in London.
Stay: Just down the road is a posh 1,900 sq foot four-bedroom Victorian house with a wealth of period features. Flooded with natural light, that shows off its pristine white walls and floors, designer furniture, art, and contemporary touches bring a modern finesse to this heritage property.
The Lexington
Near to Union Chapel, on the way to rejuvenated King's Cross, is The Lexington — a classic London boozer with an American feel that is now home to the hallowed indie club night White Heat; following the closure of its spiritual home, Soho institution Madame Jojo's. The Lex is also home to Rough Trade Records' pop quiz and, naturally, gigs — which benefit from the bar's unrivalled atmosphere.
Stay: Juxtaposing the shambolic spirit of White Heat as much as one could conceivably juxtapose, this nearby architect-designed house is surely one of London's most staggering rental apartments. The two-bedroom home comes straight out of the pages of a glossy magazine, and its spacious outdoor area is the perfect spot for a pre-gig BBQ. Surprisingly affordable.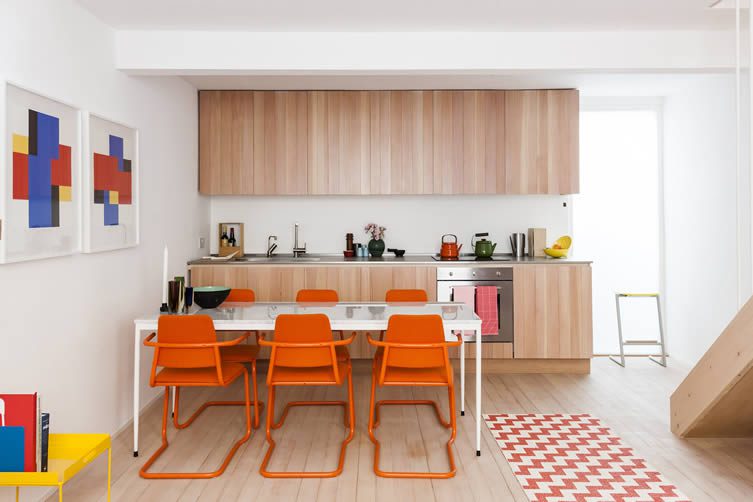 The Macbeth
When a former local was a certain Charles Dickens, you know a venue is steeped in history. A pub centred around music and arts for over 100 years, Hoxton's The Macbeth is a ramshackle beauty full of energy and East London swagger. With a tendency towards emerging talent, The Macbeth welcomed names like The xx and Florence and the Machine before their stars ascended; but is, too, a pull for those who've already made their name: Jonny Marr, Evan Dando, Franz Ferdinand, Fucked Up …
Stay: Designed by Jack Mama and Nina Tolstrup of Studiomama, Voss Street 2 (available for rental through The Modern House) is of a size estate agents like to label 'cosy', but has design credentials that we label 'gargantuan'. Located behind a nondescript façade on a cobbled street off Bethnal Green Road, the space nods to its former life as a carpenter's studio, although is anything but run-of-the-mill.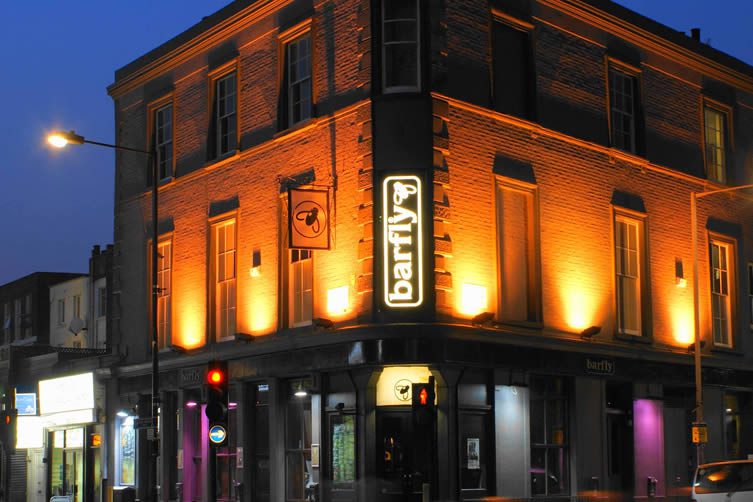 The Barfly
The Libertines, The Strokes, Yeah Yeah Yeahs, The Killers, Franz Ferdinand, Muse. Seven days a week, The Barfly is one of Camden's indie strongholds, and one of the capital's most famed venues. Shabby, noisy, chaotic. Everything you expect from an institution of this nature.
Stay: This very lovely garden flat continues with the musical theme with bohemian artwork, and even a guitar to tinkle on, but this airy architect-designed space is a bit of an upgrade on the chaos at The Barfly; all the mod-cons, and a beautiful outdoor space. You didn't expect this when someone chucked that pint of beer all over you last night now, did you?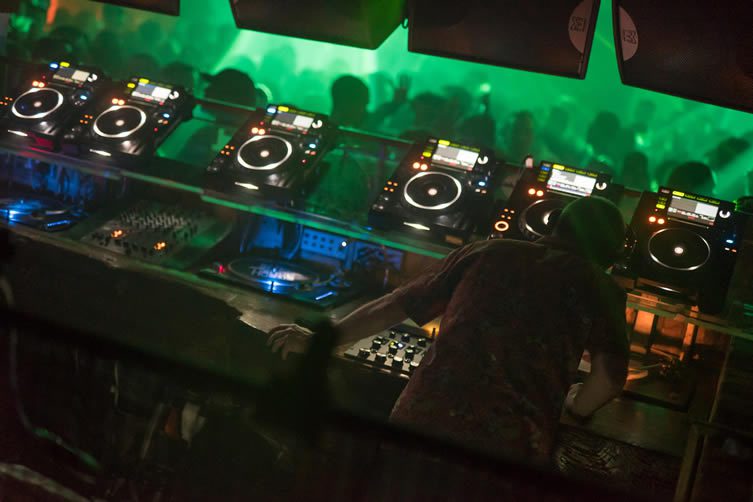 Fabric
If you know clubbing, you know Fabric. What else to say? Regularly rivals Berlin's Berghain for the world's top club, has been rattling clubbers with its world-famous bass-emitting dancefloor since 1999, has stemmed a record label and mix series that has attracted the planet's leading figures in electronic music … forget it … there's only one thing to say: Fabric.
Stay: Occupying a space in Clerkenwell, onefinestay's West Smithfield property is a one-bedroom house kitted out with contemporary furnishings, abstract artwork and a marble kitchen. And is poles apart from the sweaty chaos of its nearby neighbour. Which should make for a nice calm after the storm. Accessible via the second-floor hallway, its open plan living space and master bedroom makes for a stay of much-needed comfort in one of London's most creative quarters.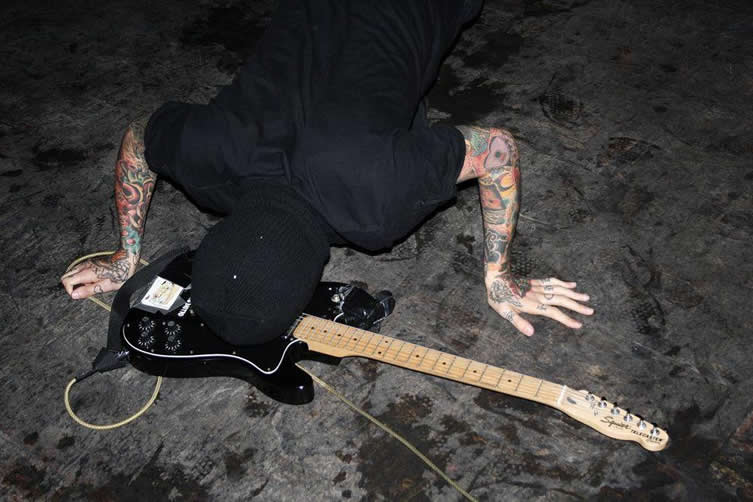 The Old Blue Last
A pub for over 300 years (Shakespeare hung out, apparently), The Old Blue Last was a brothel when hipster bible Vice acquired what is now ground zero for Shoreditch revelry in 2004. It is one word: notorious. Bands smash it up, patrons pass out, music gets played. Lots. Arctic Monkeys; Florence and the Machine; Sleigh Bells; Death Grips; Kylie (yes that one) Minogue; Action Bronson; Klaxons; Diplo; Amy Winehouse …
Stay: Spitalfields Town House, an early 18th century building, the three floor property was restored to its current state after a two year process — and should give insight into The Old Blue's storied past. The kitchen and living area occupy the first floor, whilst the higher levels home the bedrooms, bathrooms (boasting an antique bathtub to soak away the decadence), and a den complete with TV, sofa bed, and small decking area.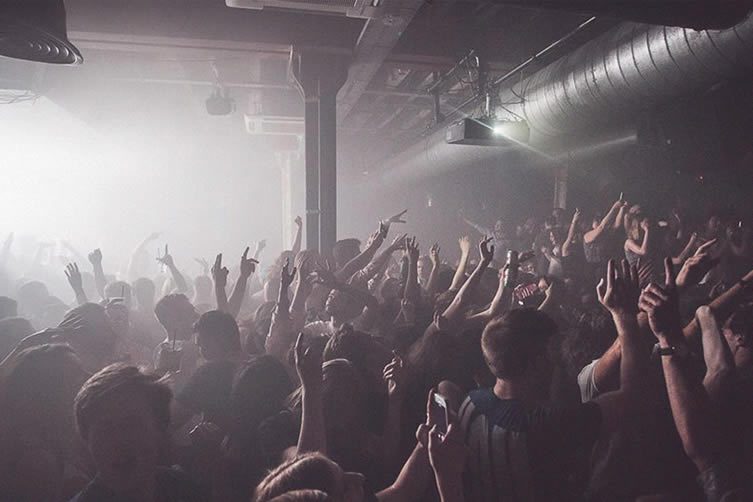 XOYO
Riding high on the dance scene's dubstep-fuelled revival at the end of the 2000s, Shoreditch belter XOYO was founded at the turn of the decade; and has been a mainstay as one of the capital's most credible clubs since. Since 2014, Saturday nights have been handed to the scene's leading lights — Jackmaster, Skream, The 2 Bears, Tiga, Simian Mobile Disco — for three-month residencies.
Stay: This converted Victorian school in Shoreditch features high ceilings, floor to ceiling windows, open plan kitchen and two bedrooms. Recently refurbished, the property also includes a gym, sauna, and carpark. Located in London's East End, the choice of bars, clubs, restaurants, and shops is a never-ending one, and good transportation options can get you into the city in almost no time at all. Should you have the energy.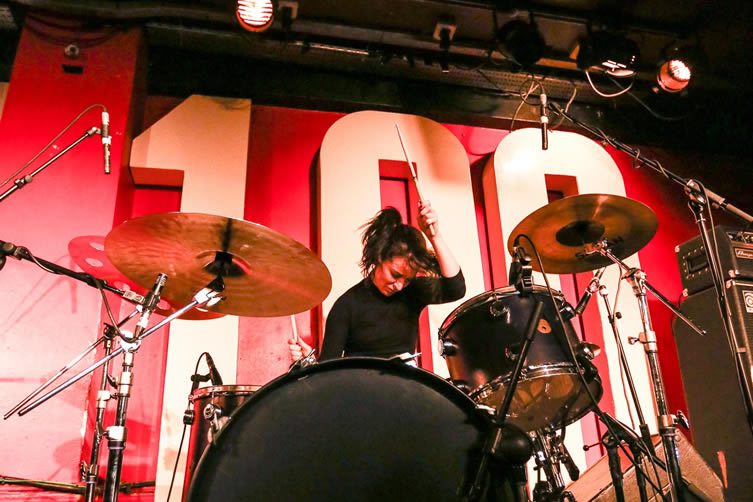 100 Club
As you have read, London venues have celebrated history; hosting live music since 24 October 1942, Oxford Street's 100 Club is no different. Louis Armstrong; Sex Pistols; Paul McCartney (who recently campaigned to save it from extinction); Jimi Hendrix; the Rolling Stones. With a capacity of 350 tightly crammed, the venue — which The Guardian calls 'grubby, smelly, too hot and entirely lacking in mod cons' has redefined the word 'institution' a million times over during its incredible reign.
Stay: Located just one minute away from Oxford Street, this penthouse affords panoramic views over the city; accessed via its very own private elevator. The two bedrooms are modern with huge double beds, it has a large bathtub for taking in those views, and then there's the rooftop garden (you'll need refreshed): contemporary seating, greenery, and a barbecue … your own little slice of country in central London.
Notting Hill Arts Club
The Guardian describes it as 'a haven for indie celebs and punk veterans' which — when your list of guest DJs includes names like Courtney Love, Tim Burgess, Mick Jones and Ian Astbury — is probably apt. They're talking about Alan McGee's Death Disco, a club night that has come to define the Notting Hill Arts Club. Not that it should; the venue has a reputation for off-kilter genres, and regularly hosts pioneering urban music nights, too.
Stay: Located close by, in upmarket Kensington where tradition and heritage prevails, Kensington Place III is where rock royalty might get their sleep after spinning Mr McGee's wheels of steel. It is full of natural light, complimented by all-white walls, hardwood flooring, striking fireplace, and minimal furnishing. Climb the staircase to relax in the master bedroom, or in a hammock in the smaller room before taking the spiral staircase to an attractive rooftop dotted with greenery and views over the town.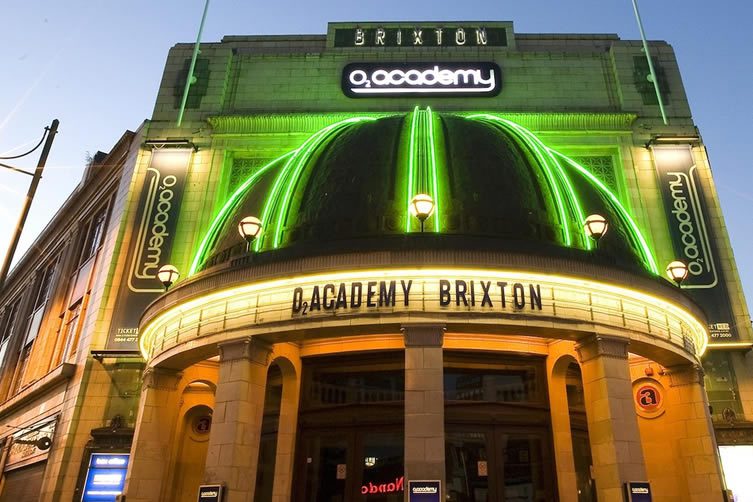 Brixton Academy
You know you've made it when you're the venue of that rock band hallmark, the live album. From Faith No More's You Fat Bastards: Live at the Brixton Academy to the more simply titled Live at Brixton Academy by Mötorhead; these are accolades that only the most famed of venues can hold. The Clash, Eric Clapton; The Strokes — who hasn't graced the unique Rialto bridge-inspired stage at this internationally renowned Grade II* listed Art Deco beauty?
Stay: An ideal base from which to take advantage of all that Brixton has to offer, this fashionable home is light and spacious and sleeps six across three bedrooms. There's plenty of art knocking around, and a cute little yard for some pre-show drinks; a fine spot to start a star-studded evening.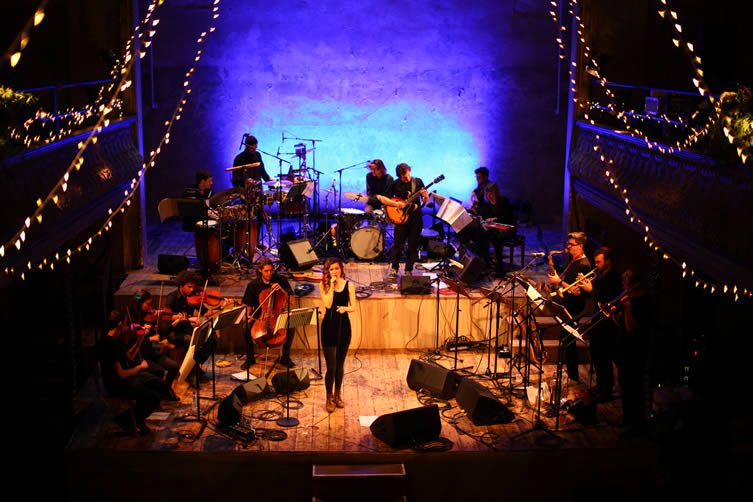 The Vortex
The biggest names in jazz might have played at Dalston's The Vortex, but the venue seeks to break down the barriers of pretentiousness that the scene is renowned for. It's an intimate space, hosting almost 400 performances a year, and exercises what they call 'a judicious balance between quality and accessibility'; esteemed American mag DownBeat named it as one of the world's top 150 jazz festivals. So there.
Stay: Indeed, you wouldn't instantly associate hipster haven Dalston with contemporary jazz — nor would you beautiful, design-conscious homes. Like The Vortex, though, this incredible two-bedroom architect-designed home shows that you shouldn't judge a book by its tight-jean-wearing cover.