Modular synthesisers are a wondrous mystery to me: wires, blinking lights, big units and (usually) a chap controlling the various knobs and buttons that make the analogue sound. When performed live, the producers/musicians make it look like electronic wizardry. Bringing the live element of guitar music to the electronic world, each note, tone or sound is created on the hop – while you gaze at the illuminated boards and the guys controlling them, or dance your damn pants off.
At a recent party at Hackney Wick's The Yard theatre, I got the chance to do just that – and meet the team involved. London Modular Alliance is a trio of audio geeks – Simon Lynch aka Yes Effect, Gavin Pykerman aka Koova, and Pip Williams aka Phil Ventre. As sound engineers and tinkerers of modular synthesisers, they met just a few years ago via a forum for like-minded audio fiends. Today, London Modular run one of the only dedicated modular synthesiser stores in the country, and regularly perform together and with others at gigs, clubs and institutes.
I met Simon in their shop to get up to scratch. I discovered that these guys want to open channels of experimentation and dialogue within analogue electronic music-making. Also to encourage us to pick up a modular in the same way we might a guitar…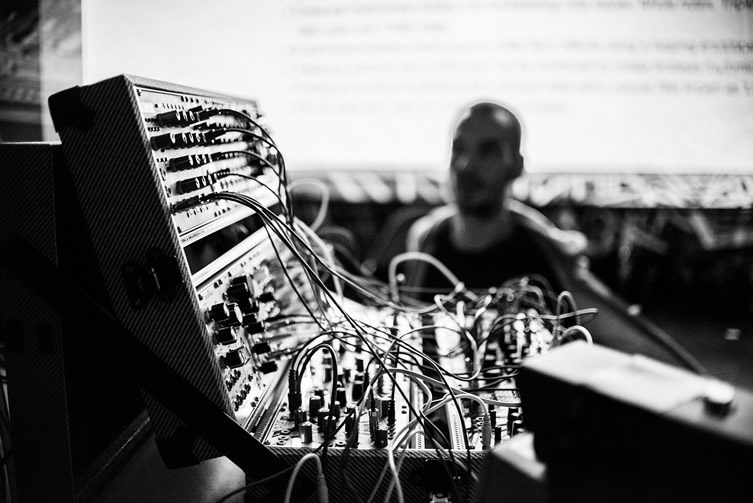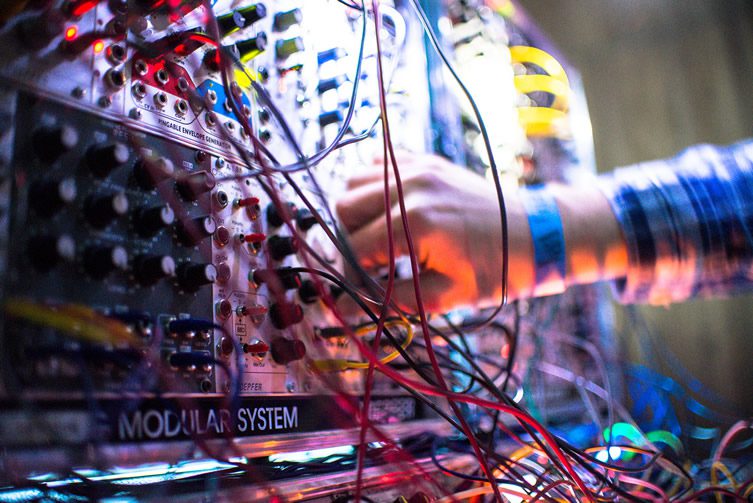 Tell us how LMA began, what was your collective motivation?
Playing with one modular is pretty fun. When you get two or three modulars together it becomes much more fun. I had a collective in Dublin, Push Move Click, and we played a lot of shows and just jammed with our modulars once or twice a week. When I came to London I didn't have all that so I set up a post on Muff Wiggler, the centre of the universe for modular people, asking if anyone wanted to jam. The acceleration of interest in modulars is phenomenal and that's how I met Gavin and Phil.
What made you open the shop?
We gigged in clubs for about a year but we were spending so much money on modules we decided to open a shop. There was nowhere in London at the time where you could actually go and try the modules. Back then people spent thousands based on Youtube video demos without actually trying the modules out themselves.
So can anyone pop in to the shop and try and test stuff?
Exactly. You can see them with your own eyes and hear them with your own ears by trying everything. You can get a wider overview of the modules and pick them up bit by bit. We're here [in the shop] to help newbies along. When you look at a big system it can be quite overwhelming. But if you break it down to smaller bite size bits it's not so much. People can come here and play around.
Where did you buy your modules before?
I used to travel a lot to Schneider's Beuro in Berlin. He's been running the shop since the '90s and is the godfather of analogue in Europe. If he hadn't been around, a lot of the smaller companies would have gone under.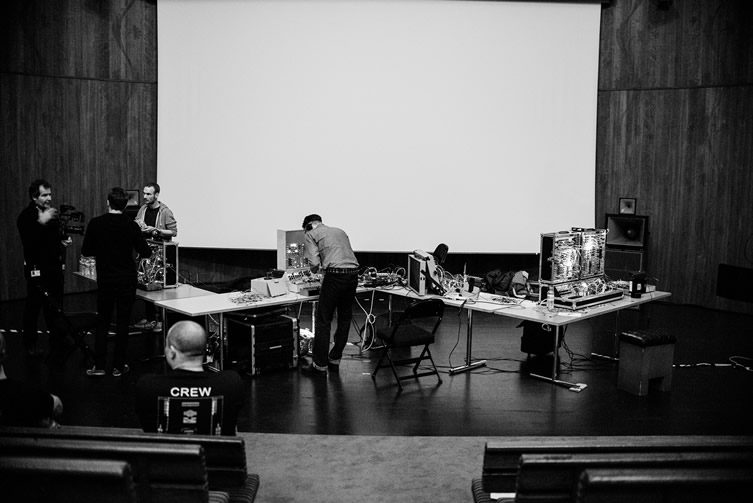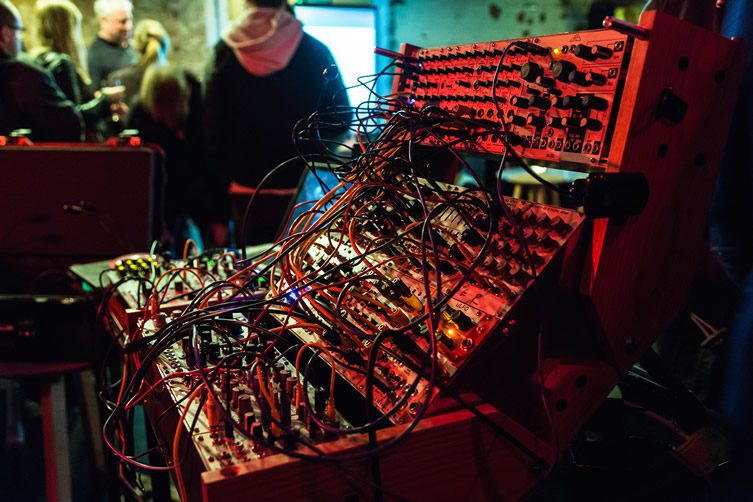 Where do you source the modules for the shop?
We buy from around 25 builders from all over the world. They're all small independent operations like us. Our turnaround is really quick, we don't sit on stock, and some of the modules sell like hot-cakes.
Would you describe yourself as a DJ, musician, producer or sound engineer?
Certainly a producer. I'm a qualified sound engineer and studied electrical mechanical engineering. All of that stands for me today, but at the time I wasn't so into it.
What got you involved with modular synthesisers in the first place?
When I was in college my lecturer showed me one, and within the first five seconds I knew that I wanted one. Modular synthesisers are the beginning of all electronic music in some ways, so I was instantly hooked.
We've heard that you'd like every home in Britain to have a modular synthesiser. A lot of people may want to keep something like this secret, or at least niche…
That's the old mentality of how you made something. With the internet today, things like this are out there anyway so I'm of the mind to talk about it and share it.
Can you explain to me how a modular works in layman's terms?
Modular synthesisers are a series of smaller building blocks, like Lego. So if you want to build, lets say a tractor, with Lego – you're going to need different components. Each module has a different function and you can connect them any way you want to create the sound you want.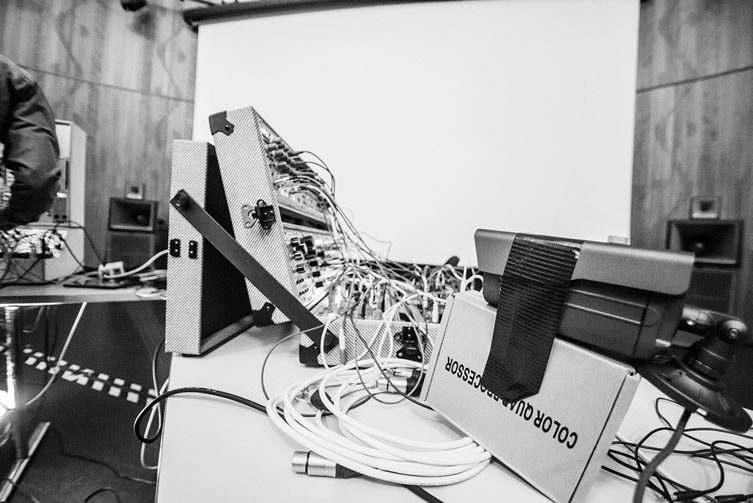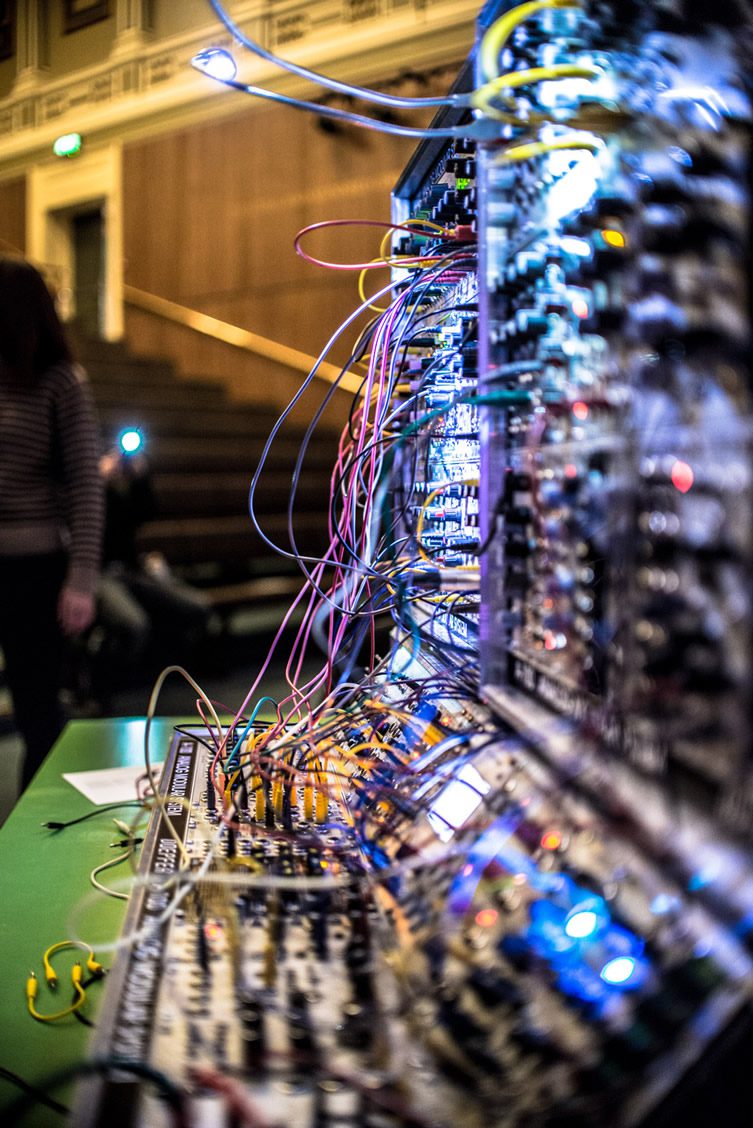 So how is the sound created?
Different modules create different sounds. The most obvious would be an oscillator, it spins round and round in a fixed frequency. Patch cables link each module from, let's say, a sequencer to a VCA. You can change pitches, see the notes created, link them in and out. You keep building and patching in a different voice. The beauty of these is that the sound is in real time.
Do you have an ultimate goal?
The main idea, in my head, is to try and get people closer to the thinking that they can be an electronic musician by building up their own instrument and jamming with people. In the same way that guys with guitars and drums just show up and jam together. We'd like to make it easy for people to start up modular systems and to help them out in the beginning. In terms of our own stuff we'd like to advance music in live situations and encourage more people to do it too.
It's usually the three of you that perform together, what is the maximum that have all played together?
Seven or eight.
Is there room for more? Or will that just get messy?
I'd love to do a record attempt or something. There is no reason why you couldn't set up a whole car park. It's unlimited; you could have as many people jamming as you wanted at once.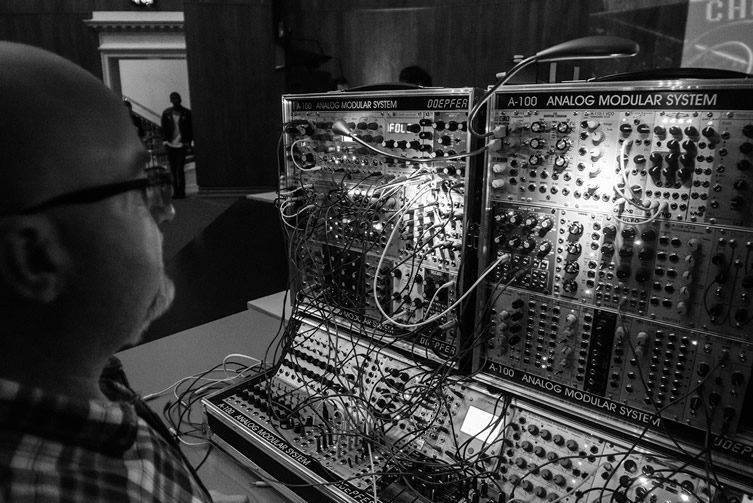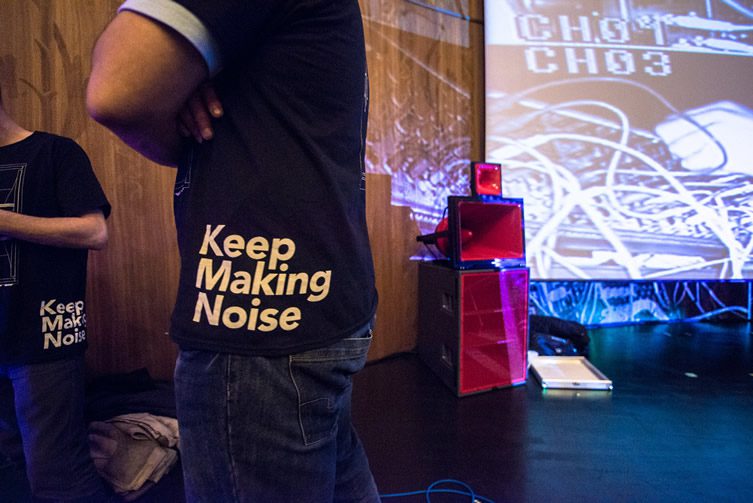 Is London Modular still the only shop in the UK dedicated to modular synthesisers?
It's the only public place where you can walk in and try stuff in England. Up North there is RubaDub in Glasgow, a long running record shop that has a public space as well.
Have you had big record labels or producers in the shop? Is all this taking off?
Yeah we've had lots of people in. The Klaxons were in the other week, as well as Underworld.
Do you think that in ten years time or so, modular synthesisers and their sounds will become mainstream?
Modular has a way of rooting out the undedicated. To buy a system it could take a month or two. It's obviously quite expensive and people may reconsider in that time. You need to put a lot of work into it and if you make a patch now it will be gone forever. There is something very unique about modular synthesisers. People put real work into these and there are a lot easier ways of making music.
You've created your own lightweight cases called Eastwicks…
Yes our cases are small, lightweight and will fit in hand luggage in Europe. They're designed for gigging.

Have the LMA worked with many VJs?
Not really. But video synthesisers are getting quite big. People are getting into it now and LZX Industries are creating modules for it. It's all the same stuff but generating video signals instead of sound. We have been working with lasers though. You can check out the videos on Vimeo. The lasers directly represent the sound, it's really interesting.
Tell us what's in store next, in terms of live events…
We'll be playing and setting up a workshop at Tate Britain on 8 November: one great big daytime gig that allows people to have a go on the modulars. We'll also be at Bloc next spring, curating something rather special – so keep an eye out for that.
***