Given France's strong historical enthusiasm for cycling as both a sport and a pastime, it's a surprise to hear that Steel Cyclewear & Coffeeshop is the first of its kind in Paris. Part equipment boutique, part social hub, it's the sort of place that has proved extremely popular in countries who have more recently been bitten by the cycling bug, such as Britain and America.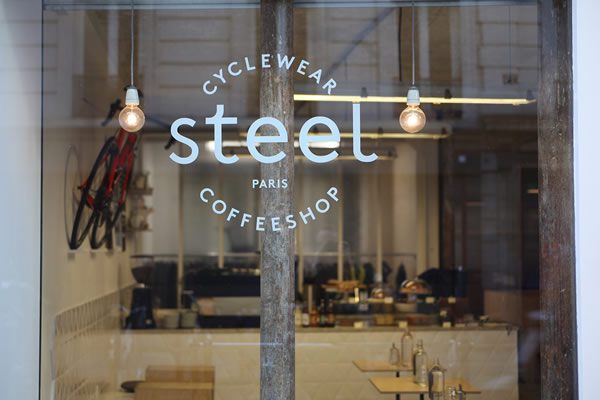 This French trailblazer in the 11th arrondisement is the brainchild of Steel magazine — a cycling and lifestyle quarterly that exits at the cultural nexus between pro cycling and discerning hobbyists. Steel is as concerned with cycling style as technique, and the curated range of bikes and equipment from smaller manufacturers comes with a certain rarefied exclusivity.
The pared-back premises has been designed by architect Julie Deglesne, whose minimalist space manages to effortlessly incorporate the gorgeous gear, a selection of cycling-based art informed by the magazine's fashion editorial pedigree, and the coffee shop operation. Whether it's a pre-ride cuppa or a post-ride pastry that's in order, Steel Cyclewear & Coffeeshop leads the field in Paris.