Nowadays there are CCTV cameras on every street in our towns and cities, so the feeling of being watched is now pretty much standard wherever we go. Visitors to the Shoreditch Design Triangle during London Design Festival may feel that scrutinised sensation more acutely than normal however, if they pass by the eerily beautiful Ommatidium on Old Street.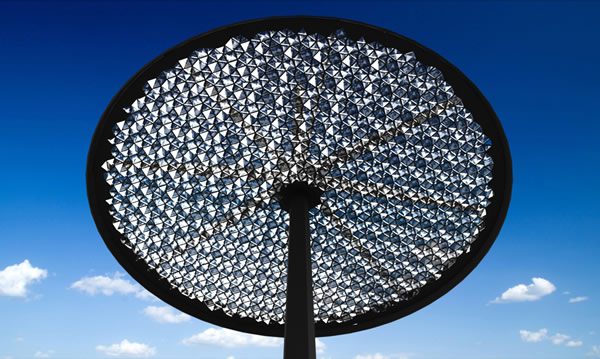 This collaboration between industrial designer Samuel Wilkinson and neuroscientist Beau Lotto is part sculpture, part street furniture, and the Ommatidium's canopy has been designed to mimic its namesake in the animal kingdom — that is the units of receptors that are clustered together in the eyes of insects.
Samuel painstakingly assembled 1,500 hand-cut crystal lenses into the steel frame to form the canopy, which acts as rain shelter, as a rainbow-generating refractor when the sun is shining, and as an LED-powered street lamp during the night.
As well as being a useful and attractive addition to the Shoreditch streetscape, the Ommatidium is clever too; it's an information hub linked to Lottolabs' Traces smartphone messaging app. Rather than send a message to a person, Traces sends it to a location, and the information hangs from nodes such as the Ommatidium like a virtual water droplet waiting to be collected by any passer-by who has the app.
The multimedia content could be anything and everything including local maps and what's on guides, public service information and transport alerts, music playlists and more. The Ommatidium is a proof-of-concept project, but Professor Lotto hopes the Traces hubs have a bright future as the next step in the evolution of social networking.