With a pretty façade, partly clad in timber and partly covered in a blanket of ivy, 1 Hotel Central Park has more in common with the green spaces of its nearby namesake than with the neighbouring properties around 58th Street and Sixth Avenue.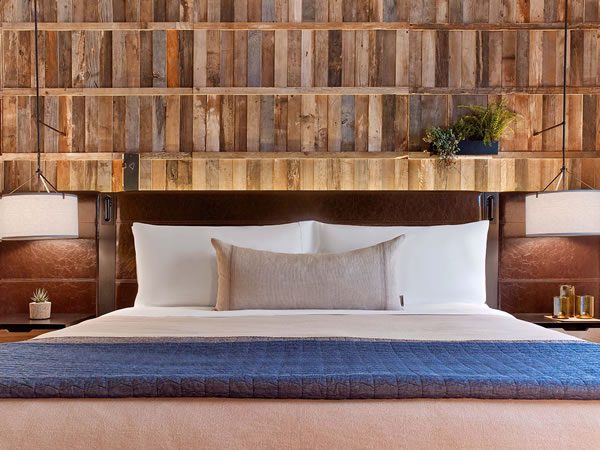 1 Hotel certainly stands out among Midtown Manhattan hotels, and not just for its looks; the core principles for hotelier Barry Sternlicht's fledgeling chain are sustainability and ecological ethics married to boutique design and large hotel levels of luxury. It's a winning combination that we loved at 1 Hotel's first venue on Miami's South Beach, and it has translated well to New York; the use of natural materials and organic elements such as the driftwood-like sculptures provide a breath of fresh air in the heart of the urban jungle. A wall of ivy as seen on the frontage of 1 Hotel Central Park doesn't grow like that overnight, so the green-fingered folks at AgroSci were drafted in to help matters along.
Other contributors to the hotel's environment include landscapers Harrison Green and Sprout Home who looked after the interior plants. New York agency AvroKO delivered the overall design with the 1 Hotel principles in mind, creating what they describe as a "somewhat unadorned" space in which the materials' intrinsic beauty provides much of the decoration.