Viewed up close, it's impossible to fully understand Tobias Rehberger's five square metre tile painting on the outside of Ibiza's Museu d'Art Contemporani d'Eivissa (MACE). The digital pixellation caused by the large tiles renders this artwork abstract, and only by stepping back far enough or viewing it through the lens of a phone camera does the image reveal itself to be the upper halves of two men having sex.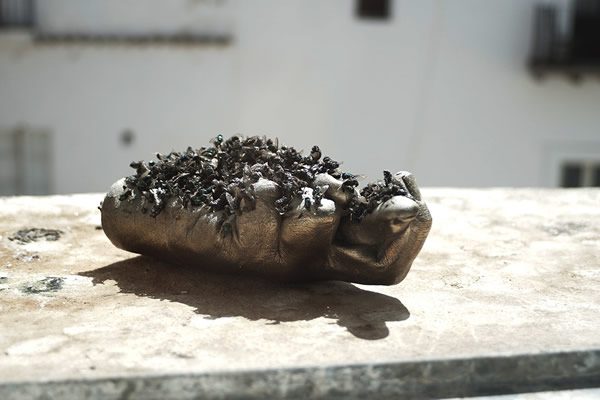 Inside the gallery is the companion piece to Rehberger's work, this time by his partner Douglas Gordon. This video work, projected onto the venue's wall but viewable from outside in conjunction with the mural, depicts the men's writhing legs.
After the After is a joint show by Rehberger and Gordon, whose title references the post-party come-downs of Ibiza's hedonistic club scene when paranoia runs rife and loneliness is to be avoided at all costs. The exhibition includes many collaborative sculptures and film works created by the pair linked by themes of abandonment and neglect, and expands beyond the confines of MACE to incorporate the surrounding area. Visitors to the island will see the event advertised in spraypaint on a Cocoon Club billboard takeover en route from the airport to the museum, while another public work, viewed from the museum's balcony, features the words "something else is possible" on a building in the old city.
The comedown concludes 4 October.