After spending the past four years living in Ho Chi Minh City immersing himself in his family's heritage, Shawn Pham has returned home to his hometown of Los Angeles to open his own southeast Asian kitchen going by the name of Simbal.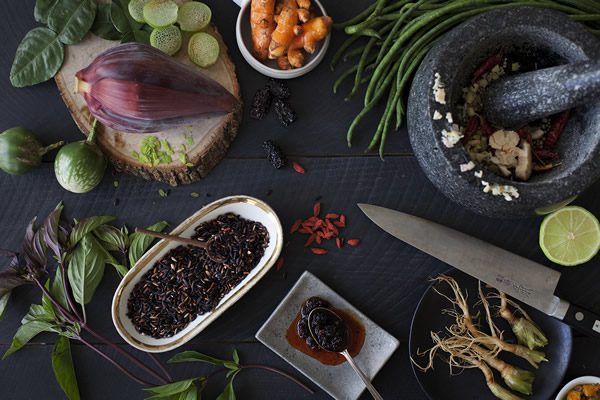 His time studying the food stalls and kitchens of Vietnam came on the back of spells in many award-winning restaurants, including Sona; The Bazaar by Jose Andres; The French Laundry; and Craft — and all these influences have been brought to bear at his new Downtown enclave on the San Pedro side of Little Tokyo Village.
As on the streets of Saigon, food carts move through the dining area of Simbal offering their wares at tableside. Designers Studio Unltd have organised the front of house in a streamlined fashion, keeping the aisles free, and the pared-back look owes much to the ideas of the Japanese wabi-sabi aesthetic. Ash wood of various hues is used in conjunction with sheets of copper and patterned concrete, and the eating area is arranged between a glass-topped sunroom and a darker, more secluded rear. The focal point of the space is the centrally-located open kitchen, whose ringside bar stools account for 14 of the 109-seat capacity.