Everyone who grew up with a love of books has their own favourite illustrator, whose work helped give life to the characters and stories held within the pages. For some it may be the incomparable collaboration of Quentin Blake on Roald Dahl's classic tales, while for others it may by Axel Schefflerk's The Gruffalo or Raymond Briggs' illustrations of his own stories. Those giants of the field are either gone or heading towards the final chapter of their careers, but there is a strong group of artists continuing the traditions of children's illustration and indeed advancing the genre all the time, and a new book aims to bring these talents into the spotlight.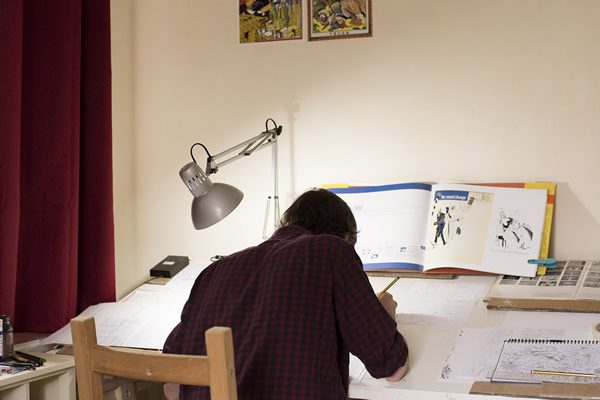 The Bookmaker's Studio is a proposal from Jake Green and James Cartwright, in which the pair seek out the foremost practitioners of children's illustration from around the world. Jake is the visual half of the team (along with designer Melanie Mues and letterpress artist Russell Frost), and he has been here, there and everywhere to photograph both established and emerging names at work in their studios. His images give a revealing insight into how the magic happens, ably assisted by the words of author James who profiles each of the personalities.
If you agree that these often unsung heroes of childhood are deserving of more attention, bung a pledge in the direction of Jake and James via their Kickstarter page. The Bookmaker's Studio will feature Russell's hand-printed covers and will be produced on the lovely paper of GF Smith. The edition s looking to launch in September at the House of Illustration, but the deadline for backing the project is 11 August. Get pledging!