The ability to speak knowledgeably on the topic of brewing and distilling can put a much-needed veneer of respectability on a person's problem drinking, so three cheers for the team at Sydney booze alchemists Archie Rose for their programme of educational tours and tasting sessions. Hic, hic, hooray…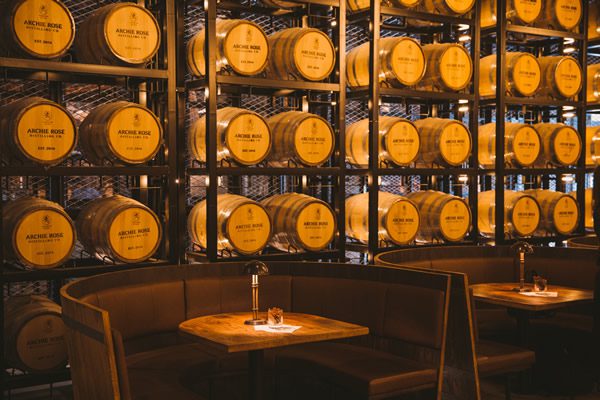 Located in The Cannery complex, the operation includes a full-operational distillery and a gorgeous on-site bar in which to give their tipples a stern practical examination. Barrel upon barrel of the maturing elixir stand caged and ready in the double height bar, demarcating the boundary of the saloon which revolves around the copper-topped central island.
Gaps in the ranks of barrels afford a tantalising glimpse of the production process going on in the sculptural vats behind the scenes — a process into which tour visitors are thoroughly immersed, from grain and malt selection; botanics; fermentation; washing; and every other vital, finely-honed process besides. In addition to the tasting tours, Archie Rose offers customers a bespoke spirit distillation service and runs dinner collaborations with Black Star Pastry.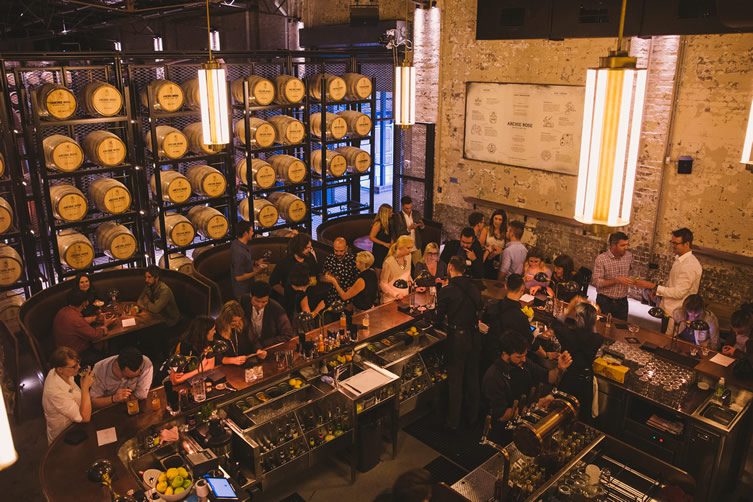 In their own words: "While there was a downside to the complete lack of a handbook to guide us to create a distillery of our size, the upside is that we learned from the ground up the craft of spirit making from people who have done it before us. They say good things come to those who wait. In our case, the wait for our distilling equipment to be built was exactly one year to the day we engaged craftsman Peter Bailly to create it. With the finest copper shipped in from Scandinavia then hand-hammered and fabricated to our exact specifications, we are proud to say Archie Rose has three of the most unique copper pot stills in the world.
With the exception of the washbacks and grist mill, Peter made all other equipment on the production floor, so it's fair to say we have a grassroots culture of creating things by hand – right through to the bottling and labelling of our spirits on site. Precisely three metres from the distillery and flanked by a wall of aging whisky barrels, the bar showcases the full Archie Rose spirits range, including a number of unreleased products, while also offering an interesting selection of beers and wines curated by one of Australia's best young sommeliers – James Audas.
Here, two spaces – a ground floor area and a loft – use copper, steel, oak and concrete to create a completely unique space where you can sample, sip and savour the spirits we craft on site. Our bartenders share our passion for crafted spirits and are amongst the best in the business, so come and say hello while they fix you a drink and get the lowdown on what goes into your favourite drink."