STRIKE! — a bi-monthly subversive politics newspaper — went viral last year, their Totally Pointless poster designs being put up around London, thanks to a "shadowy art-activism organisation" going under the name of The Special Patrol Group (SPG).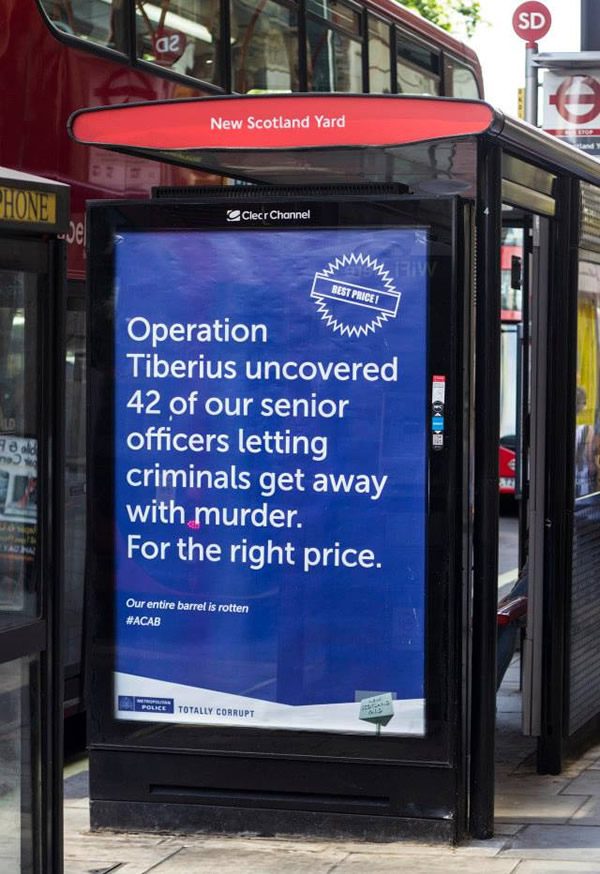 "The Metropolitan Police Force spend ridiculous sums of our money trying to convince us – and themselves – that they're not violent, racist and corrupt. In 2012 it was £12.6m and in 2013 it was £9.3m – in two weeks alone last year they wasted nearly half a million pounds of public money on pointless poster campaigns." That was STRIKE!'s script last year, clearly outraged at the Met's ugly propaganda — and who can blame them?
Phantom activists SPG ran with the baton back then, taking STRIKE!'s message to the streets, but the Met haven't been deterred, continuing their attempts to put a positive spin on their work: "The first of these two campaigns saw posters displayed for two weeks between 25th August and 2nd September 2014 in 15 boroughs. The most recent campaign ran between 2nd February and 15th March 2015 in 14 boroughs. In total the campaigns cost £989,275, including media and production costs, direct mail and social media, and independent evaluation. 240 different messages were created."
Nearly a million quid of taxpayers money on propaganda in four weeks? No wonder the Special Patrol Group are still irked, and they're letting everyone know — with the original posters popping up around London once again over the weekend. The war continues.
Via: Dazed