Good news for those in the know about Berlin, and even better news for those who aren't: two of the city's favourite boutiques, Schwarzhogerzeil 1 and II, have come together to form a single outlet that will finally allow these two fashion treasures to spread their expertly-curated, lovingly thought-out wings and shine.
Anyone who does already swim in the waters of Berlin's vibrant shopping culture won't need us to sell them on Schwarzhogerzeil, of course. It's been a well-loved fixture on the scene for years and is justly recognised for having introduced to the city a range of distinctive brands: Isabel Marant was unknown here until Schwarzhogerzeil began to stock its wares (only another two outlets have since followed suit), and it's the go-to place for other names including Cacharel, Tsumori Kishimoto, K. Jaques and This Works.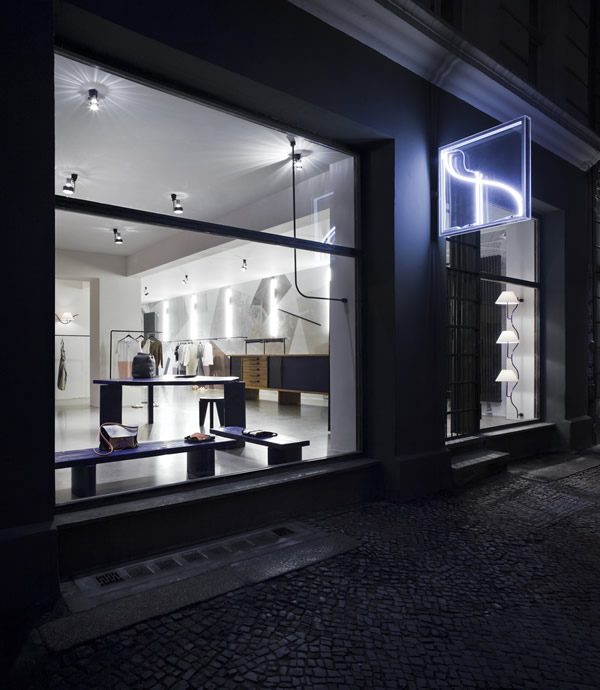 Schwarzhogerzeil is the brain-child and labour of love of Nicole Hogerzeil. Despite the tremendous success of the first two stores, she realised some time ago that a new bespoke venue would be required if she were truly to fulfil her vision and give the range that she's curated room to shine. 'Over the years I have reached my limits in terms of space,' she says, 'and have realised that I need more room to present my favourite labels appropriately. I will take the best from both stores, established labels like Perret Schaad, Common Projects or Carven and also have space for new labels such as Marni or Dries von Noten.'
As with the original shops, Schwarzhogerzeil's new space on Torstrasse has been conceived and designed by Sylvester Koziolek, combining the vintage, timeless charm of 1940s Paris with striking touches of modernity including prominent neon lights and a selection of objects that, at first perhaps a little incongruous, quickly become essential facets of the ambience as a whole. It's the kind of shopping experience that goes far beyond shopping and quickly makes a case for itself as a kind of interactive lifestyle and fashion museum — albeit the kind of museum where one gets to walk away with whichever of the exhibits most quicken the heartbeat. Get down to Torstrasse.