Much-loved Exmouth Market spot Medcalf opened a handsome new gaff next door at No. 38 just a few months ago. — the concept behind Medcalf Traiteur is simple; by day it's casual lunch, by night a wine bar. A first on Exmouth Market, the focus is on old-world wines and quality sharing plates of charcuterie, cheeses and bread. The former gallery has been transformed into a rustic, affable dining space — with décor very much centred on food and laid-back dining. A large chalkboard boasts the day's mouth-watering specials, think venison salami; British n'duja; bresaola. Tall wooden banquettes are reminiscent of old French diners, while a record player spins eclectic ditties from the counter. Inspiring chat among diners, the vibe is that of gossip, perfect for friends who love to catch up without the formalities of course dining.
The 'traiteur' was a 17th century casual dining establishment, serving unfussy, seasonal and regional food and wine to the community. Indeed, it was the traiteurs that laid the foundations for what we now know as restaurants. And where would we be without them? With a lean towards honesty, simplicity and using up what's available, Medcalf's Traiteur conveys this idea very well — replicating the casual atmosphere brilliantly; once you're in, chances are, you won't want to leave.
I spoke to owners Simon Lee and Tim Wilson about Medcalf Traiteur. I really wanted to know about their new approach in terms of small establishment dining; what inspired the concept; and why they respectively gave up the 'high life' — Lee and ex-lawyer, Wilson ex-international touring chef — to settle in Exmouth Market and do things all their own way…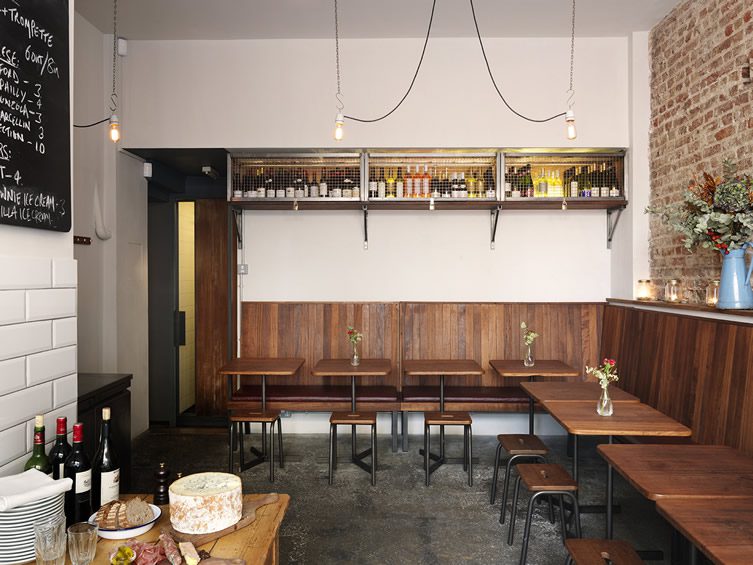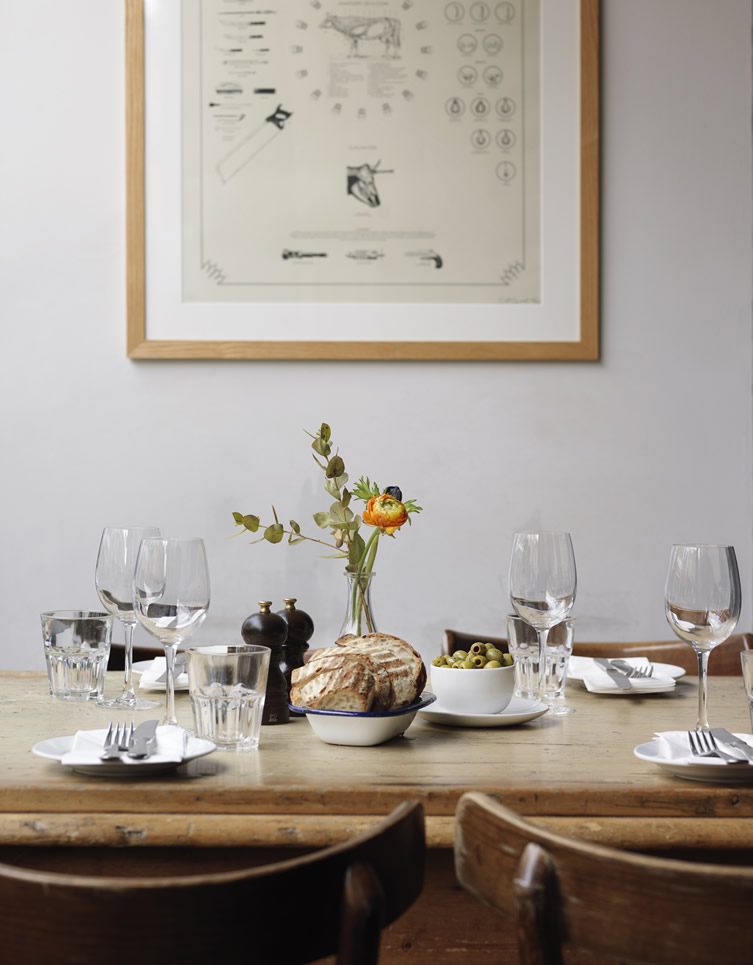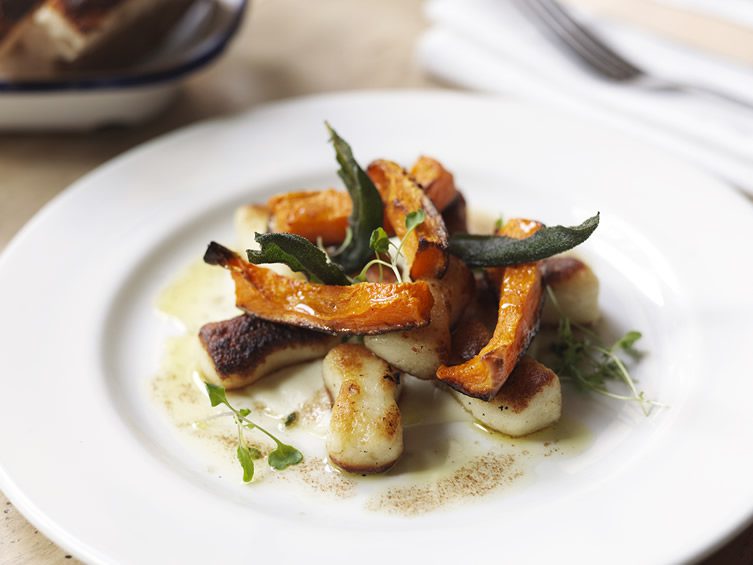 What made you decide the to turn the gallery space next door into a traiteur?
There has been a huge change in the way people dine at lunchtimes, and we wanted to offer a more civilised alternative to queuing up in the rain for some of the street food options at the end of the market; with a quick, cost effective dine-in option for those who want to get out the office for a little longer than 10 minutes, but don't have time for a traditional three course meal.
As the first wine bar on Exmouth Market, why have you have chosen to favour old-world wines?
Medcalf has always specialised in 'old world wine'. When we started back in 2003 it was all we knew about! Of course wine styles continue to change and there are some amazing new world wines — and old world wines made in a more modern style — so even though we don't have Australian Shiraz, there's still something for everybody's palate.
The atmosphere at Traiteur is very different to that of Medcalf. It's more friendly, there's more on the walls, and on display. It's almost like a friend's kitchen — how intentional was that?
Tim and I have spent many weekends sitting in each other's kitchen cooking, drinking wine and talking about food and hospitality, so it was natural to replicate that in Traiteur.
Can you tell us where you source some of the produce you serve?
We source our charcuterie from Moons Green, Trealy Farm and Cannon & Cannon with most of our cheese from Neal's Yard, our amazing bread is from Little Bread Pedlar and St. Johns Bakery.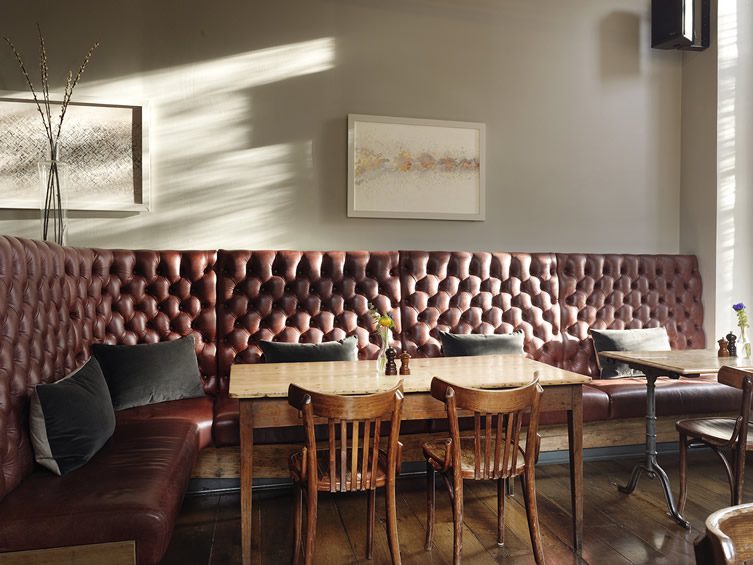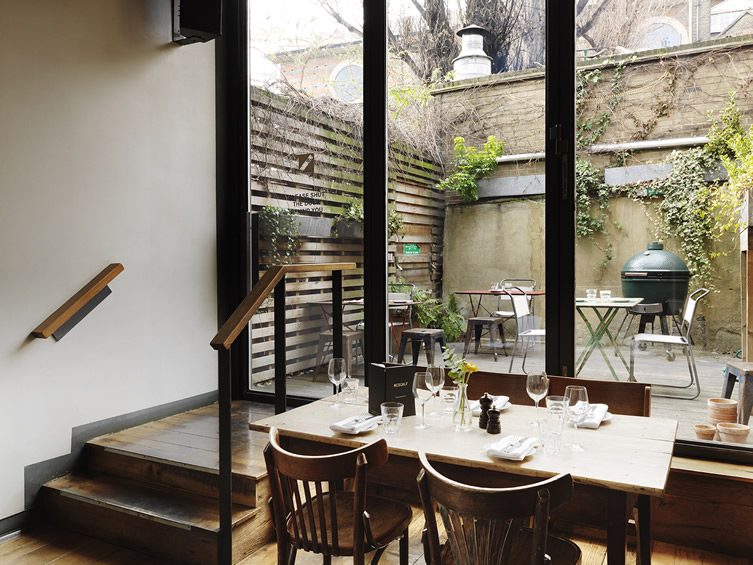 You have a record player spinning vinyl on the service counter. Who's the music fan?
Everyone at Medcalf is a music fan; we have three professional DJ's and a huge pile of eclectic vinyl…
Simon — were you always passionate about food? I guess a life in law can offer the finer things in life, but why did you choose hospitality, food and drink?
I've always had a passion for food and drink — hospitality sucks you in!
Tim — the jet-setting global lifestyle you have led as a chef must have been a hard one to give up, why did you?
To answer the question about giving up the 'cheffing': the idea behind the Traiteur was to create a convivial eating/drinking space that didn't have all the headaches of a restaurant — fewer staff, smaller offering, eat in/take away — streamlining the experience, so instead of being a chef I could concentrate on cooking, communicating with customers and suppliers and training one or two staff (rather than a whole brigade) in what we do. 
It's the way I see the future of small food and drink businesses going as, having been on the frontline in London kitchens for over 15 years, and seeing the huge amount of corporate funded restaurants opening, there simply isn't enough skilled staff to go around. The traiteur approach offers a solution to this problem, and is arguably a more enjoyable atmosphere to operate in.
Can you please describe Traiteur in just three words?
Relaxed, convivial, rustic.