A hop, skip and a jump through the confines of Brixton Prison. None too typical a habitat for an internationally recognised fashion design studio. An aged wooden door with a delicately printed name, is this all that globally-respected brand Eley Kishimoto have to show for their 22 years in business? The door creaks open to reveal a hive of relaxed creativity – we're here as guests of "The Patron Saints of Print", Mark Eley and Wakako Kishimoto, a pattern power duo more used to dealing with the likes of Louis Vuitton, Marc Jacobs and Alexander McQueen than us young fools.
The studio has three generous floors that house their archive, screen-printing studio, pattern-cutting tables and studious desks swamped with fabric samples and sketches. I kind of expected a show room with signature-patterned attire hanging from waif mannequins drenched in whimsy and couth. Where was the hi-tech water cooler? The receptionist with finely-manicured talons, plentiful white surfaces readymade for the duo's vivid colour palette to sing from? I'm surprised. Pleasantly. This space is real, and I feel lucky to be privy to its very beautiful brand of normality. Screen-printing tables rescued from Central St. Martins, odds and sods that evoke the fanciful clothing factories of yesteryear; there's a definite method in this casual madness, and one that sees craft sit alongside creativity in their process.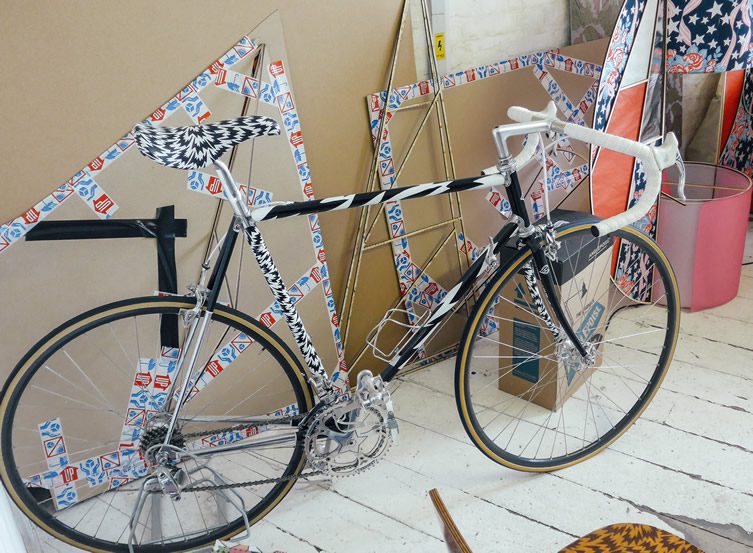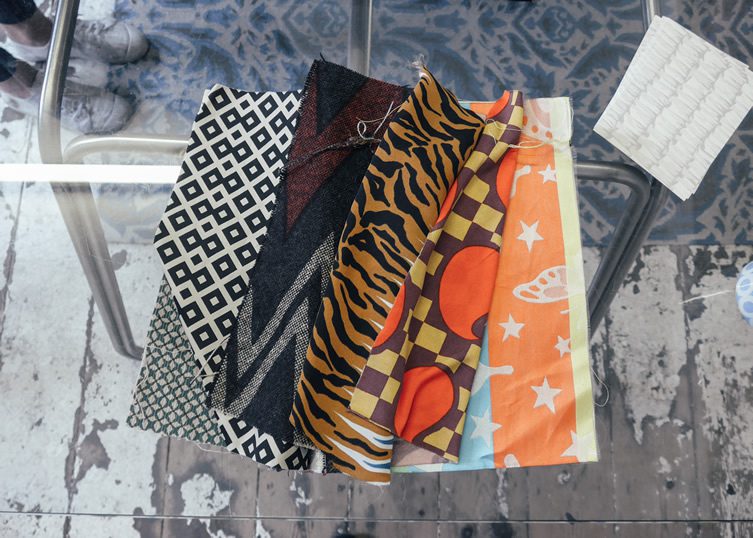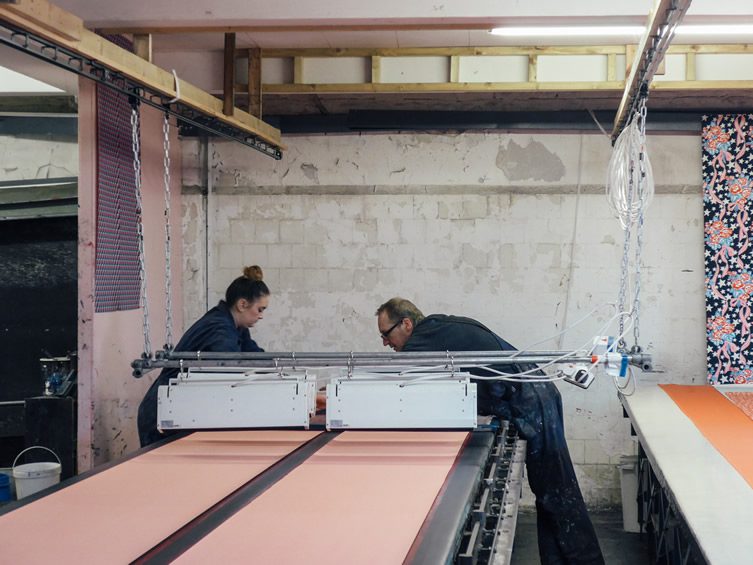 Eley leads our visit, filling us in on their first ever hand-printed wallpaper project. Printed here in this very studio, there's something humbling about its low-key production. Establishing their brand in the early '90s, Mark and Wakako are renowned for their sense of individuality – setting trends in contrast to following. Needless to say, an ethos courted by the aforementioned fashion icons, but too by non-linear brands: BMW Motorbikes, Fossil and Eastpak. Mark Eley is passionate about bringing something into people's everyday environments with their wallpaper – after all, it is something to be lived with. Creativity that needn't be confined to a wardrobe after a night out.
Eley Kishimoto's initial 12 wallpaper designs are taken from their archive and re-worked, from bold and modern takes on traditional damask designs in La La Lyon to the deeply-rooted retro of Vanity Cats and positively unhinged wonder of Galaxy Bouquet. Straight from your favourite supermodel's back and onto your living room wall – thanks to a studio capable of placing its patterns onto any surface, and for any given project. From the pages of i-D magazine to Elle Decor – interiors never felt so à la mode…
***