The fact that Harrods chose to locate an affiliate store in the Buenos Aires barrio Retiro speaks volumes about the kind of neighbourhood this is. Expect high-end boutiques, art galleries, museums, small palaces in a European architectural style – and of course some swanky hotels. Alongside the multinational 5-star chains, we've uncovered a place with a bit more of an independent spirit happening and a good deal more design flair in the shape of Arroyo Hotel.
Just a leisurely promenade from the notable Plaza San Martin is an '80s building which has undergone a radical overhaul inside and out from a team including The Wow Factor and FG Arquitectos. As you'd expect from a hotel named after the Spanish word for stream, it's all pleasantly verdant in the public spaces, aided by the judicious addition of plants, use of natural materials and the work of local artists. These include Eloísa Ballivian, who was responsible for the beautiful 10 metre hand-painted mural in the main bar which took two months to complete. Each guest room contains original work by Celeste Najt and Ricky Vior, and the latter also designed the bespoke wallpaper for the hotel suites.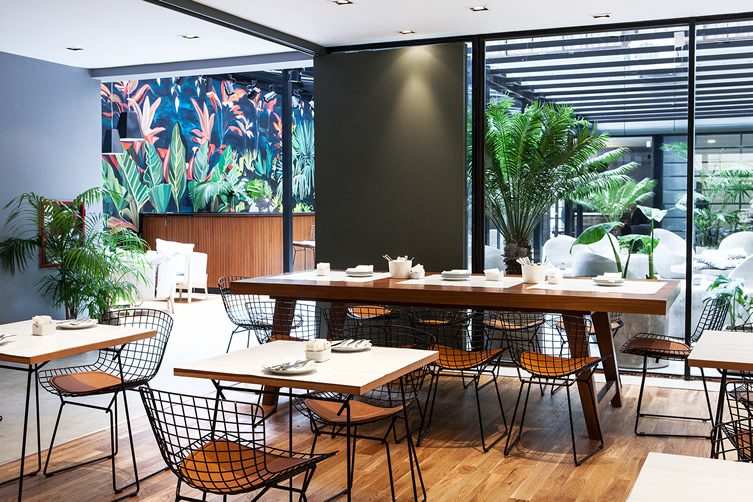 In their own words: "Arroyo Hotel is located in the heart of Retiro, a posh Porteño location, where neighbourhood notes are mixed with a high-spirited commercial life. Exclusive stores and shopping centres, Frenchified small palaces, art galleries, antiques' shops, museums, restaurants and bars set the rhythm of one of the most vibrant areas of Buenos Aires.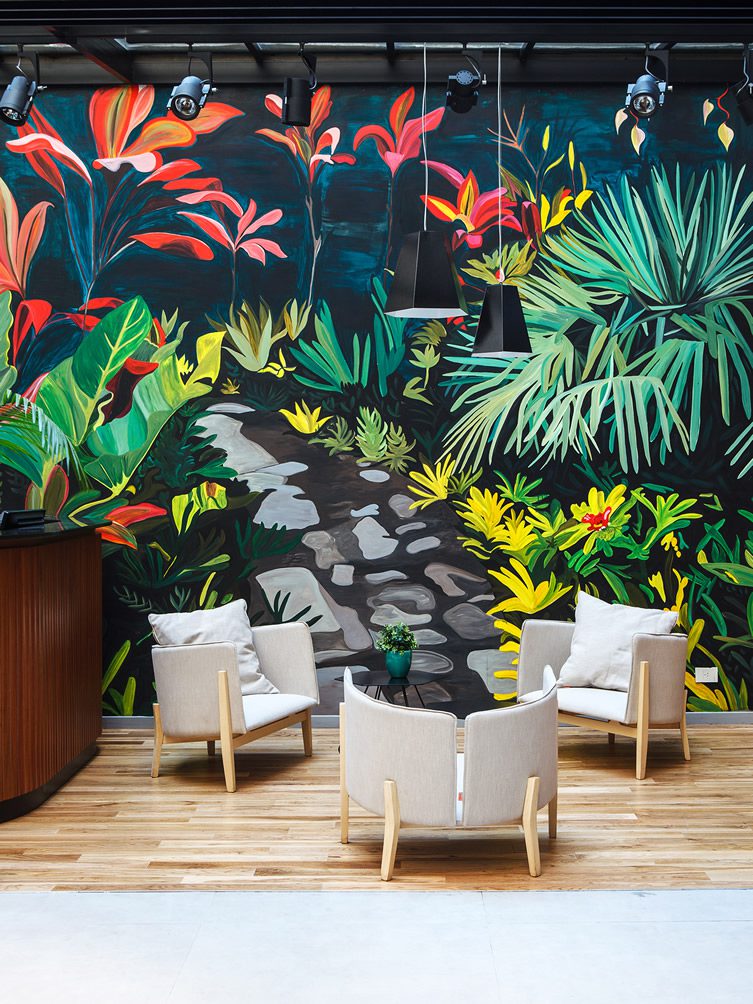 Situated a few minutes' walk away from Plaza San Martín, Arroyo Hotel has 77 rooms, including suites and studio flats, spread in two concrete buildings built in the 80s. After a year and a half of intense refurbishing, the building was completely altered, and a new facet premiered. Behind this radical change is a cross-disciplinary team made up by Cecilia Nigro and Mariana Rapoport (heads of The Wow Factor Agency), architects Miguel Florio (head at FG studio) and Adriana Tedesco, and Dolores Biocca.
Eclecticism without stridency, warmth and comfort, these are all the values the new hotel reveals, being designed to become a meeting point for guests and locals, who are able to enjoy the different common rooms, which have been arranged to eat, have a drink, work, meet-and-greet, or simply read. In the front part of the building, there is a small café of industrial aesthetics, welcoming visitors in. A few steps further in, the check-in desk receives them with a rustic counter made of unplaned wood, and right opposite it, there is an intimate living-room inviting the most delightful relaxation and encouraging visitors to grab one of the many travel, design, art and fashion books stored in the library.
The main bar, the nerve centre of the hotel, is situated in the centre of the ground floor, beneath a leaded glass ceiling through which a soft natural lighting sneaks in. The main protagonist in this room is a magnificent exuberant 10m by 4m mural, hand painted over the span of two months by artist Eloísa Ballivian. The broad breakfast bar maintains the aesthetic line and spreads along the patio filled with tropical plants, which functions as a delightful urban oasis fitted with concrete furniture and a huge open air brazier, ideal for when the temperature drops."