From Cork to Dublin; Ardmore, Dungarvan, Glendalough and more in between. Four days navigating the South East Coast of Ireland – taking in Michelin-starred dining, luxury, tradition, culture, partying [insert stereotype about The Craic]… There's more to Ireland than its compact capital, and so much more than stereotypes. Let us indulge you…
Day 1: Ardmore
In just over an hour from London we arrive in Cork, jump in the car and head straight to the sleepy seaside village of Ardmore, West Waterford. The sun is shinning, we're astounded by our luck [insert stereotype about the luck of the Irish]. The main roads are deserted and, as we drive further South East, the Irish countryside unveils a patchwork of glorious green, yellow and brown hues. I can see the sea! I can see the sea! My eight year-old self hollers as we arrive at our first destination. The Cliff House Hotel sits quite literally on the edge of a historic cliff: St. Declan's holy well resides right here, and he was recorded to be one of the first Catholic settlers in Ireland.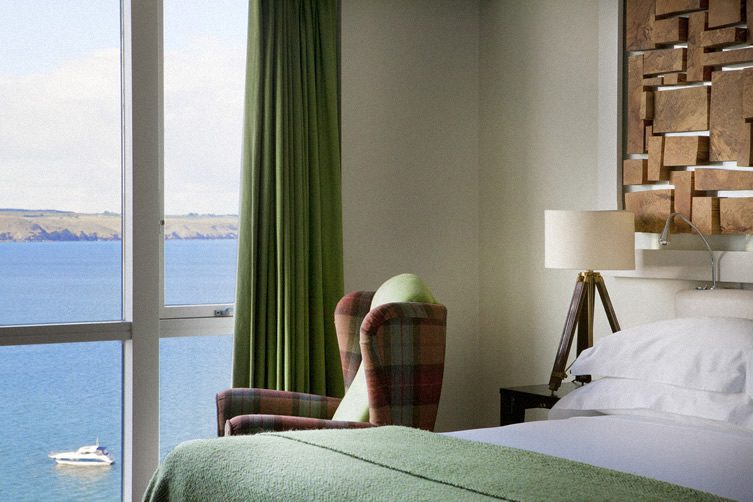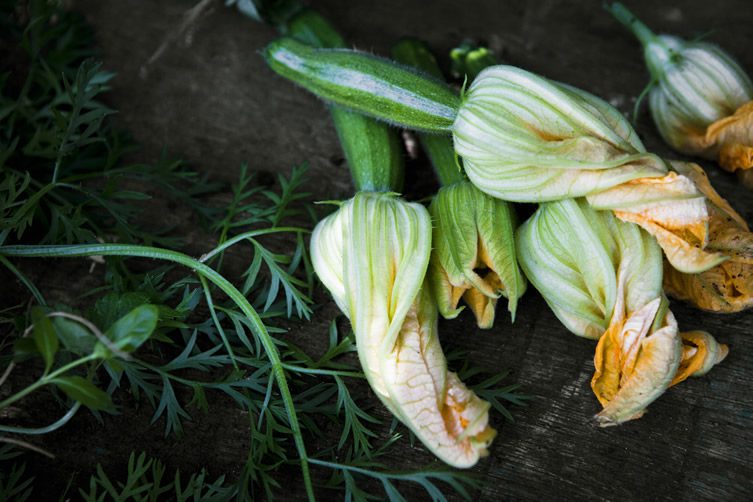 The hotel is discrete, yet a world away from the tradition cottages surrounding it. Thanks to the glass façade inside all you can see is sea – blissful, almost overwhelming. The welcome is warm like a hot toddy, full of smiles – almost impossible to resist that stereotype. Our heather coloured suite is comfortable. The bathroom impressive for its egg shaped bath and the double rain shower room that faces out across the bay. We're instantly relaxed, amazed by the empty blue ocean.
Ardmore itself is the definition of sleepy, but kayaking, scuba-diving, walking, rock climbing and whale-spotting can all be arranged to keep you on your toes. The freezing ocean doesn't tempt us, we opt for eating at their House Restaurant.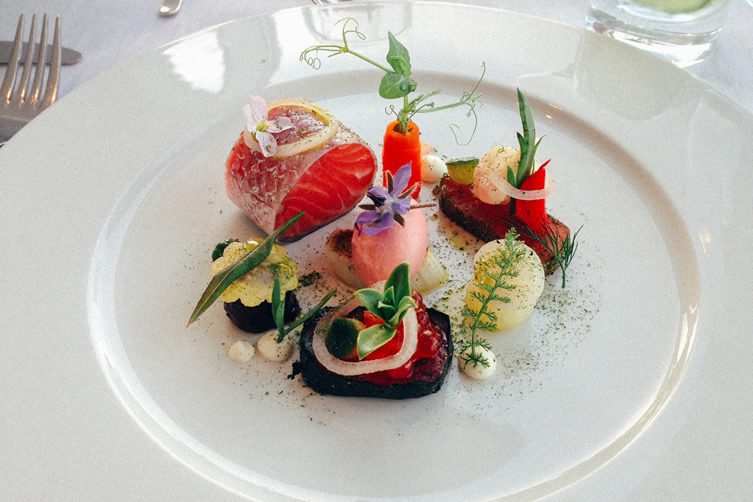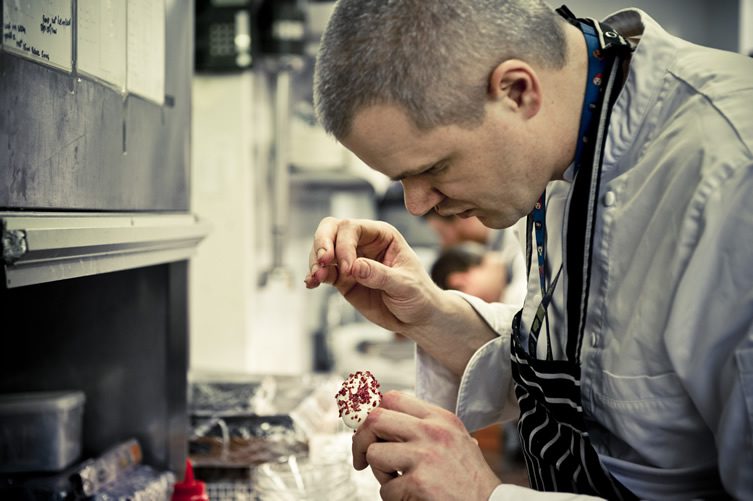 Dinner is a one Michelin star affair thanks to executive chef Martjin Kajuiter and a team of local talent. The Dutch born Irish settler is a master of the kitchen and as each dish arrives we're delighted. A refined take on traditional Irish cuisine, we're impressed by meticulous presentation and inventiveness. Kajuiter's signature Bantry Bay Organic Salmon comes ballotine, iced, marinated, cured, oak smoked and served with pickled vegetables, herbs and horseradish. Like an ode to the almighty salmon, so much effort had gone into its preparation.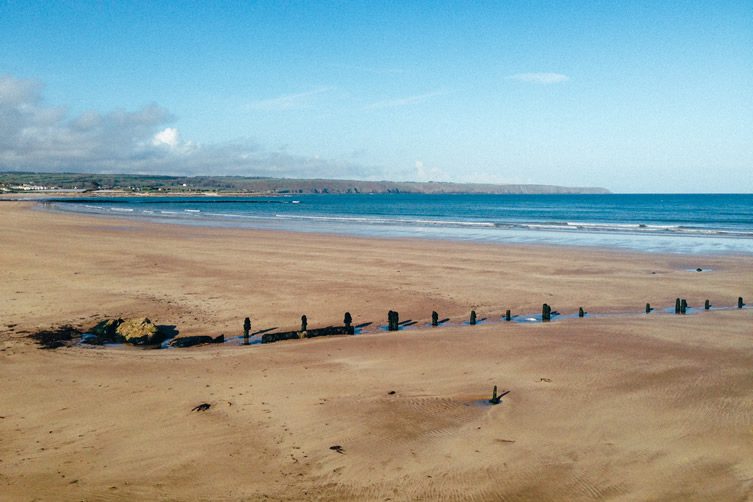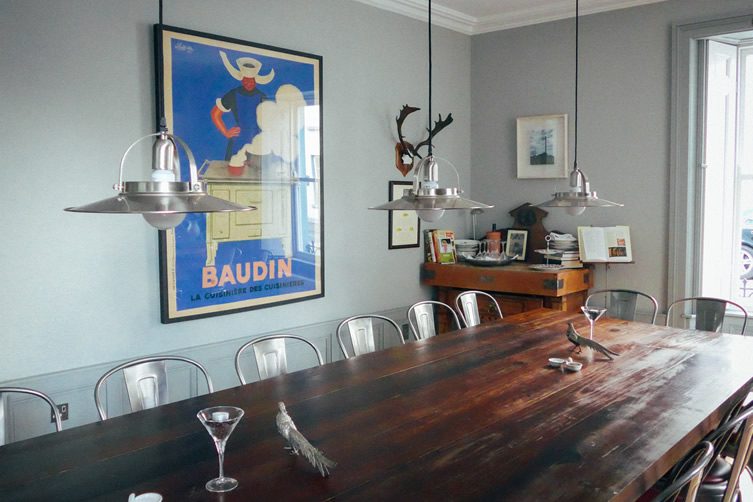 Day 2: Dungarvan
After a full Irish breakfast – proper Irish sausage, both white and black pudding – we check out The Well Spa. Having chosen the couples seaweed bath we plunge into the foliage in the hot outdoor baths and relax. It's a little weird at first, on account of salty heat and gelatinous texture, but the benefits of organic seaweed – I hear – are endless.
Dungarvan, where we will visit The Tannery restaurant and cookery school, is just twenty minutes away. The busy little harbour town is full of charm – most of its activities orientated around eating and drinking. And so it should be. We meet Paul and Máire Flynn, chef and restaurateur super-couple who show us around their home–town empire. The cookery school is fully equipped with all the mod cons, and sees year-round courses led by respected chefs such as Fergus Henderson and Flynn himself, they range from advanced meat handling to express dinner parties. The school itself was where Máire took her music lessons as a child, and the banquet room is where she took her piano exams. From one school to another, the history of the town and the Flynn's involvement is a rather endearing one. There's also Soho House-inspired self-contained rooms to complement The Tannery's arsenal.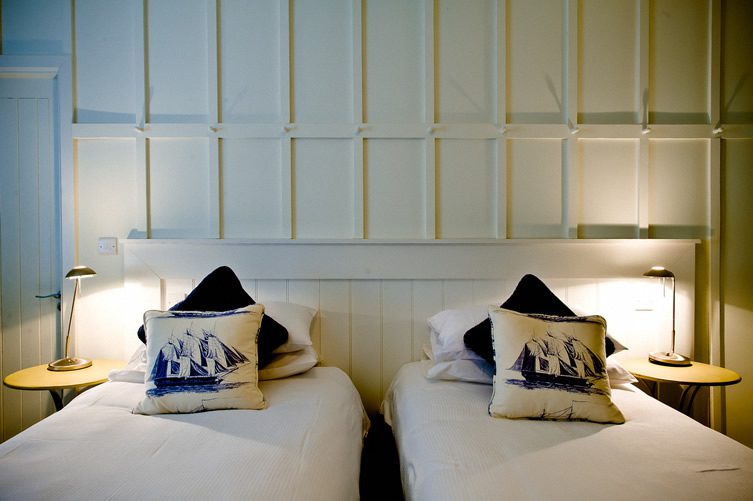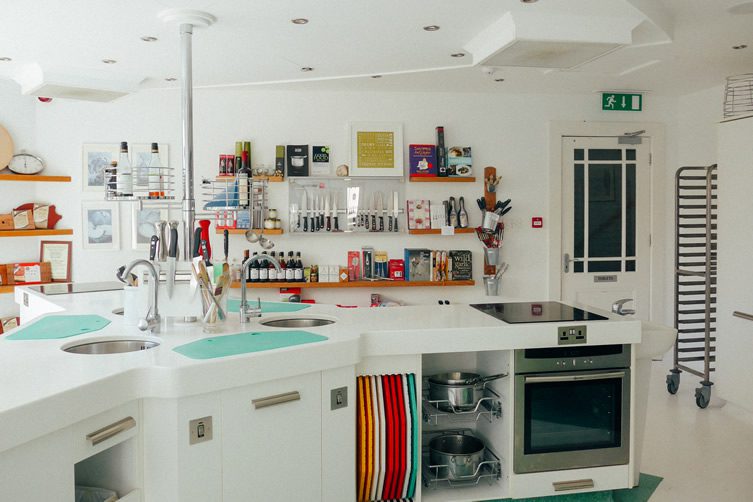 The décor is modern with classic comforts; giant beds, quality linen. The Flynn's are modest, and I like how relaxed they are about their success. Paul himself, the star of numerous TV shows across the globe, has published several books – and we're lucky enough to get a taster of his skills at the restaurant. The Tannery is modern, open, barn-esque with swallow design wallpaper and comfortable furniture. The wine list is refreshingly affordable, it seems that drinking by the glass is a tad pointless.
I love the crab creme brûlée with pickled gherkins for both taste and presentation: served handsomely kitsch in a small pickle jar on a vintage plate. The corned beef with broad and green beans and whipped horseradish sauce is a little underwhelming at first, but once the soft and peppery flavours merge they created one triumphant dish. On recommendation we pop to friendly and bustling Merry's Gastro and The Moorings for some post dinner drinking. Slàinte!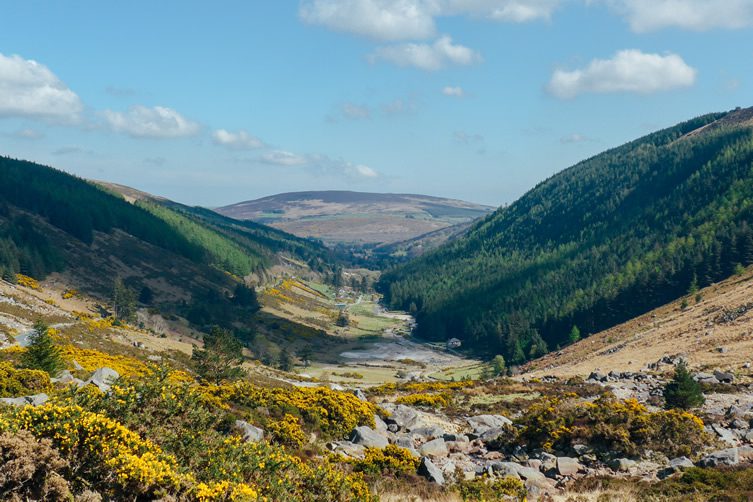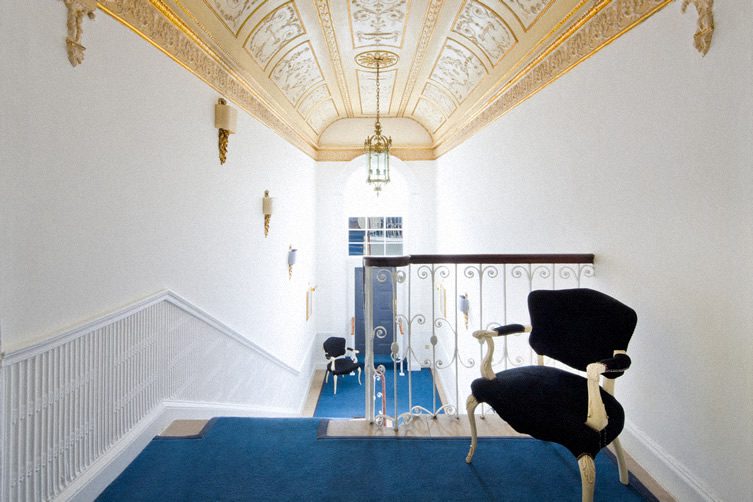 Day 3: Glendalough and Dublin
Arising to another gloriously sunny day, we drive slightly inland towards Glendalough in County Wicklow. The panorama turning hilly as we pass just a handful of tractors. Either side of the road is luscious and green, with spots of golden yellow thanks to an abundance of Western Gorse. After a few hours we reach Glendalough's picturesque 'valley of the two lakes', famous for the Wicklow Mountains National Park and St. Kevin's monastery. A mere pit-stop en route to Dublin, we grab a bite at Glenmalure Lodge. We feast on a lunch of cod goujons the size of fillets and wash them down with local ale. The views are remarkable, you'll crave more time in the valleys but our short journey to Dublin continues…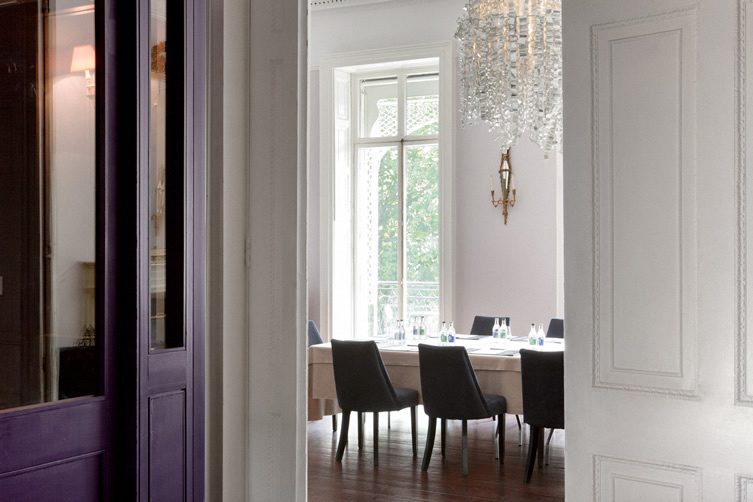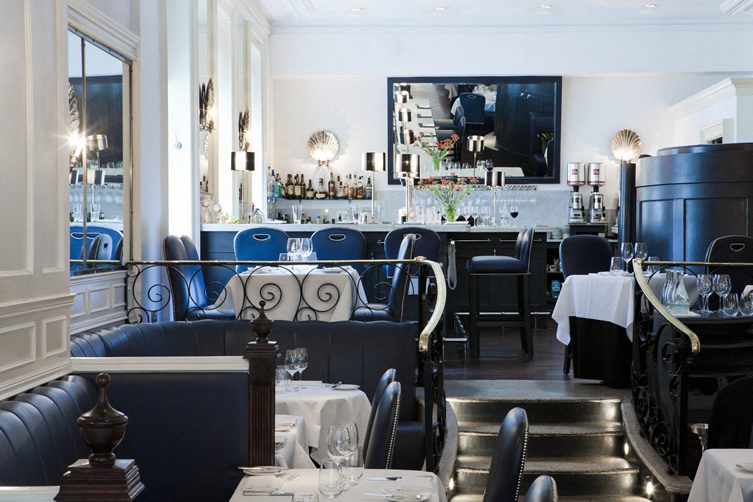 A mere hour later we check into the stylish Cliff Townhouse along the busy St. Stephen's Green, a green oasis steps from Grafton Street's shopping and bordering the city's infamous Temple Bar district. The 'restaurant with rooms' is a handsome townhouse; all high ceilings, hung botanical drawings on dove-grey walls and rich teal carpets. For dinner we gorge on the warm seafood platter – lobster, baked oysters, prawns, mussels and buttery crab claws – fresh, simply prepared and even though we're covered in seafood by the end of meal, we don't feel out of place at the Cliff's classy restaurant.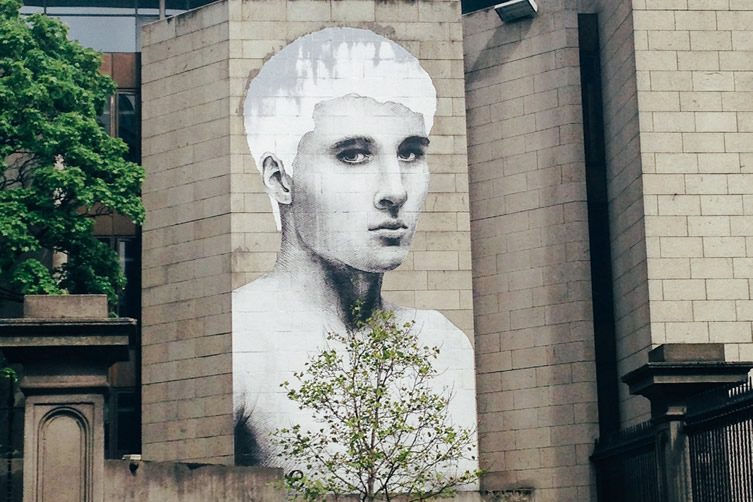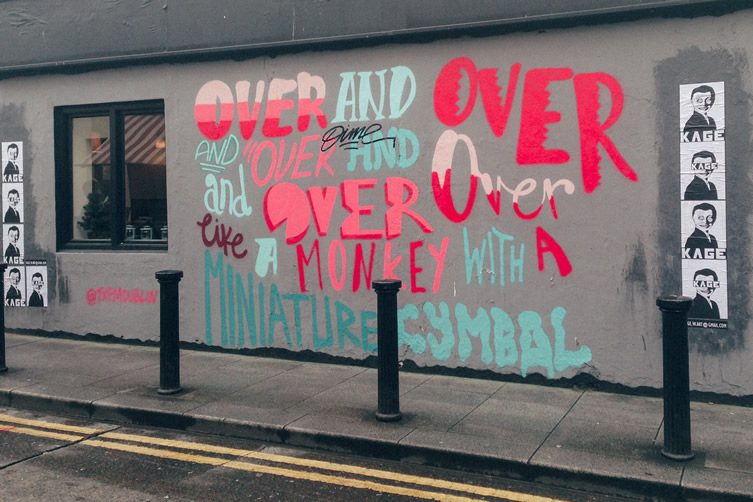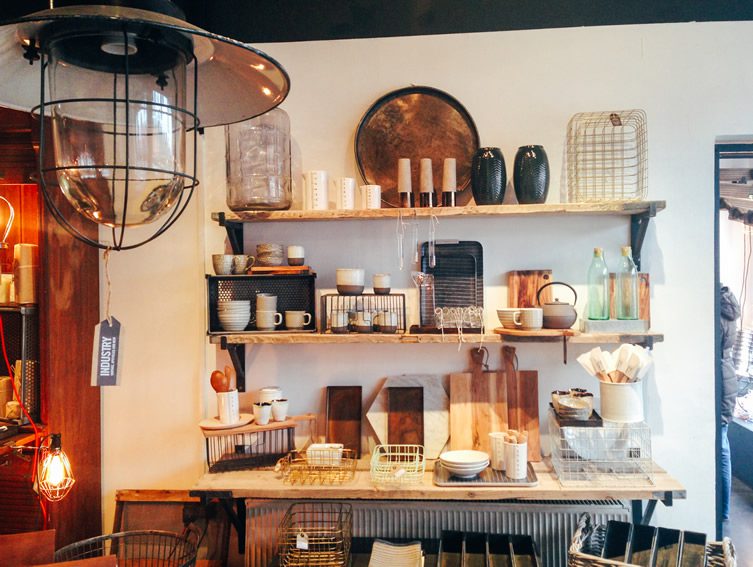 Day 4: Dublin
Ah! Finally some rain, on the day we plan to explore Dublin. Umbrellas at the ready we set off. We stumble across George's Street Arcade just off the main shopping drag, where small stores and coffee shops have been trading since 1881. Drury Street is next for contemporary boutiques like Irish Design Shop (hand crafted 100% Irish design pieces) and Industry Design, teeming with the best in international design-led product. Around the corner is Powerscourt Centre for more arcade style shopping and eating. The heart of Temple Bar is less lairy than it once was, traditional (touristy) Irish pubs with live music day and night now rub shoulders with young design studios and lifestyle stores like Indigo & Cloth.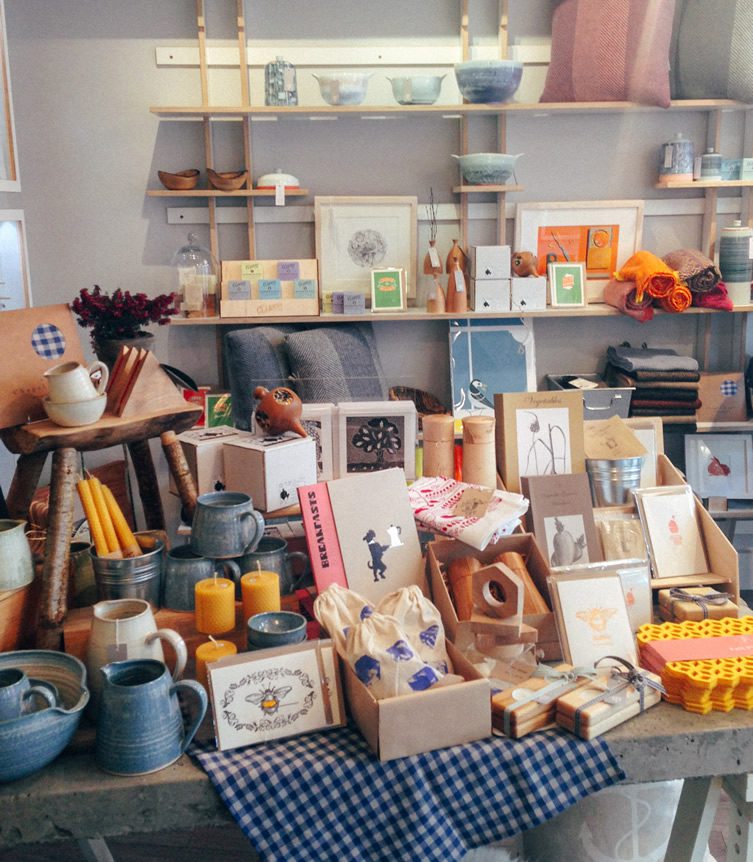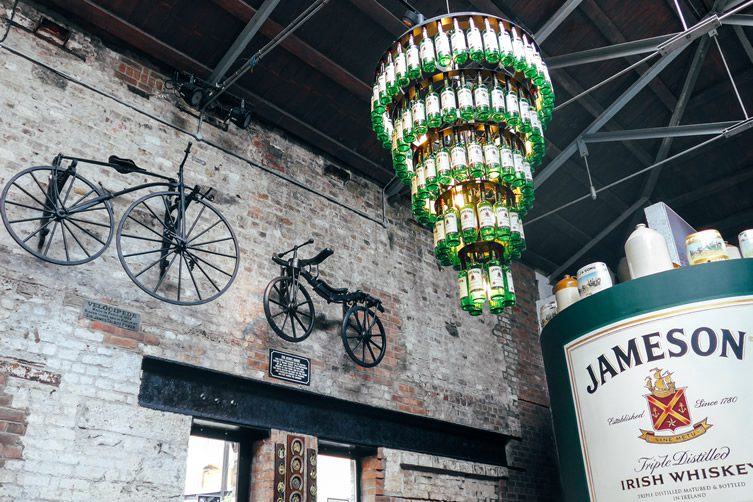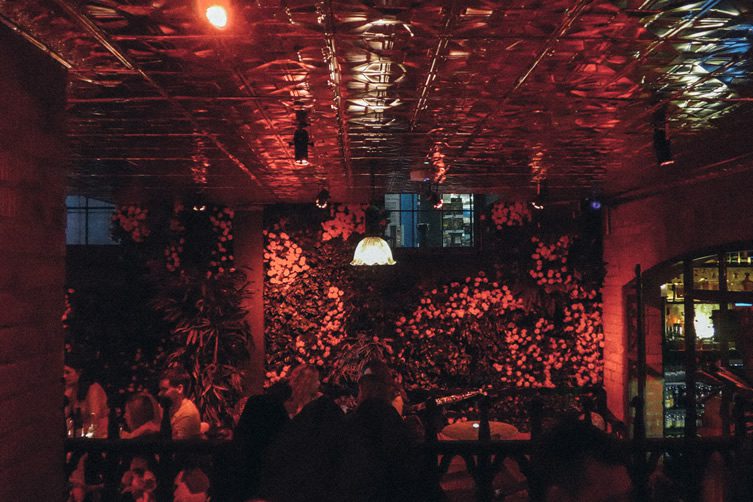 Close by is the weekly food market selling hot apple juice with whiskey (as they call it here) and Irish cheeses but we head to Cleaver East for dinner. The brainchild of Oliver Dunne (Bon Appetit) and fellow Michelin-starred chef Rory Carville (Locks) the restaurant is masculine, dark, and adorned with cleavers. The food is a shared affair and we try our hand with meat, fish and veggies. Small and presented as prepared, we love the handmade lobster dumplings with oriental mushrooms and lemongrass broth. Later we swing round the back to the basement venue The Liquor Rooms. Underneath Bono and The Edge's Clarence Hotel, the venue is a multi-faceted place for arts, entertainment and food. The décor is part Moulin Rouge, part Mad Hatters Tea Party – we love the atmosphere and decadent cocktails.
Stereotypes overturned, Ireland continues to surprise – design and culture, award-winning cuisine, those staggering vistas, and just a little Craic.
@cliffhousehotel
@TanneryDungarva
@CliffTownhouse
***