Super Future Kid, as the name suggests, is an artist who doesn't take things too seriously. There is little room for po-faced fine-art codswallop when the very best of East and West's pop culture come colliding together like asteroids of web culture, 1980s cult cartoons and, mmmmmmm, donuts. The London-based East German child of the '80s explores the chaos in derivative culture, toying with past, present and future with gleeful silliness and childlike naïvety – her compositions flood onto canvas like a shredded mess of magazines, movies and telly from your misspent youth.
Jester Jacques Gallery has worked with Super Future Kid, both at 2013's The Other Art Fair and in selling the Saatchi Online favourite's work through their Fine Art Collection. Co-founder Karen Shidlo caught up with SFK for We Heart, talking through inspirations, collaborations and ongoing success…
@superfuturekid
@jesterjacques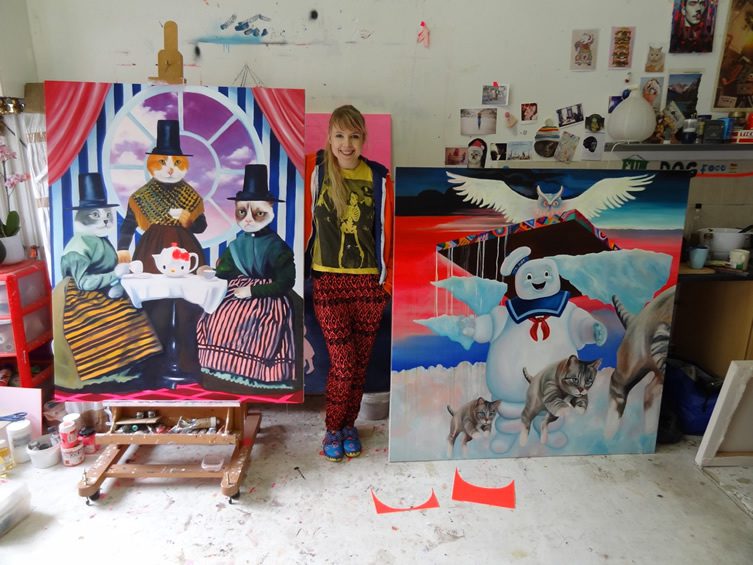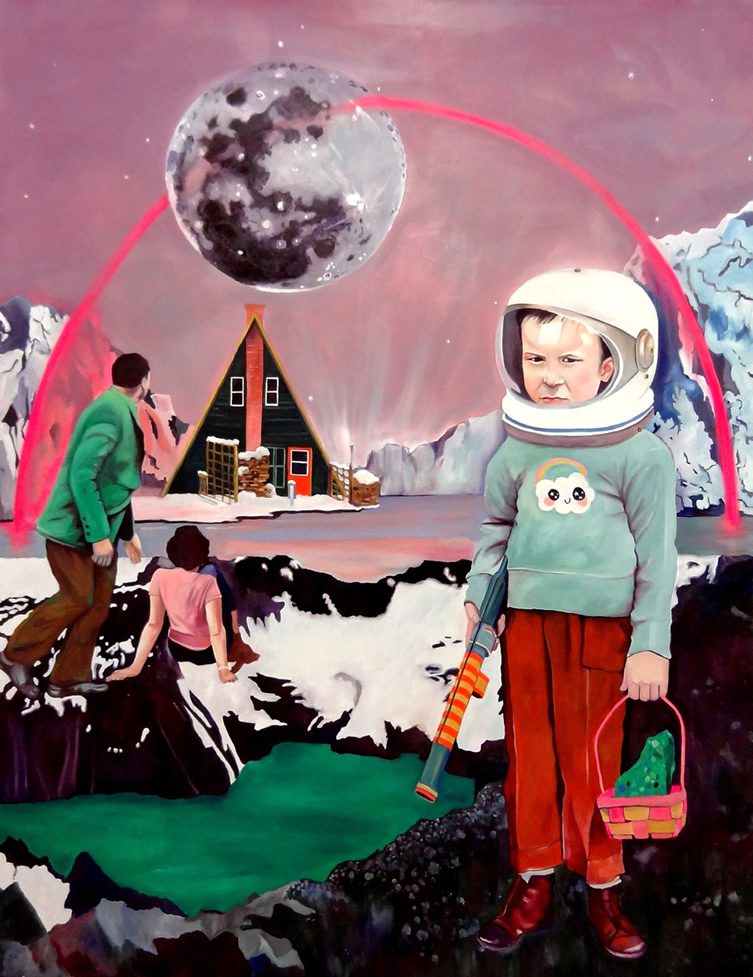 Hi SFK! You're really hot right now in the art world. Saatchi Online loves your work and you have a solid client base. How did this all happen?
Well it sort of happened all at once. I had a Saatchi Online profile since 2007 but never had any prices, It was more a portfolio for me than anything else. Then late last year they featured me as a One to Watch artist and I also got an invitation from Rebecca Wilson to participate in a group show at the Hyatt Regency Hotel. A week after the show launched I sold the first painting and then a week later another and since then it just went on like that.
How do you start a new painting? Do you have magazines, images, collages to work from?
While I paint I usually get a lot of ideas for future works. The imagery I use is very appealing to me. I love the '80s and '90s popular culture especially as it was my childhood era but I am also very interested in totally random stuff and I collect a lot of things like toys, magazines and JPGs. For instance; I have a few thousand images on my computer of which all will play a role in a painting at some point, so I guess the word "collage" describes my work best. It's great fun for me to put things together and play around with them. I also have a lot of drafts for paintings which I sometimes go back into to change compositions or add or replace elements, until I really like what I see.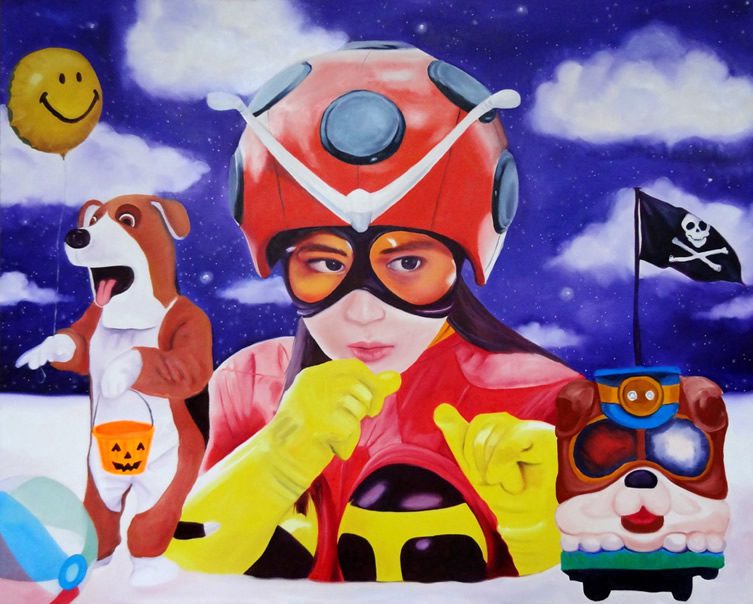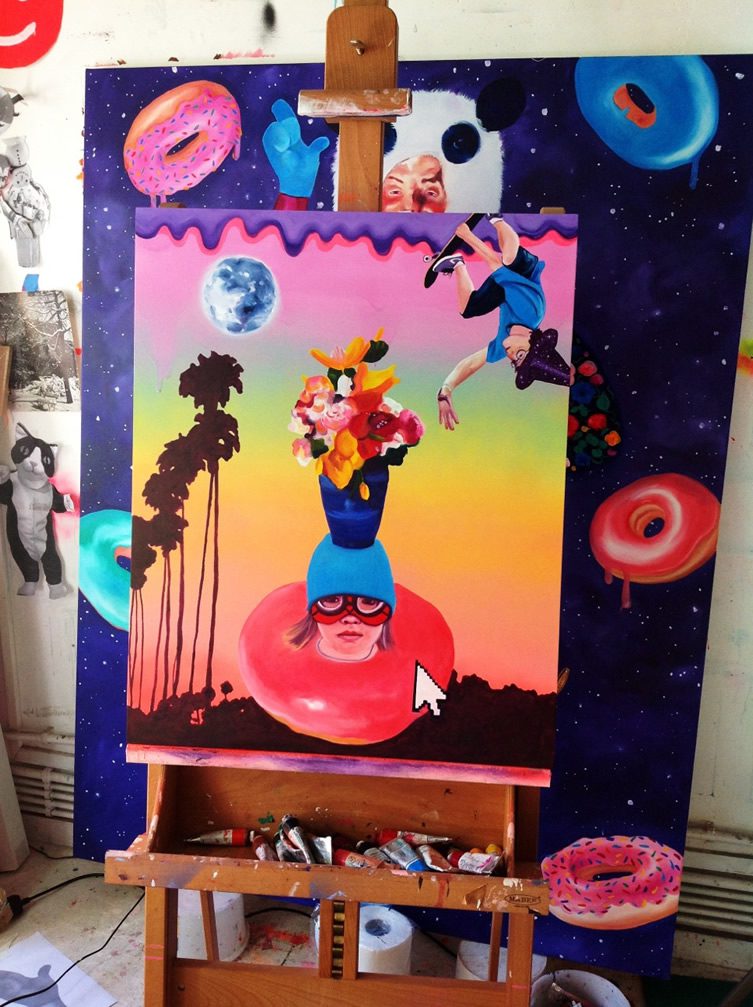 You recently finished a residency at the Hyatt Regency. How was that experience?
It was interesting, I didn't have a separate studio and was working in a rather busy environment, lots of people came buy and asked all sorts of questions or just watched me work. It was a strange feeling to be observed but I also got to know a lot of people which was great.
Your beautifully crazy paintings have been made into clothes recently with your collaboration with Philip Normal. How is that going and how is it to work together?
Oh yes that was funny. It was a small project and the first time we worked together. He is amazing and does all these crazy clothes, I think the way he makes them is somehow related to the way that I make my paintings. However, we sort of spontaneously decided to do a collaborative project and I designed some prints for him on a big roll of jersey which he turned into these cool tops and leggings!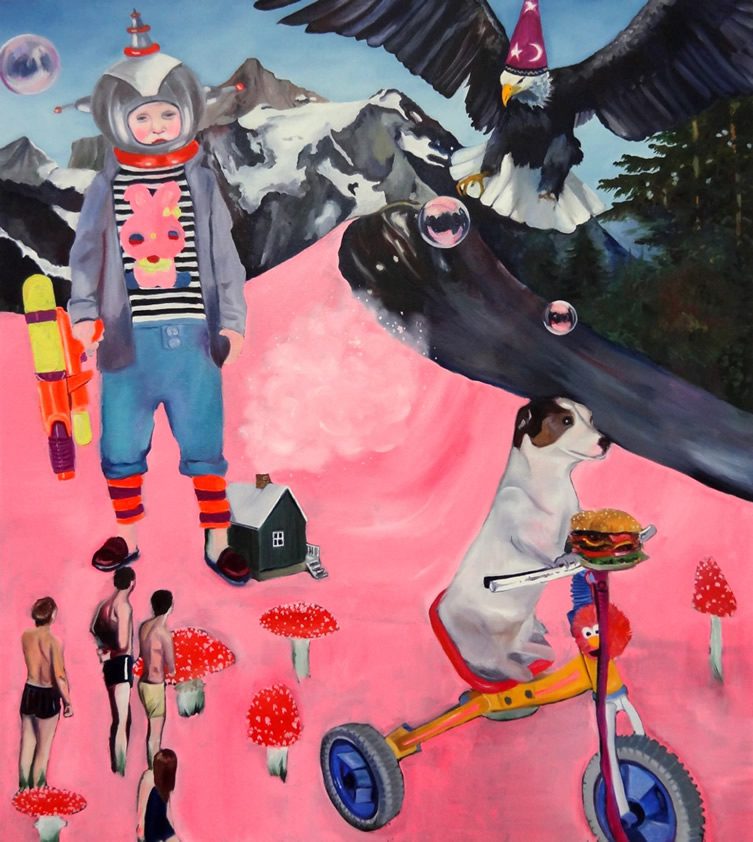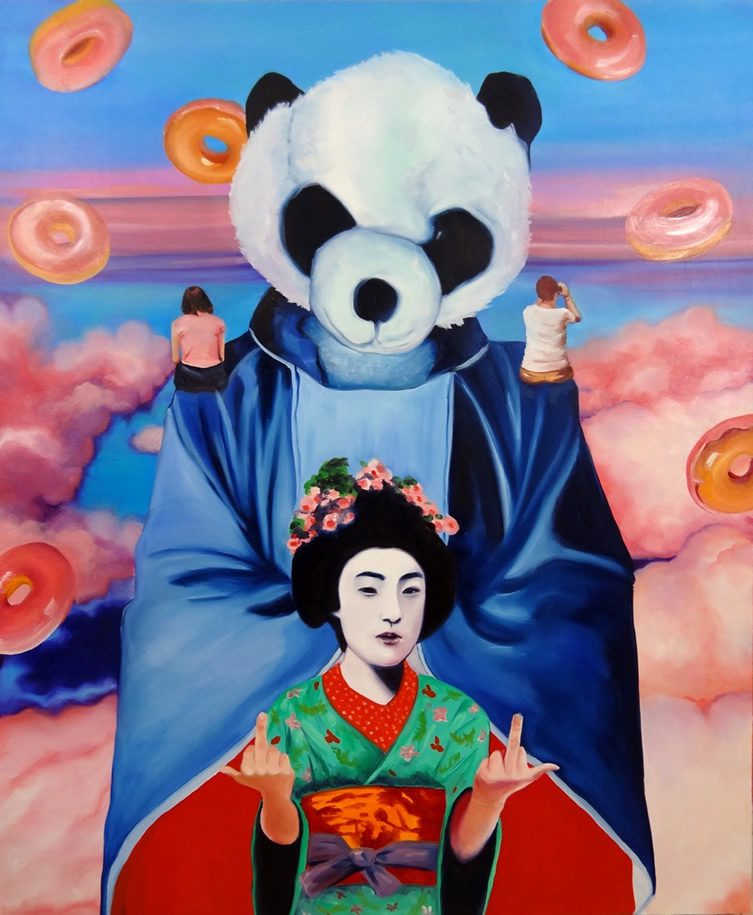 You paint quite quickly. Do you think you will ever satiate your appetite for painting? Or is your imagination always going to ensure that you continue to create?
I really love painting and the speed in which I work is mainly because of my lack of patience. If I work on a piece for more than two weeks in a row I get really fuzzy about it and either need to put it away for a month or finish it on the spot. When I paint I am mostly always thinking about the next one already, they all link up to each other in one way or another so the following painting is usually always a consequence or an answer of some sort to the previous one.
With icons such as Santa Claus and Hello Kitty featuring in your new work, what are you trying to say in your light-hearted paintings?
I think I am trying to say a lot but I mostly want people to find their own story in them. The imagery I use usually has a connection to my own history or my personality, they represent so many things like ideas, emotions or dreams.
Finally, what is coming up for you, in 2014 and beyond?
My main aim for the rest of the year is to create more, and hopefully better, work!
***