Perched high atop the rugged north Cornwall coastline, overlooking Mawgan Porth, this 'luxury-eco' retreat is an oasis of calm, a grown ups playground which wraps itself around a soaring cliff top. Isolated, except for a couple of large residential properties close by, the views upon entering the reception area are breathtaking – floor to ceiling windows look out over the sloping landscape – and in place of the conventional check-in desk are lounge chairs and sofas, enabling you to kick back and enjoy nature's beauty whilst the formalities take place.
With just 37 rooms there's a relaxed atmosphere at The Scarlet. Designed as an adults retreat, the only children we saw were those on the golden sands below. Architects Harrison Sutton along with builders Bauwerk have used the surrounding natural environment to create a light, airy space split over five levels – each room and public area looking out over the rolling green hills and ever-changing seascape. The modern bedrooms are decorated in a neutral colour scheme with wooden floors and boast a balcony or terrace. Our 'Generous' room had a separate seating area and freestanding bath, all of which were very lovely but, to be honest, the communal areas and outdoor space were such a winning combination that we really didn't spend too much time in there at all.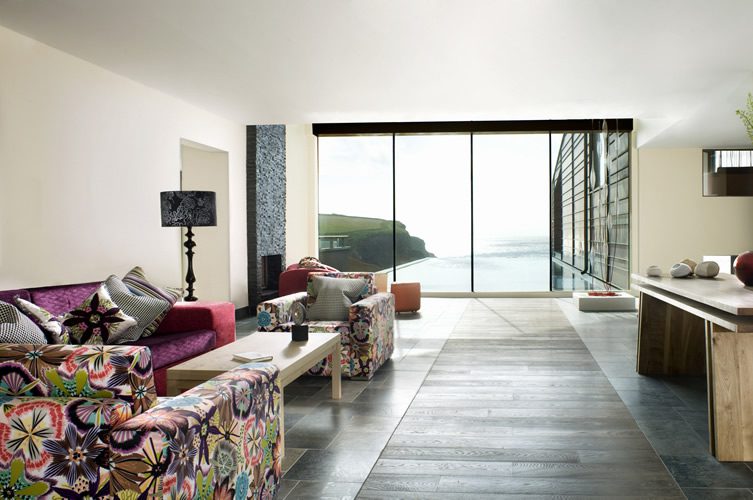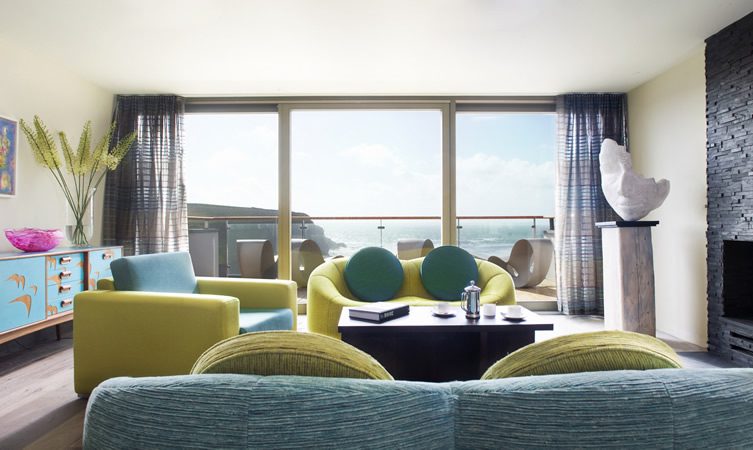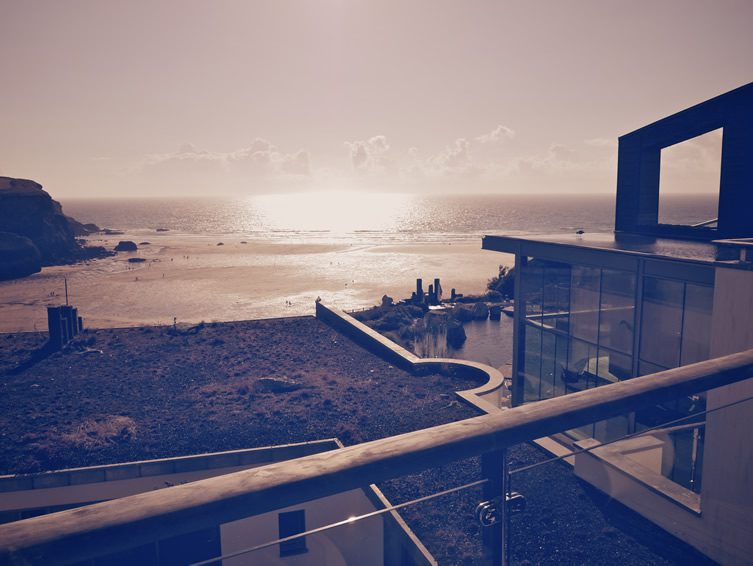 Arriving on a sunny day in late July we took a stroll along the beach before making our way back to the hotel's garden. Seriously chic, the vast expanse of land was dotted with Fatboy beanbags big enough for two, recliners and an outdoor swimming pool which – in keeping with their eco ethos – is a natural affair, filtered by reeds and an invigorating fresh water experience. Feeling hungry we shared a selection of deli farm charcuterie from the 'Anytime, Anyplace' menu, watching the world go by and enjoying the Cornish sun on our bones.
And speaking of bones, with lunch demolished and shoulders in need of some serious manipulation, we headed to the Ayurveda spa. A word of advice: this place has such a high reputation that it's almost impossible to just turn up and expect an appointment, and despite their best efforts to try and accommodate our last minute request, we left – shoulders still aching – but with a smile on our faces – we'd managed to snag a pre-dinner cliff-top hot tub that evening.
Feeling refreshed and hungry once again, we enjoyed local, seasonal produce in the hotel's restaurant – which, headed up by Tom Hunter, is another joy to behold; all soft lighting and ocean views. Skipping dessert to indulge in a couple of cocktails, we settled into the eclectic bar commenting on how suited to the elements The Scarlet is and how we must find the time to revisit in the winter, when the wind is howling around the hills, the sea swelling below, and us? We'll be observing from the comforts of this true Cornish gem.
***