Just googling Lime Wood Hotel gives you the provincial goose-bumps. In the New Forest National Park where the wild ponies graze, you wonder how nice it would be to actually live in Hampshire. Fortunately for us Londoners, the hotel and its restaurant, Hartnett Holder & Co, is just a smidge over two hours by train – and we're eager to dine. The concept behind the restaurant, a collaboration between Michelin-starred and foodie's favourite Angela Hartnett and Lime Wood's Luke Holder, is a blend of British ingredients with an Italian way of eating. Both Hartnett and Holder take a relaxed approach to cooking, influenced by a chef's home cooking rather than the food they'd have prepared at the famed kitchens they've worked from.
Beautifully restored the building reminds you of an English countryside described in a Charlotte Brontë novel. Manicured lawns, a gravel drive and flora and fauna highlighting the Regency Country House – there's an air of fabulous from the outset. Instantly comfortable and impressed, I began to feel very English – so start with a glass of Gusbourne BdB 2008, a refreshing sparkling wine from Kent that befitted the light yet sophisticated interiors of the naturally lit Courtyard Bar. Scanning the drinks menu was fun, spotting libations that tickled my fancy such as the gin and tonic with balsamic vinegar and rosemary – savoury is just how I like them.
I wasn't staying the night so I put the drinks menu down and headed to the restaurant post-haste. The luxurious interiors, designed by Martin Brudnizki, were more colourful and playful than in his previous accomplishments at Dean Street Townhouse and Hix (to name a few). We sat facing the wonderful dark-stained oak bar topped with an Irish green marble, adorned with flowers, cured meats and little speakeasy-style lamps. Linen napkins soon land on our laps, and the large (in dimensions) menus follow with a smile.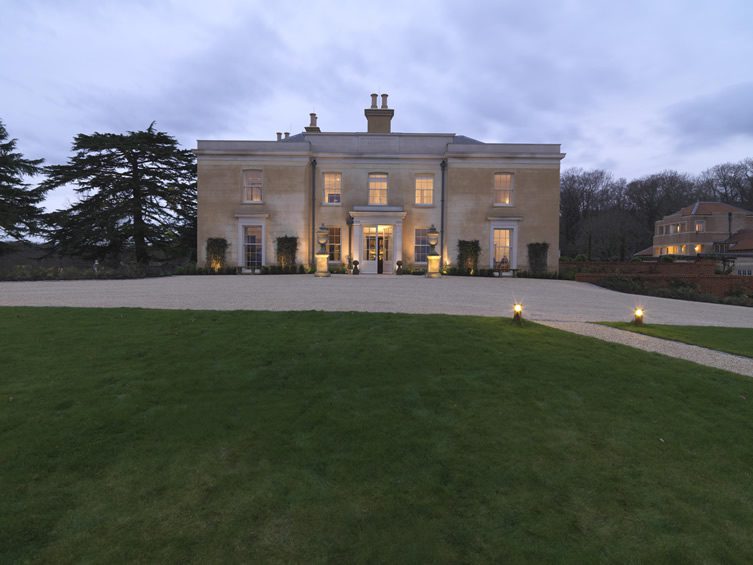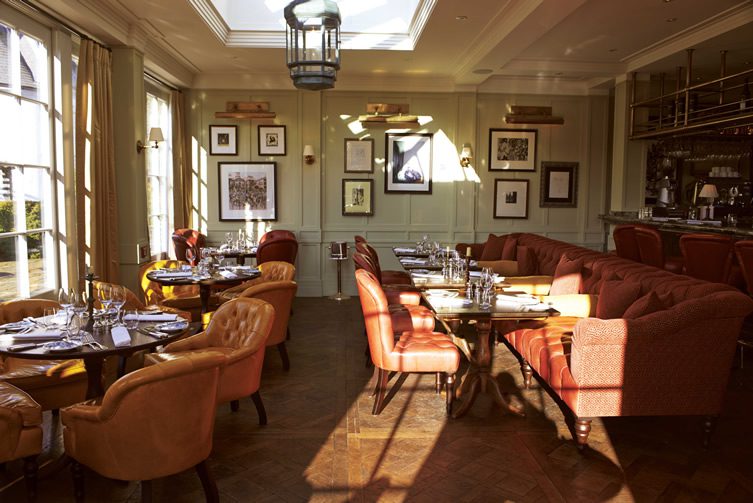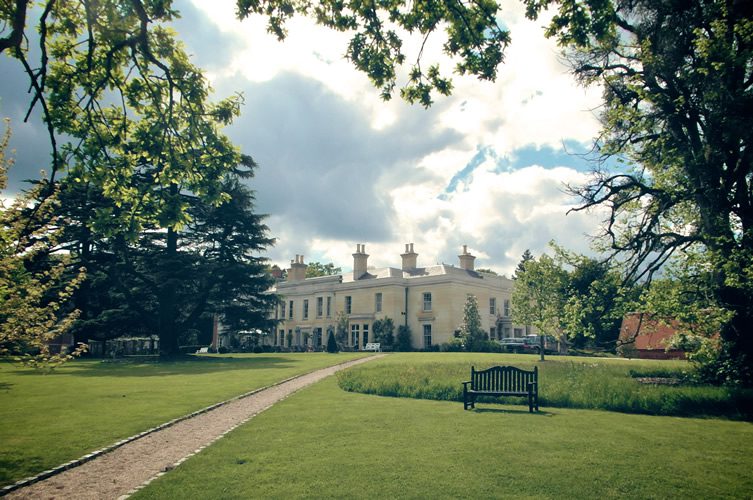 Sharing was very much on the cards so we amused our bouches with some home-cured meats that arrived arranged delicately on a slab of solid dark wood. The home-smoked fare included Scottish salmon, chorizo, rosemary-cured loin of pork and brisket: slithers of sweetness that disappeared so quickly they almost melted. The art of charcuterie is an age-old process, so they don't mess with the pig or salmon – simply dry smoking and curing in salt, or sometimes infusing with honey and lavender in their very own 17th Century smoke house 'at the bottom of the garden'. I have to admit, my favourite was the smoked-in-their-own-smoke-house salmon that was caught on the Monday and on my plate by Thursday lunch – brilliant in colour, delicate with not a hint of fat in sight. What is nice at Hartnett Holder & Co is that the meat is butchered on-site and the whole animal used. Experimenting with flavours when curing, aiming to achieve unique flavours using simple ingredients is important to the team.
I found it difficult to choose between the starters, so eventually decided on the wild black bream with blood orange and toasted almonds. It was a pretty and delicate looking dish, but lacked the ceviche punch I was naively expecting, the almonds did however give the bream a welcome crunch. For main I went with one of the lunch time specials, two courses less than £20, pretty darn good eh? The special was the black squid ink tagliatelle with peppered monkfish, prawn, clams and shrimp – all sat in a deep red/brown stock which was powerful and complimentary to the meaty molluscs and shellfish. Rather full in terms of portions and flavour I had another hard choice to make when it came to pudding. Seriously, I could have tried everything on the menu! The toss–up between Nonna's semifreddo and dark chocolate with honeycomb was won by the latter. It arrived in a 1970s style crystal wine glass and was one of the densest mousses I had ever tasted. Dark, smooth, creamy and all mine!
What is nice in such opulent surroundings is a sense of play at Hartnett Holder & Co. It may not have been apparent straight away, but silliness was definitely on the menu. Little quirks could be spotted in the art that hung on the walls, from Tracey Emin's naughty drawings to bold collages by Sir Peter Blake. I'll be going back for more Hartnett Holder & Co fare, this time I may even treat myself to the Lime Wood Hotel spa, wonder through the forest and perhaps try a few more cocktail concoctions.
***